Femmes Solidaires group says the cards portray women as 'sex objects' and has asked its members to look out for where they are being sold.  
EDF's nuclear plants along Rhone river use its waters to regulate temperature of their reactors, discharging warm water back into the waterway.
British foreign secretary Jeremy Hunt, who visited Paris on Tuesday, has called on France and Germany to put pressure on European Union negotiators in Brexit talks to respond more positively to the UK's propositions for a deal and to avoid what he has said is otherwise 'the real chance' of his country leaving the EU next year without one.
The youth arms of France's Rassemblement national (National Rally) party, formerly called the Front National, and its far-right Italian ally, the League, staged a joint demonstration near the French-Italian border on Sunday to demand tough measures against what they said was the 'overwhelming' of Europe by migrants.
Migrant girls, mostly from sub-Saharan Africa, attempting to cross into France from Italy are being exploited by would-be smugglers offering to drive them across the on the countries' common Riviera border in exchange for sex acts, says a report by the Italian branch of the charity Save the Children.
What the French interior ministry calls a 'proccupying' rise in anti-Semitic acts since 2016 appears to be prompting a flight of Jews from some areas around Paris with a predominently Muslim population, while Muslim representatives say talk of a 'new anti-Semitism' is a nonsense that ignores Islamophobia among Jewish communities. 
For the second quarter in a row, France's gross domestic product expanded only 0.2 percent, crashing down from the 0.7 percent rate averaged in 2017, while consumer spending, the country's main growth engine, is faltering, having contracted in the second quarter for the first time in almost two years.
A French Senate report has found that last year 300 helicopters out of France's total military fleet of 467 were 'immobilized', a problem the report said 'prevented the conduct of certain missions, particularly in France', while warning that the pressure on service personnel is leading to their exhaustion.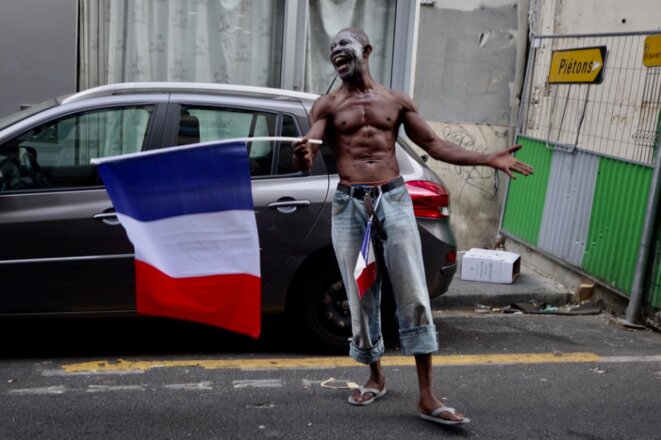 A man celebrates France's victory in the World Cup on Sunday in the Goutte d'Or neighbourhood of Paris. © Rachida El Azzouzi
After winning the football World Cup tournament in Russia, France's national football team arrived home on Monday, when rejoicing crowds turned out to applaud them riding a double-decker bus along the Champs-Elysées avenue in central Paris, before a reception at the presidential palace. Since France's victory over Croatia in the final on Sunday, streets across the country have been swamped in a flag-waving, car-horn blazing party of multi-coloured jubilation. But, warns Mediapart political commentator Hubert Huertas, while this temporary moment of collective joy is one to embrace, it heralds no change for the country's underlining social, political and economic problems.
The New Yorker's Adam Gopnik argues that 'the French team, now the finest in the world's most popular sport, is entirely dependent for its greatness on immigration, on the extraordinary things that only a cosmopolitan civilization can achieve'.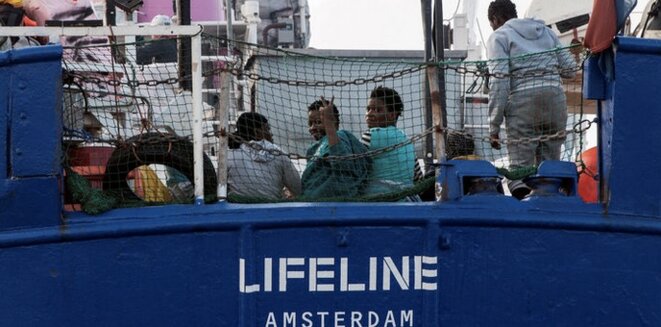 Rescued migrants on board the MV Lifeline shortly before disembarking in Malta. © Reuters
Late in June, after days of diplomatic wrangling, 234 migrants rescued off the Libyan coast while attempting to reach Europe in flimsy dinghies were finally allowed to disembark in Malta after several countries agreed to receive quotas from the group. Earlier this month, 51 of them arrived in France. Mediapart travelled to Toulouse, where some were given provisional accommodation, to listen to the harrowing stories of their experiences in Libya, where black Africans are subject to endemic racism and many become the prey and prisoner of vicious local militias. "If an Arab catches you, he sells you," said one of the survivors. "When you are black, you are a commodity, you're bought and sold on." Mathilde Mathieu reports. 
Mirroring scenes in towns and cities across the France, the Champs-Elysées avenue and other thoroughfares in central Paris were filled on Sunday evening by tens of thousands of jubilant and chanting supporters of the national football team after its victory over Croatia in the World Cup final in Moscow.
In the final of the football World Cup tournament held this summer in Russia, a largely young France team brimming with individual talent beat a hard-fighting but unlucky Crotia by four goals to two in a highly entertaining match marked by questionable refereeing decisions. 
French Prime Minister Édouard Philippe on Friday announced a raft of new measures aimed at improving the efficiency of its anti-terrorism apparatus, including the creation of a dedicated counter-terrorism public prosection service and placing the management of investigations in the hands of the country's domestic intelligence agency, the DGSI.
Tourists urged to make online bookings up to three months in advance to see sights without having to battle through huge crowds.