Related keywords
MoDem leader François Bayrou among four ministers to have quit in 48 hours as new French president appears to turn back on centrist allies.
European affairs minister Marielle de Sarnez and fellow MoDem member will also follow Bayrou out of government over party funding affair.
Justice minister François Bayrou presented a cabinet meeting on Wednesday with his bill of law to introduce greater probity in political life, just as he and his centrist party is caught up in an allegations of fraud over the misuse of European Parliament funds, and another minister battles accusations of favouritism in past business activities.  
French president faces embarrassment as key legislation is launched on day his key ally Richard Ferrand is urged to resign over property deal.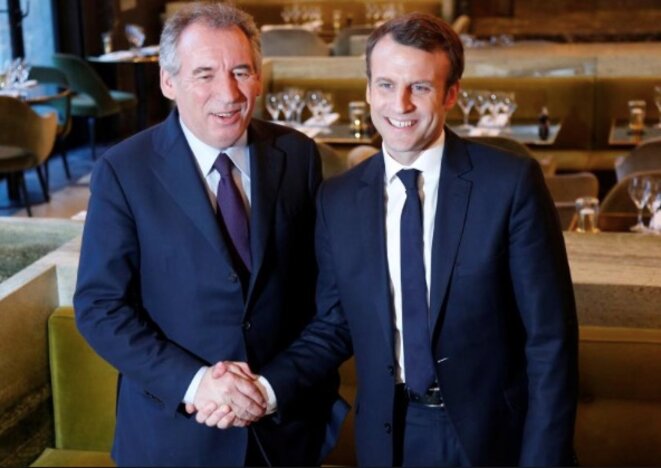 Veteran politician François Bayrou with Emmanuel Macron.
History has a long memory. The upheaval caused by the first-round vote in the French presidential election is the third act in a drama that began in 2007. The fourth act will be the likely success of Emmanuel Macron in the second round and his election as French president on May 7th. Hubert Huertas says Macron's triumph would also represent a final victory for centrist politician François Bayrou who tried but failed to break the two-party stranglehold on French politics a decade ago.
Veteran French centre-right politician François Bayrou, who has stood in three previous presidential elections, announced on Wednesday he was backing the candidacy of maverick centrist Emmanuel Macron, one of the frontrunners in the elections this spring, a move which the latter described as 'a turning point in the campaign'.
The government, the Left and most leaders on the Right have joined calls for "national unity" or a form of national union as the French nation collectively mourned those killed in Wednesday's murderous attack on the magazine Charlie Hebdo. Senior figures across the political spectrum will also take part in Sunday's 'Republican march' in Paris as an act of solidarity. But already some politicians on the hard right, and notably those in the far-right Front National (FN), have raised doubts about the national consensus. In particular the FN's president Marine Le Pen has reacted angrily to the fact that so far she has not been invited to the weekend march. As Mathieu Magnaudeix and Marine Turchi report, the far-right has in fact already started to play on the fears of French citizens in the wake of the massacre.
The ex-minister and founder of the centrist UDI party Jean-Louis Borloo is to give up political life because of ill health.
The pro-EU centre-right alliance, which is to be called the Alternative, hopes to capitalise on frustration with President François Hollande.
Former fierce rivals François Bayrou and Jean-Louis Borloo create 'L'Alternative' movement to fight municipal and European elections next year.
Centrist candidate Francois Bayrou has refused to join other candidates in halting his campaign after the killing of four people at a school.
BBC News profiles centrist French presidential candidate François Bayrou, Mediapart's first guest in a series of live interviews starting Friday.
With France's economy slowing and joblessness at its highest in 12 years, the country's politicians are turning to the well-worn credo 'Buy French'.
The newly-formed French government has lost almost all of its centre-right ministers, notably the leaders of the two centrist movements that have, until now, supported President Nicolas Sarkozy through thick and thin. Marine Turchi reports on how the president has turned his back on building a broad ruling majority.