Keyword: François Hollande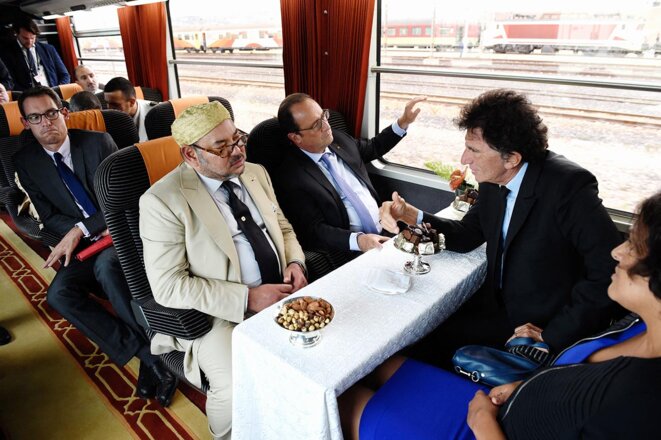 Moroccan king Mohammed VI with French president François Hollande, Jack Lang, president of the Institut du Monde Arabe in Paris and labour minister Myriam El Khomri on a train to Tangiers, September 20th 2015. © Photo Alain Jocard / AFP
The Pegasus spyware revelations show how Morocco has targeted at least 10,000 mobile phones in recent years. These include the phones of several dozen French citizens, including journalists, the president of the Republic Emmanuel Macron and government ministers and senior opposition figures. Yet for the last thirty years the political, media and cultural elites here in France have closed their eyes to the repressive behaviour of the North African monarchy. Lénaïg Bredoux and Iyes Ramdani report.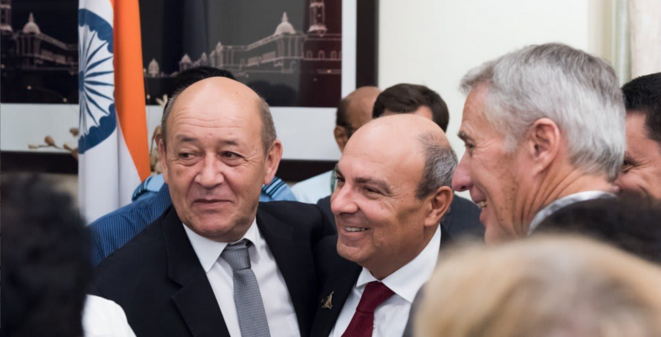 Then French defence minister Jean-Yves Le Drian (l) celebrates with Dassault CEO Dassault Aviation CEO Éric Trappier (c) the signing of the Rafale deal in September 2016. © Dassault Aviation
In this final report in a three-part investigation into the controversial sale by France to India of 36 Rafale fighter aircraft, Mediapart reveals, with hitherto unpublished documents, how an influential Indian business intermediary was secretly paid millions of euros by Rafale manufacturer Dassault Aviation and French defence electronics firm Thales. They succeeded in removing anti-corruption clauses from the fighter contract which was subsequently signed by then French defence minister, now foreign minister, Jean-Yves Le Drian. Yann Philippin reports.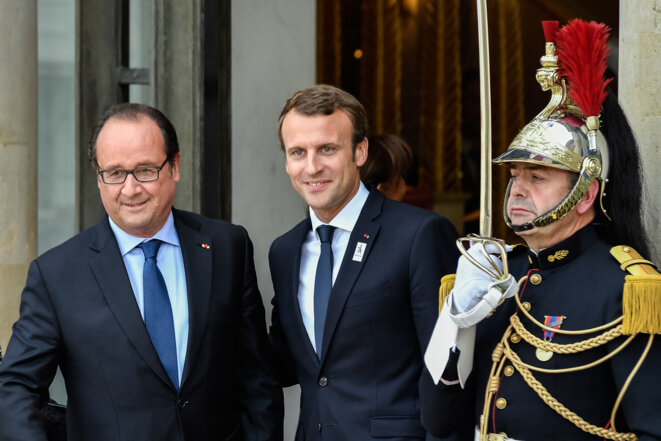 French President Emmanuel Macron and his predecessor François Hollande at the Élysée Palace in September 2017. © Julien Mattia / NurPhoto via AFP
In this second of a three-part series of investigations into the controversial sale by France to India of 36 Rafale fighter aircraft, Mediapart details how the then head of the French public prosecution services' financial crimes branch, Éliane Houlette, shelved investigations into evidence of corruption behind the deal, despite the contrary opinion of her colleagues. France's current president, Emmanuel Macron, and his predecessor, François Hollande, are cited in the allegations levelled in the case. Houlette has since justified her decision as preserving "the interests of France, the workings of institutions". Yann Philippin reports.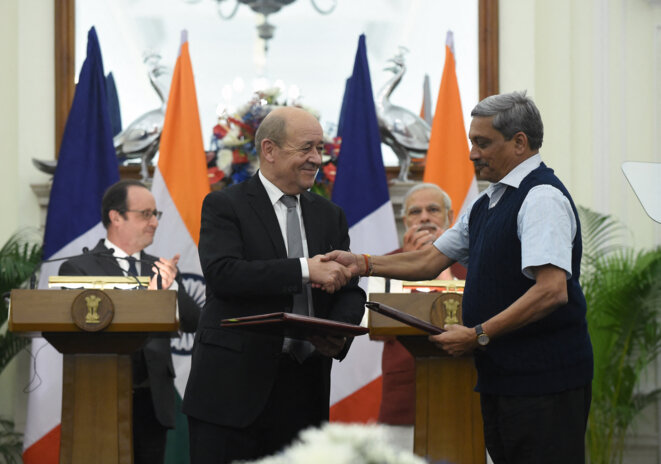 French defence minister Jean-Yves Le Drian shakes hands with his Indian counterpart Manohar Parrikar in New Delhi on January 25th 2016 during a joint press conference with Indian prime minister Narendra Modi and French president François Hollande. © Prakash Singh / AFP
In 2016 France and India signed a 7.8-billion-euro deal for the purchase of 36 Rafale jet fighters made by French defence group Dassault. Mediapart can reveal that, alongside this controversial deal, Dassault also agreed to pay one million euros to a middleman who is now under investigation in India in connection with another defence deal. The French anti-corruption agency Agence Française Anticorruption (AFA) discovered this separate arrangement during a routine audit of Dassault. The AFA nonetheless decided not to alert the prosecution authorities over the payment. This is the first part of Mediapart's investigation into a state scandal which also raises questions over the both the justice system and the political authorities. Yann Philippin reports.
A foundation headed by former French president François Hollande awarded a grant for the development of a mobile phone app for women to seek emergency help when victims of violence, now available in several countries, as the numbers of complaints of domestic abuse have soared since the start of the home-confinement 'lockdown' measures in France due to the Covid-19 virus.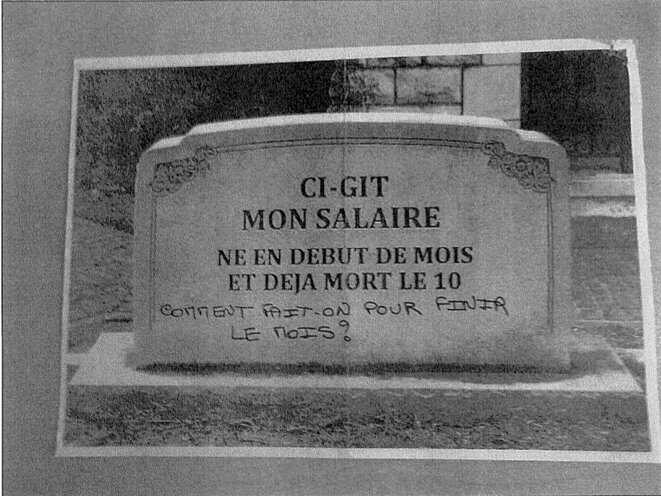 A photomontage sent to François Hollande: "Here lies my salary, born at the beginning of the month and already dead on the 10th." © DR
During his 2012-2017 term in office, France's socialist president François Hollande received a total of about one million letters and emails from members of the public, several thousands of which have been studied by political sciences lecturers Michel Offerlé and Julien Fretel. In this interview, Michel Offerlé explains that while the correspondence contained a large number of individual demands for help, complaints over financial difficulties and taxes, and insults about the head of state's disconnection with the people, they in part collectively represent the social group that has erupted into the 'yellow vest' protest movement over falling standards of living which is shaking the current presidency of Emmanuel Macron.
French president will delay meeting the nuclear energy cap goal set by predecessor, François Hollande, by 10 years.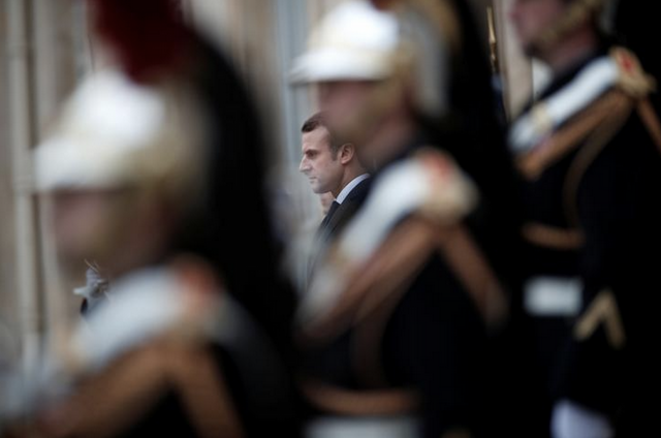 © Reuters
A series of controversial affairs involving key staff, some surprise resignations, comments from senior figures in his own administration and dysfunctional behaviour at all levels of government have left President Emmanuel Macron weaker than ever after the summer. There is growing concern inside his entourage where many now recognise that the presidency has a problem; and that this problem involves the president himself. Ellen Salvi reports.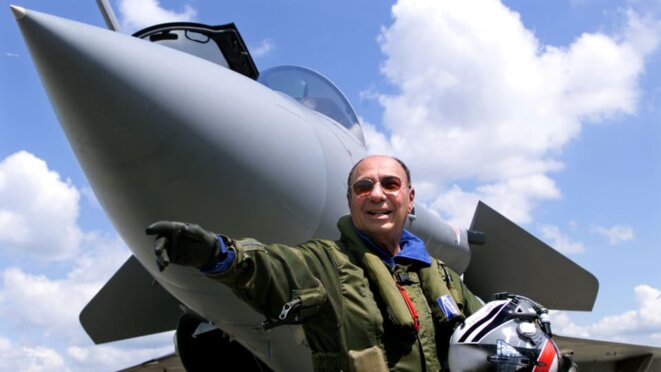 Serge Dassault in 1999 posing next to a Rafale jet at the Le Bourget air show north of Paris. © Reuters
Serge Dassault, who died on May 28th, 2018, at the age of 93, was a billionaire industrialist in the aviation sector, a former Senator and mayor, and the owner of the conservative daily newspaper Le Figaro. Prevented from having a major role the family business empire until the death of his father, Serge Dassault was driven by ambition and the desire to surpass what Marcel Dassault achieved. But despite his undoubted business successes, Serge Dassault's own legacy was tarnished by corruption affairs and allegations of buying votes, and he was convicted of tax fraud in 2017. Mediapart's Yann Philippin, who has spent many years reporting on the 'Dassault method', reports.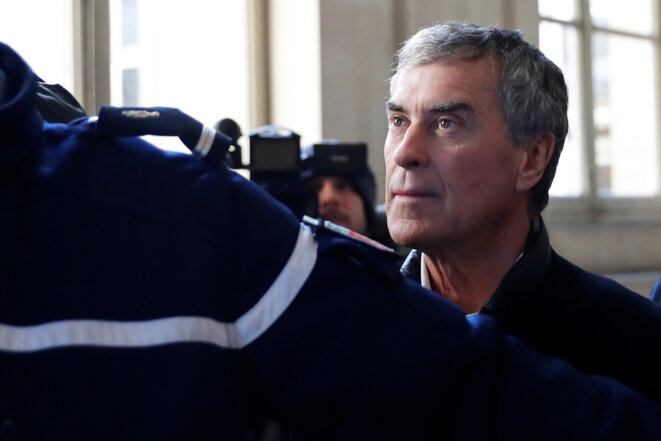 Escaping jail time? Jérôme Cahuzac at the Court of Appeal in Paris on February 12th, 2018. © Reuters
After an appeal, former budget minister Jérôme Cahuzac has received a reduced sentence for tax fraud, making it now highly unlikely he will serve any time in prison. It was an unexpected and happy outcome for the former minister whose tax dodge was first exposed by Mediapart in 2012. But, as Fabrice Arfi argues, it sends out an unfortunate message in a country which is already reluctant to imprison white collar criminals – especially those in public life.
Judges cut Jérôme Cahuzac's sentence from three years to two, and such jail time is usually reduced in France to community service.
In a series of interviews to promote his first book after leaving power last year when he was succeeded by Emmanuel Macron, his economy minister who some had maintained was his dauphin, former French president François Hollande accused the new head of state of deepening social inequalities through tax cuts that help the wealthy and business corporations.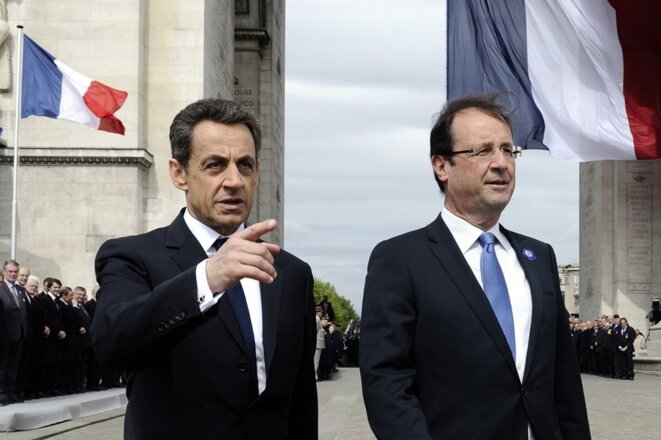 Nicolas Sarkozy with then-president François Hollande at a ceremony marking V-E Day on May 8th 2013. © Reuters
The placing under investigation of Nicolas Sarkozy on Wednesday for corruption, embezzling public funds and illegal electoral funding by the regime of late Libyan dictator Muammar Gaddafi has come about as the judicial investigation is in its fifth year, and seven years after Mediapart first revealed the former conservative president's dealings with Tripoli. During the entire period, which includes five years of socialist government, the political powers have regularly turned their backs on the disturbing questions raised by the mounting evidence of Sarkozy's dubious relations with the dictator, and also the circumstances of France's subsequent military intervention in Libya, to the point of dismissing repeated calls for a parliamentary inquiry. Antton Rouget reports.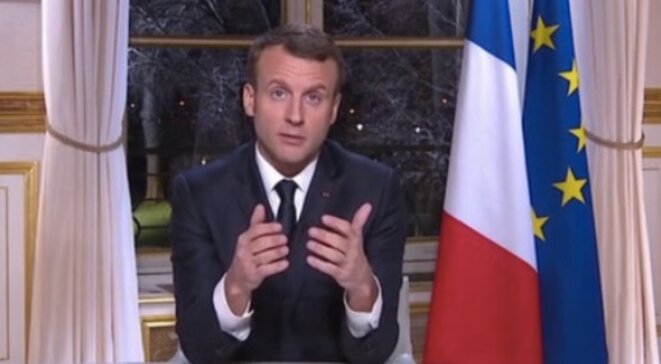 Addressing the nation: Presisdent Emmanuel Macron on December 31st, 2017.
"I did it in 2017....I will do it in 2018". On Sunday December 31st, President Emmanuel Macron delivered his first New Year goodwill message to the French people. Just 12 months ago no one imagined that he would be the occupant of the Élysée. Even last summer, when he had been elected, no one thought he would be in a strong position. Yet here he is, and his political situation looks robust. But it is a little too early for the new president to get out the bunting just yet. For Hubert Huertas argues that President Macron is about to face his biggest political 'opponent' – himself.