Keyword: François Hollande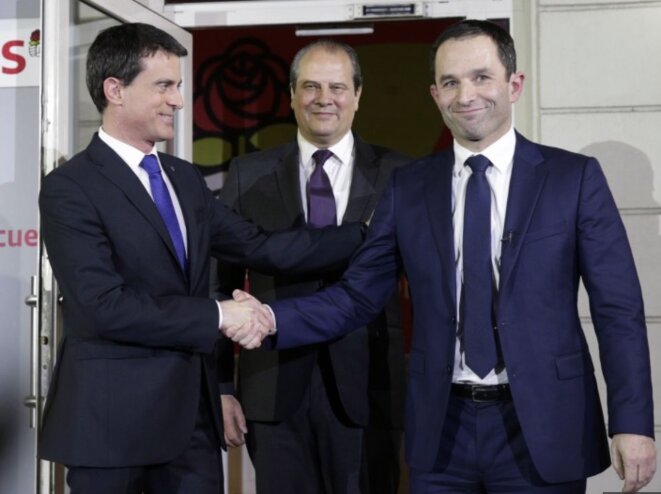 Manuel Valls (left) congratulates Benoît Hamon after the latter's victory in the January socialist primaries.
Former prime minister Manuel Valls, who resigned last December to run in the Socialist Party's primary to choose its presidential candidate, has controversially refused to support the election campaign his leftist rival who won the contest, Benoît Hamon. But he has also refrained from backing maverick centrist candidate Emmanuel Macron, whose ideas are closer to his own. Mediapart political commentator Hubert Huertas argues here why Valls, whose ambition was to transform the French Socialist Party into something resembling the New Labour of Tony Blair, has ended up in a political dead end and left behind him a party in tatters.
In 2012 the Left attracted its biggest shares of votes in the presidential election from the poorest sectors of society. But after François Hollande's presidency that support has dwindled. In the regional elections in 2015 this electorate turned instead towards the far-right Front National, headed by Marine Le Pen. The signs are that large numbers of France's poorest voters will also back Le Pen in the first round of the presidential election in April. Academic and Front National specialist Nonna Mayer analyses the figures.
President was inaugurating a new stretch of railway in western France when gunfire was heard and a waiter and a worker were slightly wounded.
President François Hollande, speaking at a UNICEF conference in Paris on children caught in conflict, slammed the British government's refusal to take in more migrant minors with family already settled in Britain and who are now stranded in France. 
The list of victims of the recent presidential primary elections held by the Left and Right in France is remarkable. Two presidents, two prime ministers and a number of senior former ministers have been rejected after rebellious voters gave their verdicts. The primary process - which ended on Sunday with the unlikely election of Benoît Hamon as the official socialist candidate for the presidential contest – has proved something of an earthquake for the French political establishment, writes Hubert Huertas.
François Hollande, on the second leg of a South American tour and who is the first French president to visit Colombia in 30 years, pledged further support for the country's peace process, which it already partly funds, during a visit to a Farc rebel camp.
Following French President François Hollande's warning that the UK must be given reduced access to the EU single market after leaving the bloc, British foreign minister Boris Johnson accused Hollande of wanting 'to administer punishment beatings to anybody who chooses to escape, rather in the manner of some sort of World War II movie'.   
French President François Hollande, reacting after British Prime Minister Theresa May's speech on Tuesday setting out London's intention to seek a clear split from the European single market, said he wanted negotiations on the conditions of Britain's departure from the EU to begin as soon as it invokes the process, due at the end of March.
The talks between some 30 African states and France, which are being held in Mali's capital Bamako, will also cover the migrant crisis.
In annual speech to foreign diplomatic corps, outgoing French president highlighted administration's interventions in a number of crises.
Hollande spoke as he met French soldiers in Iraq who are part of a US-led 60-member coalition carrying out air strikes against Islamic State.
In last New Year message of presidency, Hollande also paid tribute to those killed in terror attacks this year, including the 86 who died in Nice.
President François Hollande has just granted a full pardon to Jacqueline Sauvage, a woman who killed her husband after he had continually beaten her and sexually abused their daughters. Hubert Huertas says the decision to act having hesitated for so long over the pardon sums up Hollande's presidency. He also argues that the case illustrates the limits of French democracy and highlights the issue of judicial scandals.
Jacqueline Sauvage, 69, who was twice convicted for shooting dead her husband after decades of his violent attacks and sexual abuse, including against his own daughters, has been pardoned by President François Hollande.
French president said wrong to prevent Greece from taking "sovereign decisions" to pay pensioners a one-off bonus, despite German anger.