Keyword: François Hollande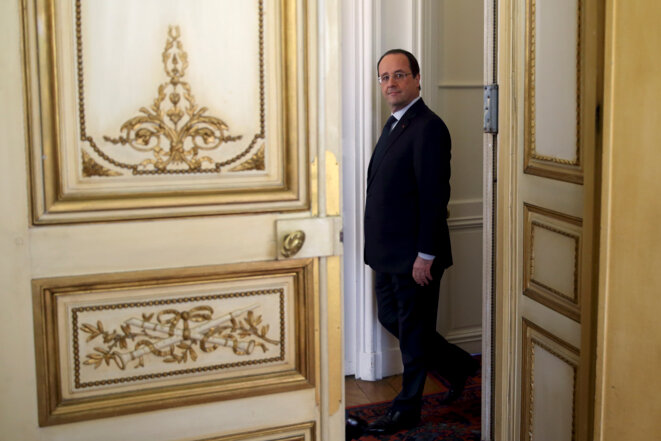 François Hollande inside the Elysée Palace. © Reuters
A book published in France this week presents a long series of 'fireside' conversations over several years between President François Hollande and two journalists from French daily Le Monde . The book, Un président ne devrait pas dire ça ("A president shouldn't say that…"), has caused a storm of controversy, notably over Hollande's attacks on the "cowardly" higher ranks of the French judiciary and which prompted an embarrassed admission of "regret" by the president on Friday over his comments. But, Mediapart investigative journalists Fabrice Arfi and Mathilde Mathieu argue here, the book is especially revelatory of Hollande's surprising approach to the catalogue of corruption scams which have shaken the French political establishment over recent years.  For he evidently regards them more in terms of their electoral consequences or the negative fallout upon himself than scandals that raise grave concern over the absence of probity in French politics.
In a book of conversations with journalists to be published Thursday, the French president claimed his former partner Valérie Trierweiler betrayed him by misconstruing his description of the poor as 'toothless', but on Wednesday she revealed what she said was a text message from him using the term in a derogatory manner.
The Russian president was due to visit the French capital on October 19th when he planned to open a Russian religious and cultural centre, but cancelled the trip amid a developing row with France which accuses Russia of war crimes in Syria. 
French president said to be dismayed that Warsaw has ditched plans to buy 50 Caracal helicopters, claiming deal was not in Poland's interests.
Ministers announce order for 15 high-speed trains, mostly for tracks on which they cannot run at top speed, to preserve jobs at Alstom plant.
French president insists makeshift migrant camp will be 'definitively' dismantled, as issue looks set to be a theme in 2017 presidential election.
The deeply-unpopular French president rules out nationwide burkini ban as he seeks to unite fractured Socialist Party and attacks Right.
The resignation of economy minister Emmanuel Macron from François Hollande's government on Tuesday to further his own electoral aspirations has dealt what looks like a fatal blow to the French president's already dwindling hopes ahead of next year's presidential election. But as Mediapart's editor François Bonnet argues, it also illustrates how an entire political system, that of France's Fifth Republic, is coming to an end.
Minutes after quitting government, former Hollande protégé Emmanuel Macron sets his sights on 2017 presidential election.
Former close ally of President François Hollande breaks away to prepare rival presidential bid agaist his mentor.
French economy minister Emmanuel Macron on Friday handed veteran far-right politician Philippe de Villiers a public return to legitimacy, paying visit to the latter's money-spinning theme park and praising him as a"cultural entrepreneur". Amid the high-profile visit, the socialist government minister also proclaimed that "I am not socialist". Ahead of an expected bid for the presidency in elections due next May, Macron now regularly stars as the cover story for French weekly Paris-Match, in what appears almost a mirror image of the magazine's coverage dedicated last year to Nicolas Sarkozy. Here, Mediapart editor François Bonnet argues that Macron's political manoeuvring is nothing but an empty vase, and made possible only by the weakness of a used-up government approaching its final bow.
The unemployment rate in France dropped below 10% during the second quarter of this year, and for the first time since 2012, according to figures released on Thursday by the French National Institute of Statistics and Economic Studies (INSEE). The news appears to pave the way for President François Hollande to announce his re-election bid in next year's presidential elections but, as Martine Orange reports in this analysis of the figures, the slight fall in official jobless numbers cannot mask the grim reality of France's endemic unemployment.
The French president flew to Rome for a private audience with the head of the Catholic Church three weeks after terrorists murdered a priest in Normandy.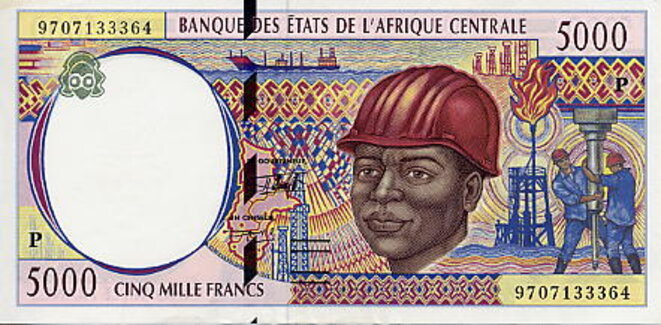 A Franc Zone banknote.
Many experts in Africa want to see an end of the 'CFA franc', the currency backed by the French Treasury which was created 70 years ago and still used by 14 former colonies on the continent. But as Fanny Pigeaud reports in this second and concluding article on Africa's 'Franc Zone', the French authorities take a dim view of any criticism of the currency.
President François Hollande's ruling party says the Hinkley Point nuclear project in Britain is risk to survival of France's state-owned utility EDF.