Keyword: François Mitterrand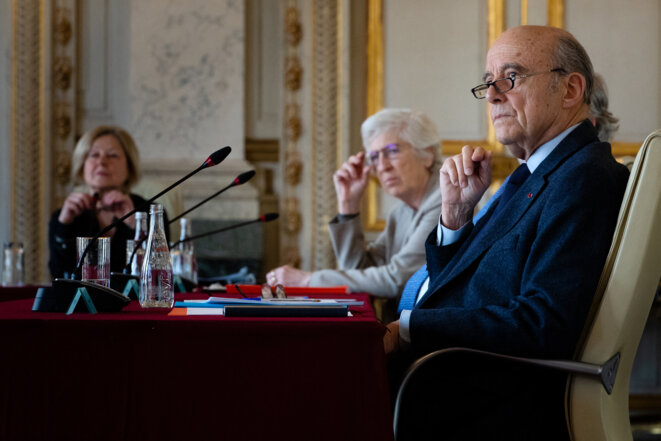 Alain Juppé, French foreign affairs minister in 1994, seen here in May 2020 at France's Constitutional Council where he now sits. © JOEL SAGET / AFP
In July 1994 in Rwanda, immediately after the fall of the murderous Hutu regime that had led the genocide of hundreds of thousands of the minority ethnic Tutsi population, a group of regime officials, including its president, had fled into a "safe zone" controlled by the French army. A document now discovered in official archives in Paris proves that the French government knew of the presence of the regime officials, but instead of detaining them it organised their escape out of Rwanda. The document, a cable sent from the office of then French foreign minister Alain Juppé, was signed by the current head of the French foreign intelligence agency, the DGSE. Fabrice Arfi reports.
Telecommunications tycoon Xavier Niel, co-owner of Le Monde, says he worked for French security services in 1980s.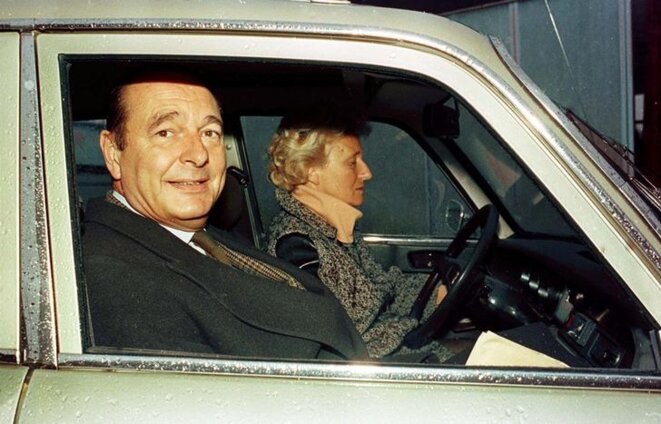 Jacques and Bernadette Chirac on a visit to Sarran in the Corrèze in central France in 1993. © Reuters
The former French president Jacques Chirac died on September 26th, at the age of 86. Chirac, who was head of state from 1995 to 2007, and who had previously been prime minister of France and mayor of Paris, leaves behind him 40 years of political combat. But his political legacy is a modest one, the leftover of a career built upon the sole ambition of gaining and clinging on to power. That came at the cost of incessant political trench warfare, alliances and counter-alliances, betrayals and scandals, while blithely shifting positions to court popularity. Mediapart charts the key episodes that mark the political life of a man obsessed with power.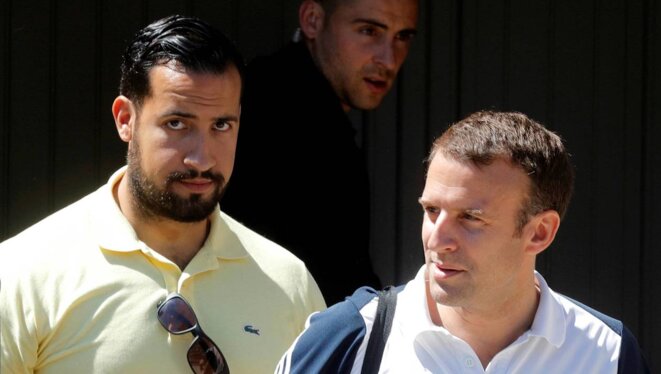 Alexandre Benalla and President Emmanuel Macron. © Reuters
Without Emmanuel Macron there would have been no Alexandre Benalla at the Élysée; for the man who dressed with police insignia and assaulted demonstrators owes everything to the president. But, equally, there would be no Benalla scandal without the support given by the president of the Republic to his trusted aide. Mediapart publishing editor Edwy Plenel says that it is this protection, even lying, that makes this scandal an affair of state.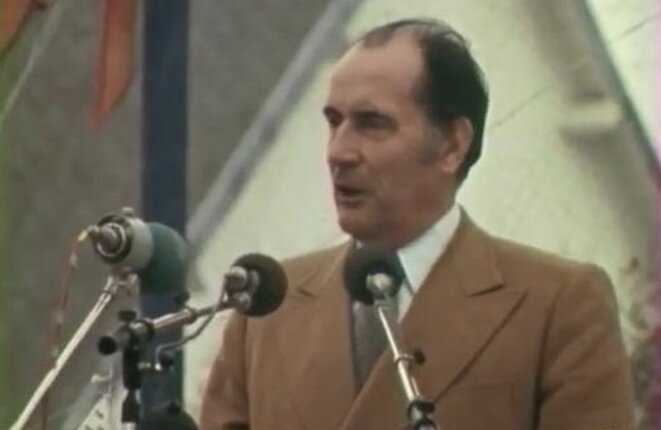 François Mitterrand in 1974.
In 1974, the Ba'ath party regime in power in Iraq approved a payment of 1 million dollars to fund the presidential election campaign that year of the late French socialist leader François Mitterrand, according to a document from the intelligence services of the former West Germany, the BND, obtained by Mediapart and German weekly Der Spiegel. The document refers to an intercepted message sent by Baghdad to its embassy in Paris. While it is not known whether Mitterrand's campaign ever benefited from the reportedly earmarked funds, the BND document raises further questions about the extent of Iraq's established close and secret relations with French political parties of Left and Right over several decades. Amélie Poinssot reports.
The collection of letters from former French president François Mitterrand to his mistress Anne Pingeot has caused excitement in French media.
Rocard, who served served as prime minister for three years from mid-1998 under François Mitterrand, was noted for his pro-European views.
This month marked the 20th anniversary of the death, on January 8th 1996 at the age of 79, of François Mitterrand, the first socialist president to be elected under France's Fifth Republic. He served two successive terms in office from 1981 until 1995, during which time current president, François Hollande, and other leading Socialist Party figures received their political schooling. Mediapart editor-in-chief Edwy Plenel takes stock of Mitterrand's legacy of which, he argues here, the socialists now in power have retained only the dark side.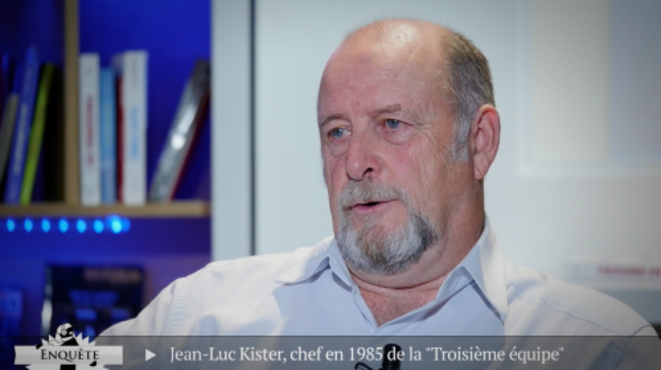 The French naval frogman who sank the Greenpeace boat Rainbow Warrior in New Zealand in July 1985, causing the death of photographer Fernando Pereira, has spoken publicly for the first time. Jean-Luc Kister, who was ordered to sink the boat that took part in protests against France's nuclear tests in the Pacific, has given a long interview to Mediapart's editor-in-chief, Edwy Plenel, the journalist who broke the story of French involvement in the attack 30 years ago. This interview is published simultaneously with a public apology given by Kister on New Zealand state television.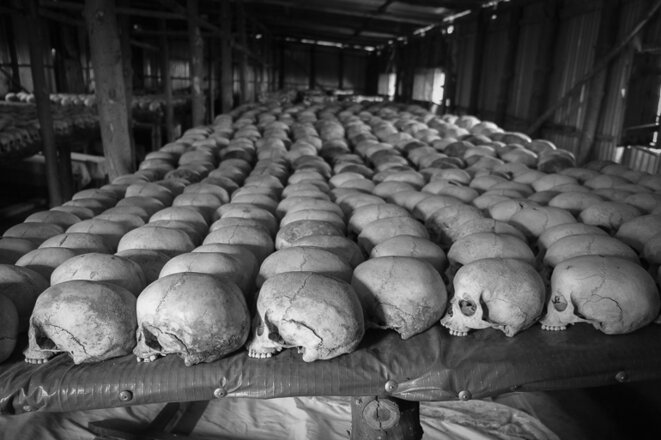 Le mémorial de Bisesero, Rwanda, février 2014 © Thomas Cantaloube
Earlier this week it was announced that hitherto secret French presidential archives relating to the 1994 Rwanda genocide were to be declassified. The documents are records from the presidency of the late François Mitterrand, and cover France's close relations with the Rwandan regime of president Juvénal Habyarimana, whose assassination 21 years ago sparked the state-sponsored massacres that claimed the lives of more than 800,000 people. France's role before and during the genocide remains controversial, amid speculation that it provided weapons support and protection of those who perpetrated the slaughter. But, writes Mediapart's international affairs correspondent Thomas Cantaloube, while the move this week to declassify Mitterrand's archives appeared to be one of belated transparency, they promise few revelations beyond previous leaks, while the key archives about France's involvement in Rwanda held by the defence and foreign affairs ministries remain strictly secret.
Hravn Forsne's mother, a Swedish journalist who served as a Paris correspondent, previously spoke of her affair with French president.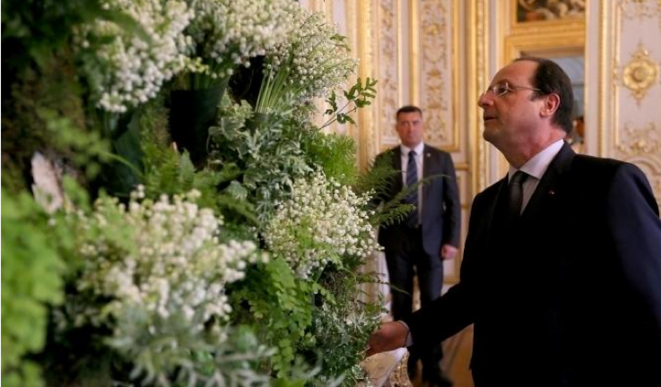 A l'Elysée, le 1er mai, lors de la traditionnelle cérémonie de remise du muguet. © (Elysée)
May 6th, 2014 marks the second anniversary of François Hollande's election as president of the French Republic. Any celebrations, however, are likely to be muted. Six weeks after disastrous local election results that led to a government reshuffle, and just three weeks before European elections where his Socialist Party looks set to come third, the president is at a record low in opinion polls. Hated by the Right and mistrusted by sections of the Left, Hollande now has three years in which to recover from a near-total rejection by the French public. As Hubert Huertas argues, that will be no easy task.
Three-day state visit this week gives president chance to improve country's image, with morale among American investors in France at new low.
Tepid French public reaction to political scandals, and also to the romantic affairs of presidents, is often at odds with how the same events would be judged in other developed countries. In parallel to this, France has some of the toughest laws in Europe protecting personal privacy – and which are now cited in legal action taken against the magazine Closer by actress Julie Gayet following its revelations of her secret relationship with President François Hollande. Here, Philippe Riès argues that the privacy laws used by politicians is too often a tool to disguise the institutionalised excesses and corruption of a monarchic elite, served by a largely submissive media and reinforced by a puzzling public indifference that places democracy in danger.