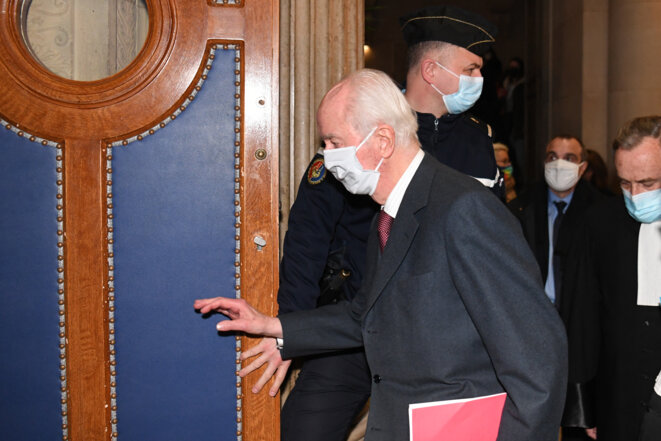 Former PM Édouard Balladur arriving at the CJR on January 19th 2021. © Alain JOCARD / AFP
On Thursday March 4th 2021 the Cour de Justice de la République (CJR) – which tries cases of alleged ministerial misconduct – cleared former French prime minister Édouard Balladur of any wrongdoing in the long-running Karachi affair. At the same time it found Balladur's former defence minister François Léotard guilty of complicity in the misuse of assets and handed him a two-year suspended prison sentence. The verdicts were much more lenient than those for ministerial aides in the earlier criminal trial involving the same affair. Karl Laske wonders how long the hybrid CJR court, most of whose 'judges' are politicians, can survive.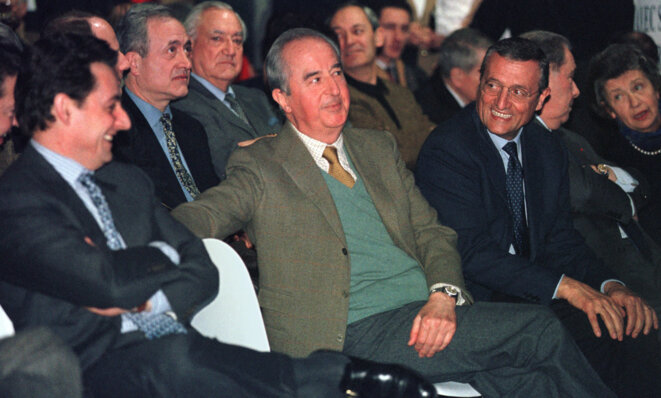 Édouard Balladur (centre) in 1995 with François Léotard (right) and Nicolas Sarkozy. © Reuters
Senior public prosecutor François Molins has concluded that former French prime minister Édouard Balladur and the defence minister who served under him, François Léotard, should be sent for trial for siphoning payments from public weapons contracts with Saudi Arabia and Pakistan to fund Balladur's presidential election campaign. Molins's formal recommendations follow a lengthy judicial investigation into what has become known in France as "the Karachi affair", a complex and far-reaching alleged corruption scam which surfaced after the murders of 11 French naval engineers in the Pakistani port city in 2002.
Prosecutor said 20 prisoners of this profile are to be released in 2018 and 20 in 2019, and called for police, state and intelligence services action.
Five men arrested last Sunday are said to be Islamic State operatives planning attack under the direction of a commander based in Iraq and Syria.
Paris prosecutor François Molins, who said a terror cell had been dismantled, said it showed Islamic State 'wants to create female fighters'.
The Tunisian who on July 14th killed 84 people among crowds on Promenade des Anglais had carefully prepared attack says Paris public prosecutor.
Paris public prosecutor says Bastille Day killer appeared recently drawn to jihadists but no proof of any 'allegiance or any direct link' to terrorist organisations.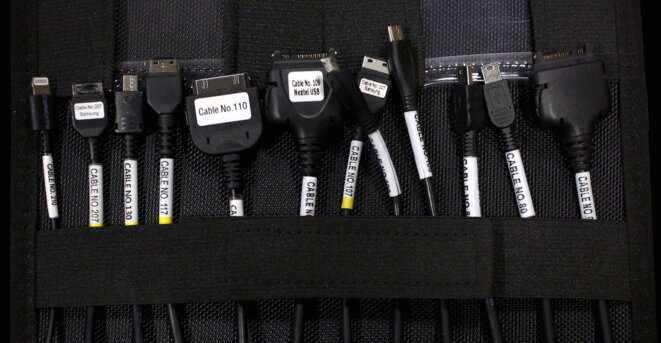 Cables from the Israeli company Cellebrite that will be used to gather data from different telephones. © Reuters.
In recent months politicians and some senior legal figures in France have spoken out against the practice of encryption to protect people's data, emails and mobile phone calls, claiming it hampers investigations into crime and above all terrorism. Mediapart can reveal that a policy to force companies to leave so-called "backdoors" in their software to enable the security forces to bypass encryption was close to being adopted by the French government. But the data privacy watchdog in France warns that such measures would put people's computer security at even greater risk at a time of an increasing number of cyber threats. Jérôme Hourdeaux reports.
Officials say act of 'extreme violence' foiled after police found cache of assault rifles, handguns and TATP explosive at 34-year-old's flat.
Lawyer for Salah Abdeslam, held in Belgium and fighting extradition to France, said weekend comments by French official violated probe's confidentiality.
The November Paris attacks fugitive, arrested in Brussels on Friday, told Belgian police he had 'wanted to blow himself up' at football match.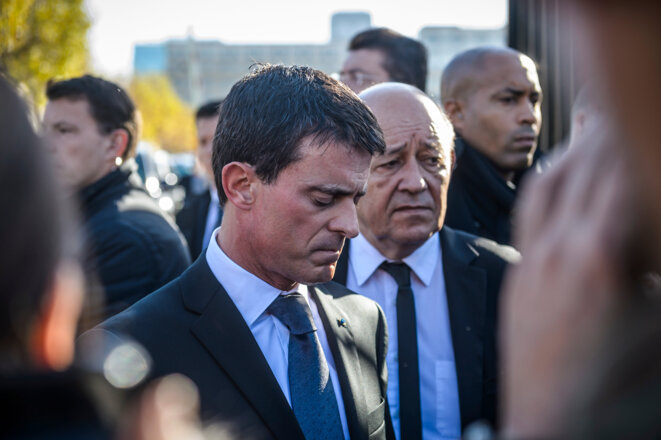 Manuel Valls, le 15 novembre © Reuters
Mediapart can reveal how during the Paris terror attacks on Friday night security service agents hastily removed France's prime minister Manuel Valls from his home which is just 300 metres from the scene of one of the restaurant shootings. At the same time, however, witnesses have complained that it took police around ten minutes to arrive at the scenes of the shootings as the gunmen rapidly made their murderous passage through the capital without once encountering a police unit. Karl Laske and Louise Fessard report.
Official says Abdelhamid Abaaoud not among 8 people arrested but that not all those who died in police raid had yet been identified.
The man arrested after a thwarted attack on a train last Friday was known to intelligence agencies in several countries, including France. Yet Ayoub El-Khazzani, 25, was still able to board a busy Paris-bound train after acquiring an assault rifle and ammunition. Michel Deléan and Louise Fessard ask if European secret services again let a potential terrorist through the net – or whether surveillance on so many potential suspects is simply impossible.