Paris prosecutors have announced the opening of a nationwide investigation into fraudulent claims, amounting to  millions of euros, by organised crime gangs for state payment of salaries for employees furloughed by the Covid-19 epidemic during the two-month lockdown on public movement in France which began mid-March.
Patrick and Isabelle Balkany, right-wing politicians who for years governed the wealthy Paris suburb of Levallois-Perret, were sentenced to prison terms of five and four years respectively.
Two Franco-Israeli men were given jail sentences and heavy fines by a Paris court for masterminding a multi-million-euro fraud using the identity of Jean-Yves Le Drian, who at the time was France's defence minister and is now the foreign minister, to raise money from wealthy political, business and religious figures.
Seven people are on trial in Paris for their aleged involvement in a multi-million fraud scandal that targeted more than 150 prominent figures and organisations and which included an impersonation by phone and Skype of then defence minister Jean-Yves Le Drian, now foreign minister, requesting funds for a supposed secret mission.
Several senior membners of France's far-right party, the former Front National now renamed the Rassemblement National, which claims on opinion survey results to be the country's most popular opposition party, went on trial in Paris on Wednesday accused of a scam to defraud the electoral subsidies accorded to political parties in the 2012 national election campaigns.
French wheeler-dealer tycoon Bernard Tapie,76, who built his fortune from buying and asset-stripping businesses before selling them on, and who was once jailed for match fixing when he owned football club Olympique de Marseille, has been acquitted by a Paris court, along with four other co-defendants including Orange CEO Stéphane Richard, of charges of fraud over a controversial state payout made to him in 2008 of more than 400 million euros.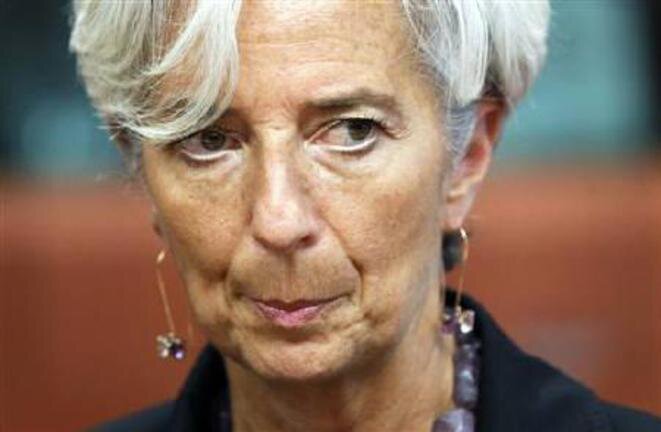 IMF chief and former French economy and finance minister Christine Lagarde. © Reuters
IMF chief Christine Lagarde was called by French tycoon Bernard Tapie to testify as a witness at his current trial in Paris on charges of fraud over a staggering 2008 award to him of 404 million euros out of public funds. The payout was made while Lagarde was French finance minister, and followed her approval of a private arbitration process which has since been overturned. Washington-based Lagarde has declined to appear at the trial, where she would have been a key witness, apparently because of her busy agenda. Mediapart's Laurent Mauduit has discovered that in fact Lagarde has every opportunity to attend the trial, but has instead decided to take part in an unrelated event just a few kilometres away from the Paris courthouse.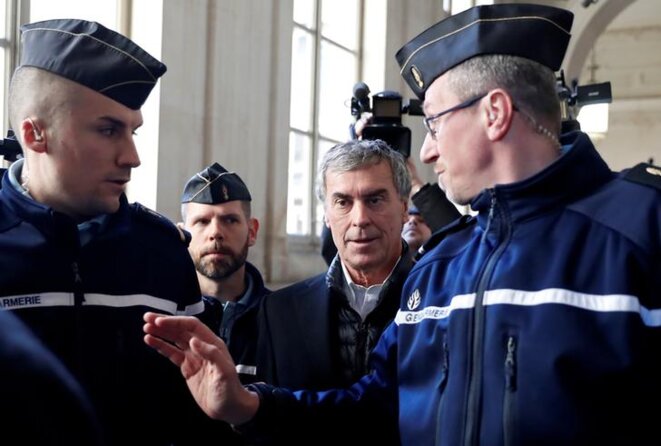 Jérôme Cahuzac (centre) arriving in court on February 12th. © Reuters
At the end of two weeks of hearings, a Paris court on Thursday deferred until May its verdict on the appeal by disgraced former French budget minister Jérôme Cahuzac against a three-year prison sentence handed to him in 2016 for tax fraud and money laundering. Cahuzac, 65, who Mediapart revealed in 2012 held a secret tax-haven bank account while leading a crackdown on tax fraud, did not contest his conviction, but sought a reduced sentence which would allow him to escape prison. While his lawyers argued that Cahuzac was a "broken" and "finished" man who risked taking his own life if sent behind bars, the prosecution has reiterated its demand for a three-year sentence. Mediapart legal affairs correspondent Michel Deléan was in court to follow the proceedings.   
Successive French governments have made a priority of the issue of social benefits fraud, which is recurrently a popular subject for politicians of all sides during election campaigns, and also for some sections of the media. But a report this month by France's official ombudsman for the protection of citizens' rights reveals that while the true cost of benefits fraud is often grossly overestimated, benefits agencies are engaged in such a zealous crackdown that many innocent people, most often the poorest in society, have been cheated of their rightful allowances, and ordered to make backpayments on false pretences. Mediapart political commentator Hubert Huertas details the findings of the report.
While support for the early favourite to win this spring's presidential election, conservative candidate François Fillon, has slumped over allegations of providing fake jobs for his family, a separate fake jobs scandal surrounding far-right frontrunner Marine Le Pen appears to have so far caused little damage to her campaign.
Conservative presidential candidate François Fillon's campaign has met with a further setback after the Paris prosecutor's office decided on Friday to hand its preliminary investigation into his suspected misuse of public funds by employing his wife and children as parliamentary aides, for work allegedly never carried out, to a powerful judicial investigation. 
Paris judge says scion to art fortune had a made 'clear attempt' to hide assets but failings by French investigators ruled out a guilty verdict.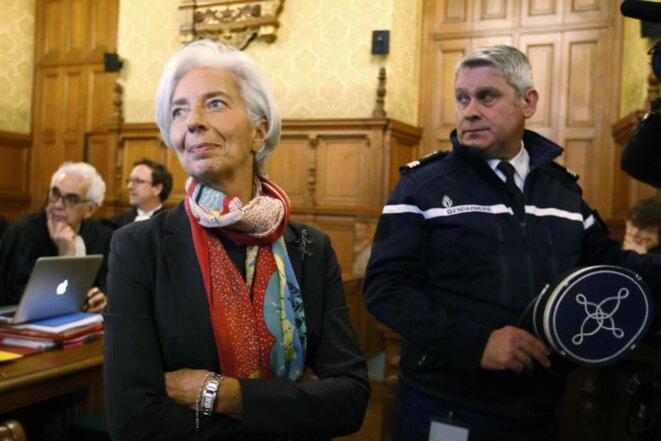 Christine Lagarde in court at the start of her trial on December 12th. © Reuters
Following a week-long trial, International Monetary Fund (IMF) chief Christine Lagarde has been found guilty of negligence when French economy and finance minister for allowing an award of more than 400 million euros from public funds to controversial tycoon Bernard Tapie. But the Court of Justice of the Republic, a special French court dedicated to judging the misdeeds of ministers, decided to exempt her from any sentence. The IMF announced late Monday that it had "full confidence" in Lagarde. Michel Deléan reports.
The International Monetary Fund managing director is to be tried by a special court on Monday charged with negligence when she was French finance minister for allowing a payout of more than 400 million euros from public funds to tycoon Bernard Tapie, a decision since quashed.