Related keywords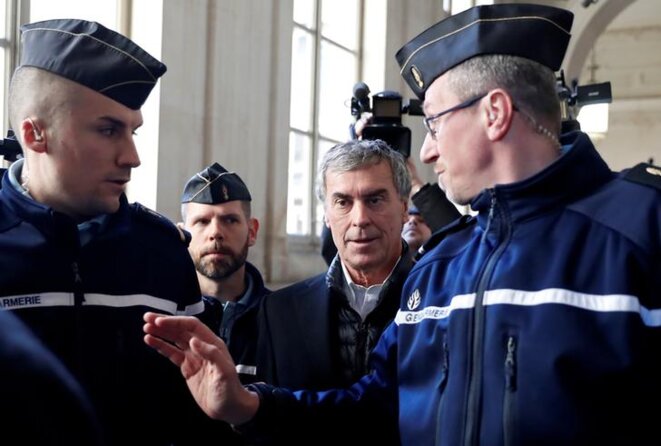 Jérôme Cahuzac (centre) arriving in court on February 12th. © Reuters
At the end of two weeks of hearings, a Paris court on Thursday deferred until May its verdict on the appeal by disgraced former French budget minister Jérôme Cahuzac against a three-year prison sentence handed to him in 2016 for tax fraud and money laundering. Cahuzac, 65, who Mediapart revealed in 2012 held a secret tax-haven bank account while leading a crackdown on tax fraud, did not contest his conviction, but sought a reduced sentence which would allow him to escape prison. While his lawyers argued that Cahuzac was a "broken" and "finished" man who risked taking his own life if sent behind bars, the prosecution has reiterated its demand for a three-year sentence. Mediapart legal affairs correspondent Michel Deléan was in court to follow the proceedings.   
Successive French governments have made a priority of the issue of social benefits fraud, which is recurrently a popular subject for politicians of all sides during election campaigns, and also for some sections of the media. But a report this month by France's official ombudsman for the protection of citizens' rights reveals that while the true cost of benefits fraud is often grossly overestimated, benefits agencies are engaged in such a zealous crackdown that many innocent people, most often the poorest in society, have been cheated of their rightful allowances, and ordered to make backpayments on false pretences. Mediapart political commentator Hubert Huertas details the findings of the report.
While support for the early favourite to win this spring's presidential election, conservative candidate François Fillon, has slumped over allegations of providing fake jobs for his family, a separate fake jobs scandal surrounding far-right frontrunner Marine Le Pen appears to have so far caused little damage to her campaign.
Conservative presidential candidate François Fillon's campaign has met with a further setback after the Paris prosecutor's office decided on Friday to hand its preliminary investigation into his suspected misuse of public funds by employing his wife and children as parliamentary aides, for work allegedly never carried out, to a powerful judicial investigation. 
Paris judge says scion to art fortune had a made 'clear attempt' to hide assets but failings by French investigators ruled out a guilty verdict.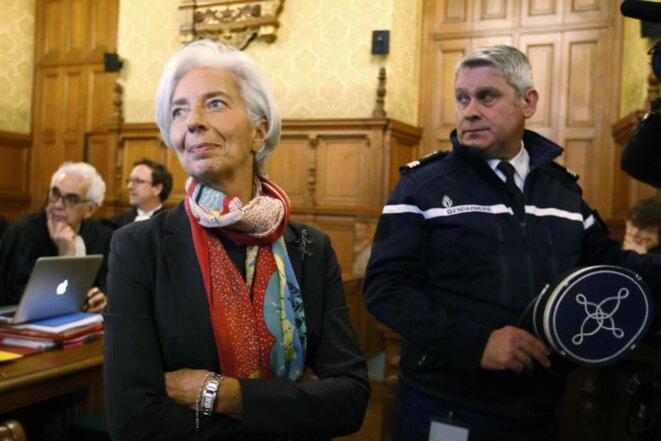 Christine Lagarde in court at the start of her trial on December 12th. © Reuters
Following a week-long trial, International Monetary Fund (IMF) chief Christine Lagarde has been found guilty of negligence when French economy and finance minister for allowing an award of more than 400 million euros from public funds to controversial tycoon Bernard Tapie. But the Court of Justice of the Republic, a special French court dedicated to judging the misdeeds of ministers, decided to exempt her from any sentence. The IMF announced late Monday that it had "full confidence" in Lagarde. Michel Deléan reports.
The International Monetary Fund managing director is to be tried by a special court on Monday charged with negligence when she was French finance minister for allowing a payout of more than 400 million euros from public funds to tycoon Bernard Tapie, a decision since quashed.
A man and woman who fraudulently claimed for compensation from a fund set up to help victims of the November 2015 jihadist attacks in Paris, which left 130 dead and hundreds wounded, were jailed after it was found they were in fact at home in southern France during the events.
Close to the end of a two-week trial, the prosecutor demanded that Jérôme Cahuzac, who was exposed by Mediapart for holding a tax-evading bank account abroad, be also barred from elected office for five years and that his wife be sentenced to two years in jail.  
France's anti-corruption services are over-stretched, under-staffed and under-performing, lacking both the human and material resources to effectively carry out the investigations handed to them. The problem affects both the judicial services and the specialised police units that carry out the in-the-field investigations into white-collar crime. Mediapart legal affairs correspondent Michel Deléan reports on a deepening crisis.  
The far-right party is suspected of using assistants paid salaries by the European Parliament for local party work in France.
Her Front National party faces probe over misuse of company assets and conspiracy to commit fraud at national elections in 2012.
The French far-right party, reeling from internal disputes, is suspected of defrauding the state by inflating campaign expenses in 2012 elections.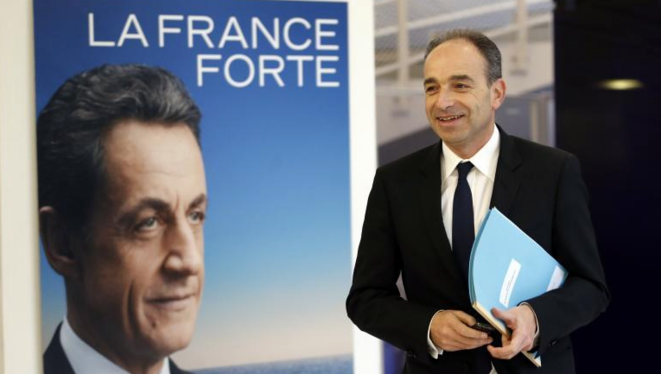 © Reuters
In recent days six people have been placed under formal investigation in connection with the presidential election financial scandal that is rocking the main right-wing opposition party, the UMP. Judges are investigating a system of fake invoicing by communications firm Bygmalion in 2012 in which they unlawfully billed the UMP rather than Nicolas Sarkozy's election team for work they did  organising campaign rallies. This was apparently done to avoid the Sarkozy campaign breaching strict rules on how much presidential candidates can spend. This growing scandal is now potentially a major threat to Sarkozy's political comeback, though the former president himself claims he knew nothing of the affair or even the name Bygmalion at the time. Here Mathilde Mathieu, Ellen Salvi and Marine Turchi give a guide to the main players in the so-called Bygmalion affair and the issues at stake.