Related keywords
French president Emmanuel Macron expressed his 'deep sadness' over incident, which is believed to be biggest single loss of life for French military since the 1980s.
French president Emmanuel Macron expressed his 'deep sadness' over incident, which is believed to be biggest single loss of life for French military since the 1980s.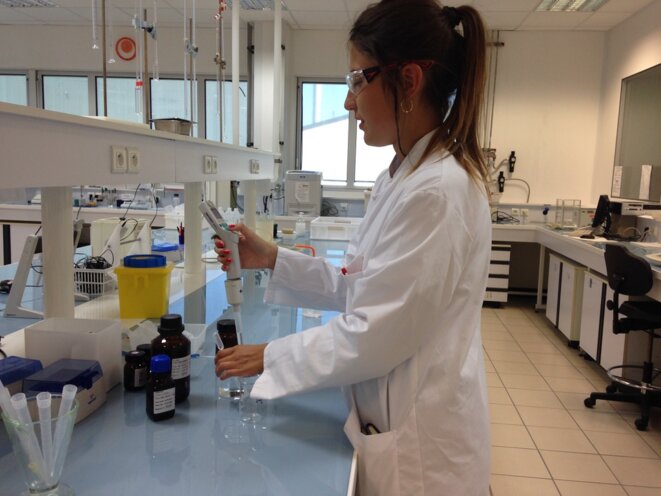 In the quality control laboratory at the French Army's antidote-producing Central Pharmacy. © RLS
In a military base not far from the city of Orleans south of Paris, a top-security factory ensures France is well-prepared for a range of chemical and biological threats. Even when there is no imminent danger some 30 million to 40 million pills are made each year – and destroyed when they pass their expiry date. Mediapart's Rozenn Le Saint was given rare access.
A book just published in France details the tragic story of how hundreds of interpreters employed by the French army during its operations in Afghanistan were refused safe sanctuary after it pulled out of the country, abandoning them and their families to threats of retaliation by the Taliban and other groups. While France is not the only country previously engaged in Afghanistan to have subsequently betrayed its interpreters – called tarjuman in the Dari language – the investigation by journalists Brice Andlauer and Quentin Müllern offers a rare insight into the hypocrisy and cynicism of governments, far removed and insensitive to those involved in waging their war on the ground. Mediapart publishes here a telling extract from their book Tarjuman, une trahison française ('Tarjuman, a French betrayal').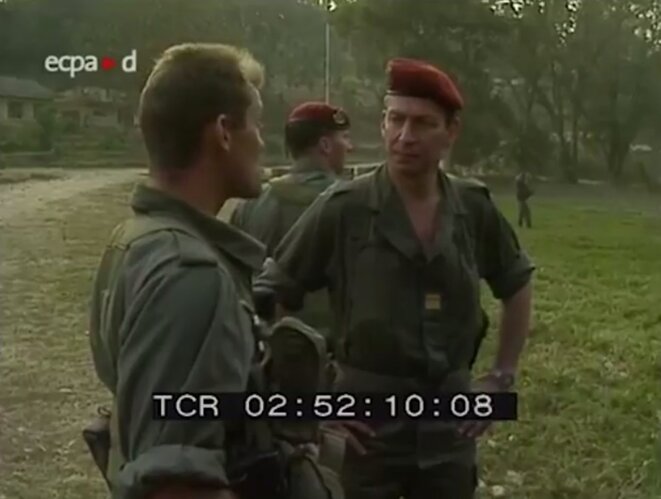 On the right, Colonel Jacques Rosier, head of French special forces in Rwanda. © DR
Mediapart has published a video filmed in the summer of 1994 by French soldiers in Rwanda. It exposes the passivity of the army during one of the most embarrassing episodes for France during the genocide in that country: the massacre at Bisesero. The revelation comes as French judges complete their long investigation into the claims that the French military was "complicit" in genocide and crimes against humanity. Meanwhile human rights groups say they fear that the victims of the atrocities will be denied justice.  Fabrice Arfi reports.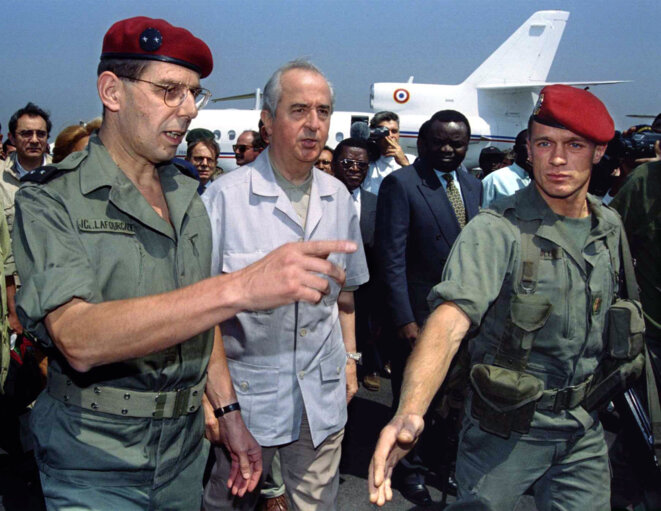 General Jean-Claude Lafourcade, leaft, head of Opération Turquoise forces in Rwanda, with prime minister Édouard Balladur, July 21st, 1994, at Goma. © Reuters
Investigating magistrates in France have been probing the actions of a group of senior French military officers in relation to a massacre at Bisesero in Rwanda, one of the grim episodes in the genocide committed against the Tutsi people in 1994. For 13 years the judges have investigated the potential responsibility of the French military over that massacre amid claims that senior officers were slow to react to warnings that Tutsis were in mortal danger at that site. But Mediapart understands that the magistrates have now finished their probe with no individuals being placed under formal investigation, paving the way for the case to be dismissed with no trial. Fabrice Arfi reports.
The pilot of a French military helicopter died, and his co-pilot was seriously injured, when their Gazelle crashed while on a training flight near the Ivory Coast city of Abidjan, the army said in a statement on Wednesday. 
A French judicial investigation into claims relayed by the United Nations that several French soldiers engaged in a peacekeeping mission in the Central African Republic perpetrated rape and sexual abuse of minors between 2013 and 2014 has been wound down after magistrates ruled there was insifficient evidence to support a prosecution.
Chief of staff General Pierre de Villiers said: 'Everybody knows that this conflict will be resolved through diplomatic and political channels.'
The French army said Mohamed Ali Ag Wadossene, an operations chief for al-Qaeda in the Islamic Maghreb, died in a firefight in northern Mali.
The judicial probe is launched after France was criticised for slow action on claims its troops sexually abused boys in Central African Republic.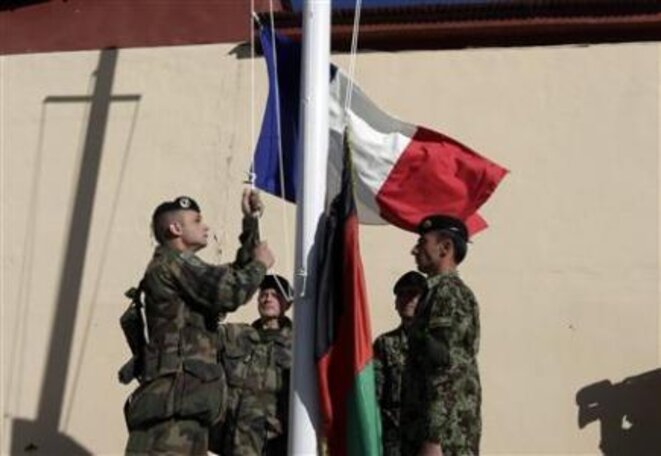 © Reuters
A total of 258 local civilians, mostly interpreters, who worked for the French army in Afghanistan applied to resettle in France before the last of its military left the country in 2014. Just 73 were granted permission. The remainder, considered as traitors by the Taliban, live in fear of their lives, and those of their families, amid a rapidly deteriorating security situation. After a protest demonstration by the interpreters in Kabul in March, a group of French lawyers, scandalised at their plight, launched a vigorous campaign to help the rejected candidates resettle in France, backed by pressure from Members of Parliament. The French foreign ministry has now finally agreed to reconsider relocation applications, but the outcome remains uncertain. Lénaïg Bredoux reports on the plight of the rejected interpreters, and speaks to one living in hiding in Kabul. "Why did the French friends leave us in danger?" he asks, "I don't find the answer."
Thomas Dupuy, a sergeant from a commando parachutist unit in the air force, reportedly died in a fierce clash with Islamist militants.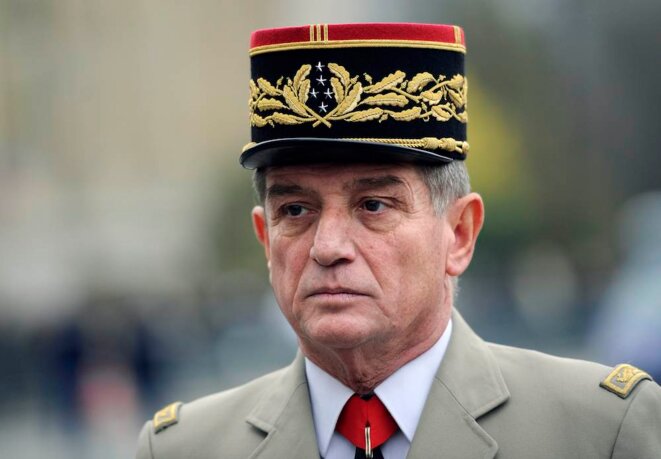 Benoît Puga en novembre 2011 © Reuters
When François Hollande was elected head of state in May 2012, General Benoît Puga expected to be removed from the powerful position as chief military advisor to the French president that he had held under Nicolas Sarkozy. Instead Puga was kept on, and has even seen his influence grow following French military interventions in Mali and the Central African Republic. "He's taking control of the president's brain," is the view of some at the ministry of defence. Increasingly, Puga's role at the Elysée Palace is causing annoyance among MPs from the ruling Socialist Party, not least because of the general's known right-wing sympathies. In the meantime, argues Thomas Cantaloube, Puga's continuing presence at the heart of government tells us a great deal about the Sarkozy years, the way Hollande exercises power and about the fawning and secret nature of this five-star general himself.