Keyword: French Catholic Church
Following  publication of a report about sexual abuse of children by the clergy, Eric de Moulins-Beaufort said in a radio interview that the secrecy of the confession rite takes precedence over the laws of the republic.
Report said an estimated 3,000 child abusers - two-thirds of them priests - worked in the church from 1950 to 2020.
Jean-Marc Sauve, head of a commission set up by the Catholic Church, said that a previous estimate in June last year of 3,000 victims "is certainly an underestimate."
The French Catholic Church's bishops' conference has agreed to soon begin paying financial compensation to victims of sex crimes by its clergy and who are unable to bring legal action against the perpetrators because of France's statute of limitations for the prosecution of such crimes.

The French Catholic Church has for years protected priests and others under its authority who were accused of sexual assaults, and paedophile crimes in particular. This Mediapart investigation reveals how 25 bishops, five of who are still active, were directly involved in protecting 24 people, mostly priests, accused of sexual abuse. They were among 32 alleged perpetrators of sex crimes who are identified here as having been protected by the Church, and whose alleged victims total 339. The method employed often involved the transfer of the alleged perpetrators, a number of who have now been convicted for sex crimes, to distant geographical locations both in France and abroad. Daphné Gastaldi, Mathieu Martinière and Mathieu Périsse report (graphics by Donatien Huet).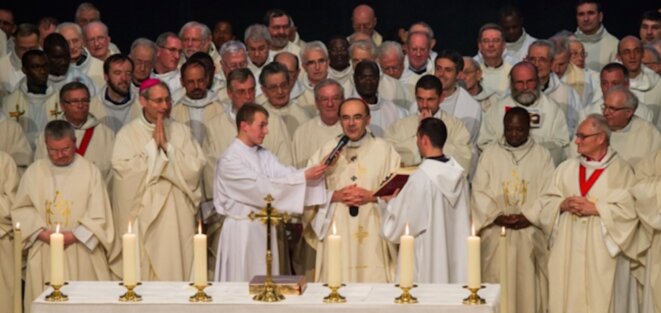 Father Bernard Preynat, on far right in second row, at a church ceremony presided over by Cardinal Barbarin in Lyon in April 2015. © lyon.catholique.fr
The Catholic Church in France has developed a system of quietly moving priests suspected of sex abuse to other areas or jobs, Mediapart can reveal. The method, aimed at avoiding or damping down local scandals without telling the judicial authorities, includes sending the priests concerned on sabbatical leave, to remote rural parishes, to jobs as archivists or as chaplains for the elderly, or in some cases despatching them to far-flung parishes in Africa and Asia. Daphné Gastaldi, Mathieu Martiniere and Mathieu Périsse report.
France's senior Roman Catholic cleric is accused of "flipping his lid" after warning same-sex marriage would lead to polygamy and incest.
The French Catholic Church this week organized the reading of a prayer in churches across the country against President François Hollande's plans to legalize same-sex marriages and to grant child adoption rights to gay couples. The 'Prayer for France' was read by priests and parishioners during the traditional yearly Assumption Day Mass on August 15th, directed at politicians "so that their sense of the common good will overcome special demands". While the move outraged gay rights groups and set the Church on a collision course with government, it also divided some congregations - nowhere more so than those in the Marais 'gay quarter' of Paris, where Mathilde Mathieu and Michaël Hajdenberg spoke to parishioners and priests.