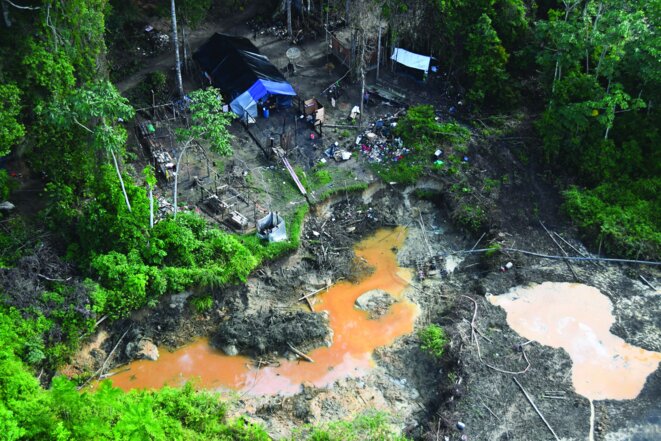 An unauthorised gold-prospecting site in operation in 2017 in French Guiana. © Parc Amazonien de Guyane
For many years, French leaders have liked to pose on the international scene as potential saviours of the Amazon, as we have just witnessed at the recent G7 summit in Biarritz with the diplomatic spat between President Emmanuel Macron and Brazilian president Jair Bolsonaro over forest fires. President François Mitterrand started the trend back at the Earth Summit in Rio de Janeiro in 1992. But alongside the diplomatic posturing there is also the reality of what is happening in French Guiana, an overseas region of France that lies just to the north-east of the Amazon rainforest. As Marion Briswalter reports from Cayenne in Guiana, what is happening on the ground in this French corner of South America reflects less well on Paris's stewardship of the environment.
French President Emmanuel Macron on Saturday ended a 48-hour visist to French Guiana, the South American territory ruled by Paris, where he was challenged over what a number of political leaders have denounced as aa lack of aid by France to tackle poor living standards, inadequate transport infrastructures and epidemic crime.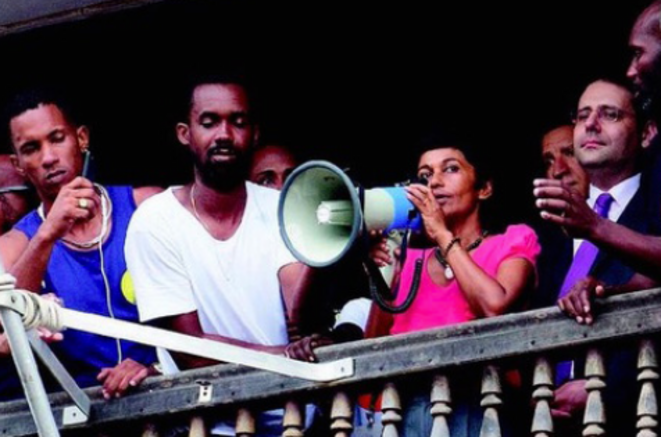 French minister Ericka Bareigts said sorry to French Guiana - but will it herald change? © Eric Bosc
For decades there has been a string of legal and economic initiatives by France aimed at improving the lot of its overseas territories. Yet as the current crisis in French Guiana shows, these measures have failed to have a noticeable impact on the 2.7 million French people who live in those regions. Julien Sartre reports on how an outdated model of development applied to these territories still shows no signs of being updated.
Instead labour leaders behind the massive strikes in French overseas region want a package of measures worth €2.5 billion right away.
The plan, which follows protests across the French territory in South America, entails sending extra police forces, creating a tribunal and a jail.
Social unrest amid complaints about crime, living costs and poor healthcare has paralysed French Guiana for days, shutting down its international airport and forcing the cancellation of the launch of two Arianespace rockets intended to place in orbit communication satellites.
The Pacific archipelago of New Caledonia and the South American territory of Guiana are both part of France. But in these remnants of the French colonial past, indigenous peoples suffer from violations and non-recognition of their human rights. France's human rights commission has now called on the country to recognise New Caledonia's Kanaks and Guiana's Native Americans as indigenous peoples and to grant them full rights, as laid out in the United Nations charter. Julien Sartre reports.
One of the overseas titles once owned by the Hersant newspaper empire.
The Hersant newspaper group disintegrated a few years ago, following massive job losses, the closure of titles and insolvencies. However the demise of this once-powerful group which had owned close to 50% of the national and local French press, is still having an impact in French overseas territories where it also had a strong base. Julien Sartre reports on the lingering effects of the fall of a newspaper empire which had influence around the globe.
Paris is sending extra hospital equipment as officials say Martinique and French Guiana have had about 100 confirmed Zika cases.