Keyword: French overseas territories
While mainland France went into lockdown last Friday in an attempt to stem a new surge of the coronavirus epidemic, its overseas territories, with the exception of the Caribbean island of La Martinique, were exempted. The dire structural economic and social problems many have long been struggling with were exacerbated by the first total lockdown introduced earlier this year. But as the virus rapidly spreads, the overseas territories, with a total population of close to three million, face a dilemma that for many could end in a hammer blow. Julien Sartre reports.
The public broadcaster television channel France Ô was created to showcase the programmes and culture of France's overseas territories to Metropolitan France and provide a link between the country's mainland and its far-flung lands. But now the government in Paris has decided to axe the channel, which has been getting very low viewing figures. It will broadcast for the last time on August 23rd. Ministers insist that the channel will be replaced by a new online portal and that programmes about the overseas territories, from the Caribbean to the Indian Ocean and the Pacific, will be shown in greater numbers on existing public broadcast channels. But as Julien Sartre reports, many fear that France's overseas territories may simply become "invisible" once more.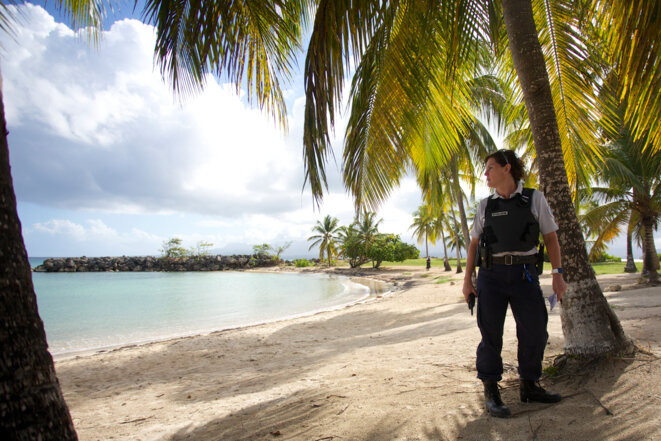 A police officer patrolling Gosier beach on Guadalupe, March 20th 2020 © Cedrick Isham CALVADOS / AFP
The threat of the Covid-19 coronavirus is particularly great for France's overseas regions and territories because of their remoteness and their lack of infrastructure. But above all, as Julien Sartre writes, the pandemic risks being a disaster for the morale and mental well-being of the people living on these far-flung lands.
French citizens living overseas territories can pay between two and five times as much to send a parcel as their counterparts in metropolitan France. Now trade unions want to put an end to what they see as yet another "injustice" suffered by those who live in far-flung parts of France. Julien Sartre reports.