Keyword: French parliament
Related keywords
The French government's proposed legislation to reform immigration and asylum laws has begun its passage through parliament this week, to fierce attacks from opposition MPs of both the Left and the Right. The conservatives, whose policies under their new leader have veered towards the hard-right, claim the bill is little more than soft tinkering of current laws, while the Left denounce an unjustified clampdown on migrants' rights, a view shared by some among President Macron's ruling LREM party. Mathilde Mathieu was in parliament to witness the early exchanges of what promises to be a week of inflamed debate.
A report commissioned by the French government recommends dropping criminal prosecution of cannabis users and introducing fixed fines instead in order to relieve the bureaucracy involved in sanctioning an estimated 1.4 million people who use the drug, and who currently face a maximum sentence of one year in prison.
Former investment banker wants employers to have more power to negotiate conditions at local level and to cap sacking compensation awards.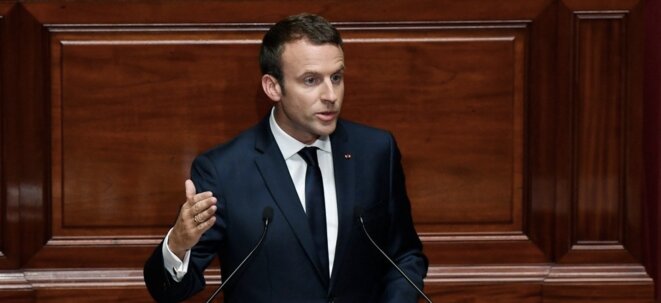 President Emmanuel Macron addressing the special Congress at Versailles, July 3rd, 2017. © Capture d'écran France 2
In a high-profile and highly-unusual speech before both chambers of the French Parliament in the sumptuous surroundings of Versailles on Monday July 3rd, President Emmanuel Macron claimed to be setting the "course" for his presidency. But, says Ellen Salvi, it turned out to be an hour-and-a-half of messages that had already been delivered during his election campaign and he announced little more than a promise of some institutional reforms.
A programme aimed at de-radicalising Islamist extremists in France, launched by President François Hollande after the country was hit by a series of terrorist attacks, has been an 'amateurish' flop driven by a government that 'panicked', a cross-party parliamentary commission of enquiry has reported.
French Member of Parliament Denis Baupin on Monday resigned from his role as deputy speaker of the lower house, the National Assembly, just hours after the publication of an investigation by Mediapart and France Inter radio in which several female colleagues, including a fellow MP, allege they were sexually harassed by him. Baupin, 53, who is married to housing minister Emmanuelle Coste, last month resigned from the EELV Green party to which all of his accusers belonged at the time of the alleged events. He denies the accusations, which include physical groping and other lewd behaviour and repeatedly sending sexually explicit phone text messages. Lénaïg Bredoux reports.
At the end of four days of debates, French MPs on Wednesday voted in favour of the socialist government's package of proposed amendments to the country's constitution, which include stripping French nationality from convicted terrorists and giving temporary state of emergency powers a permanent legal basis. The measures are highly controversial and have opened deep divisions both on the Left and Right, yet when the crucial voting of the reforms began on Monday, just 136 MPs out of a total 577 were present. Mediapart political affairs commentator Hubert Huertas argues here that the decried absenteeism reveals above all an inherent weakness of the French parliamentary system.
Some MPs expressed disquiet at presence of the US actress and animal rights campaigner to back legislation outlawing foie gras production.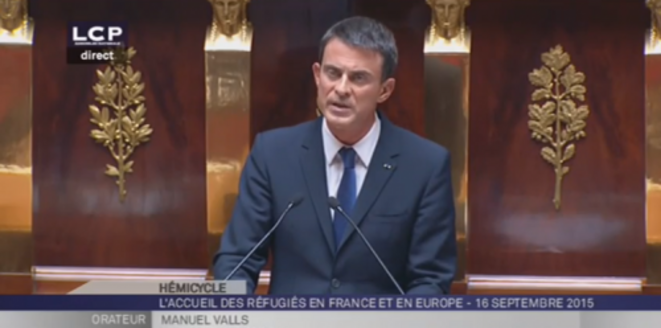 © LCP
The French parliament on Wednesday held a debate on "the accommodation of refugees in France and Europe", centred on the government's pledge to receive an extra 24,000 refugees over the coming two years, on top of the existing numbers of asylum seekers. But, writes Mediapart political correspondent Lénaïg Bredoux, it was a missed opportunity for political courage, in which Prime Minister Manuel Valls tempered France's announced welcome of refugees with the need to tighten border security, overshadowed by fears that the crisis is further fuelling support for the far-right Front National party.  
A draft law will been offered to the public for a first reading, with officials saying move could be a great success or a 'complete flop'.
In the French Senate, it appears that crossing a courtyard can be a lucrative affair. Mediapart has learnt how the secretary general of the upper house's conservative UMP party group of senators was given 173,000 euros, paid out of publicly-provided funds, as an indemnity payment for losing his job, and just weeks before taking up another post with the Senate's president, UMP party member Gérard Larcher. Mathilde Mathieu reports on the latest example of the gravy-train lifestyle enjoyed at the Senate, whose UMP party group is at the centre of an ongoing judicial investigation into suspected money laundering and misuse of public funds.    
Press reports say the US firm would be required to reveal its formula for ranking websites under new legislation now before parliament.
The proposed new legislation aims to install sweeping spying powers to tackle terrorism, but which critics say place human rights under threat.
Since its introduction by a socialist government in 2000, France's 35-hour working week is the subject of political controversy at home and myth abroad. While it has long been the bugbear of the French Right, now the current socialist government's economy minister Emmanuel Macron has called for its application to be eased, supposedly to increase business competitiveness. Outside of France, it is often misunderstood as the illustration of a laid-back workforce – but who, according to Federal Reserve Economic Data, in reality work more hours annually than their German counterparts. This month, a French parliamentary commission of enquiry into 'the relative societal, economic and financial impact of the reduction in working hours', prompted by centre-right MPs, published its findings. To the surprise of many, and the ire of some, it broadly concludes that the measure, arguably the last most significant socialist reform, has proved a positive one. In this report by Mathieu Magnaudeix, the parliamentary commission's rapporteur Barbara Romagnan argues why the 35-hour week has been positive for employees and employers alike, and why introducing a further reduction in basic working hours should not be excluded.