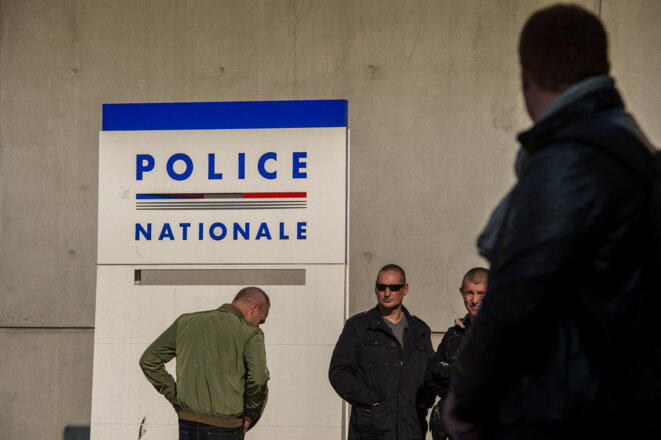 Police officers gather in front of the police HQ in Lille on October 11th 2016 in support of their colleagues attacked at Viry-Châtillon near Paris. © Philippe HUGUEN / AFP
Prosecution authorities in France have opened an investigation into police officers who are suspected of having truncated the statements of a key witness and some suspects in relation to a petrol bomb attack on a police patrol car at Viry-Châtillon in the southern suburbs of Paris in 2016. Largely as a result of this doctored evidence some innocent youths were jailed in 2019 and were only released on appeal in April this year. The launch of this new investigation follows formal complaints by five lawyers representing some of those accused, as previously revealed by Mediapart. Pascale Pascariello and Antton Rouget report.
 A 22-year-old man lost his hand and several others were also injured amid clashes as police tried to break up an unauthorized rave party in near the Brittany town of Redon on Friday night.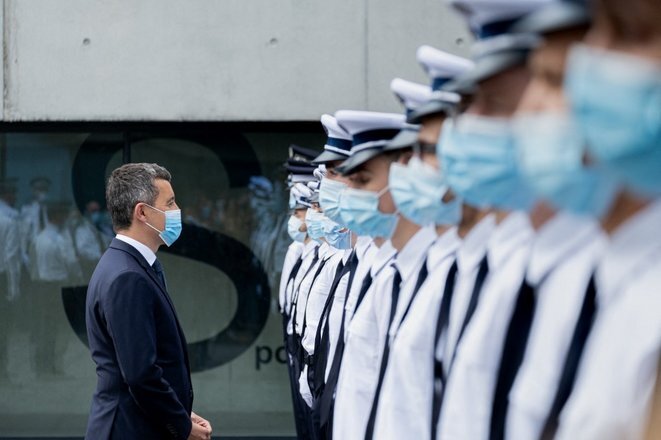 Interior minister Gérald Darmanin meets police officers at Lille on May 14th 2021. © Célia Consolini/Hans Lucas via AFP
The French Republic should not be subject to the demands of the police. Yet this democratic principle is under challenge from the demonstration held by police officers on Wednesday, May 19th. Organisers of the protest in front of the National Assembly in Paris, which was supported by members of the current government, the far right and the two historic parties of the Left, are demanding minimum sentences for anyone found guilty of attacks on police officers. This undermines one of the key principles of the French Republic, that the police force is there to serve all citizens, and not to seek law changes in its own interest or the interests of the government of the day, argue Mediapart's publishing editor Edwy Plenel and political correspondent Ellen Salvi in this op-ed article.
Interior minister Gérard Darmanin sparks controversy by attending to 'show his support' at protest outside France's National Assembly on Wednesday, held to demand minimum sentences for anyone attacking the police.
Comment la police a saboté la manifestation du 12 décembre 2020. Enquête vidéo. © Mediapart
Mediapart has gathered and analysed hundreds of videos taken during a demonstration staged in Paris on December 12th 2020 against the French government's controversial "global security" law. Our investigation shows the unlawful nature of dozens of police charges carried out that day. It also documents the arbitrary arrests of demonstrators, baton blows given for no reason and the misleading statements made by interior minister Gérald Darmanin, especially over the nature and outcome of the arrests made. Sébastien Bourdon, Camille Polloni, Antton Rouget and Antoine Schirer investigate.
Party-goers had clashed with police who tried to prevent the event near Rennes, setting a car on fire and throwing bottles.
France has confirmed 2.6m Covid-19 cases, the fifth highest total in the world, and more than 64,000 deaths.
The elderly woman diagnosed with dementia must pay a fine of €166 for having put the wrong date on her form for leaving home during lockdown.
Special reporters take government in Paris to task over proposed legislation that would give police more power.
Prime minister Jean Castex has said people are not abiding by the rules as strictly as during the first lockdown back in the spring.
One of the officers was in critical condition after being shot four times, while the other was shot twice after the pair were dragged out of their unmarked car and beaten late yesterday in a Paris suburb.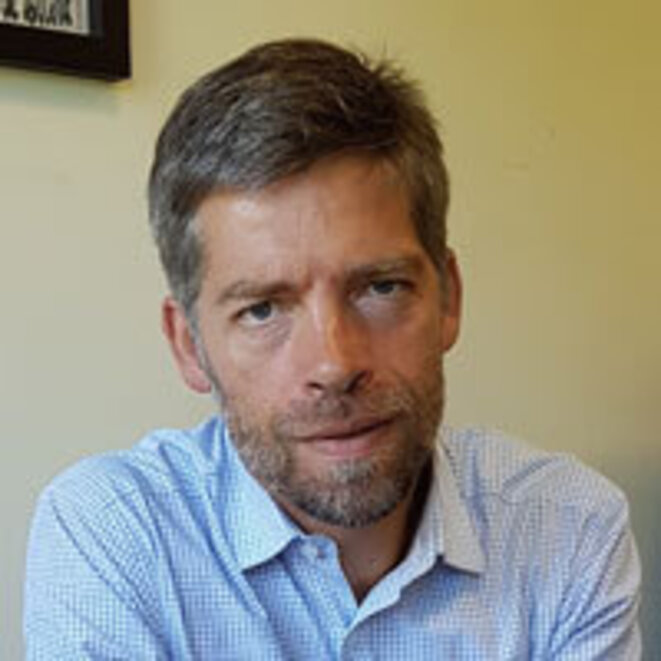 Jacques de Maillard. (© Sciences-Po Saint-Germain-en-Laye)
Through his appointment of the tough-talking Gérald Darmanin as interior minister, President Emmanuel Macron has shown himself to be a conservative on law and order issues, following in the footsteps of former president Nicolas Sarkozy. The French Left, meanwhile, which is wary of once again being portrayed as "soft" on crime, is showing signs of wanting to set its own agenda on the issue ahead of the 2022 presidential election. Against this backdrop Mediapart's Antoine Perraud spoke to political scientist Jacques de Maillard, an expert on the police and on law and order issues, about the fight against crime and the effectiveness of statistics. The academic warns against the "perverse effects" of focusing too narrowly on crime figures and of the dangers of proclaiming "simple solutions" to what are complex issues.
Lebanese protesters and the international community have called for an impartial investigation into the incident that killed more than 170 people and injured thousands.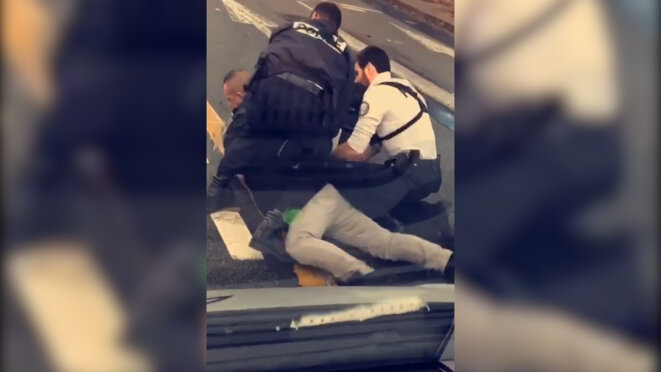 Cédric Chouviat, still with his helmet on, held on the ground by three police officers in Paris on January 3rd 2020. © Document Mediapart
On January 3rd 2020 deliveryman Cédric Chouviat, aged 42, was stopped on his scooter as part of a routine roadside police check in Paris, arrested, put in a chokehold then held face down on the pavement. His own mobile phone reveals that seven times he repeated the words "I'm suffocating" before falling unconscious and later dying. The episode inevitably has echoes of the American George Floyd whose last words when being held down by a police officer in Minneapolis were "I can't breathe".  These revelations about the final words of Cédric Chouviat, contained in a report seen by both Mediapart and Le Monde, will put even greater pressure on the authorities to shed light on the nature of the arrest and the controversial techniques used by the French police to restrain the father-of-five. Pascale Pascariello reports.