Keyword: French Polynesia
French President Emmanuel Macron, on his first official trip to French Polynesia, said that Paris owes 'a debt' to the local population over nuclear tests carried out there between 1966 and 1996, including 63 atmospheric blasts which exposed inhabitants of the South Pacific territory to radiation.
French president started his trip Saturday night in Tahiti with a visit to a hospital and an appeal to get vaccinated against the virus.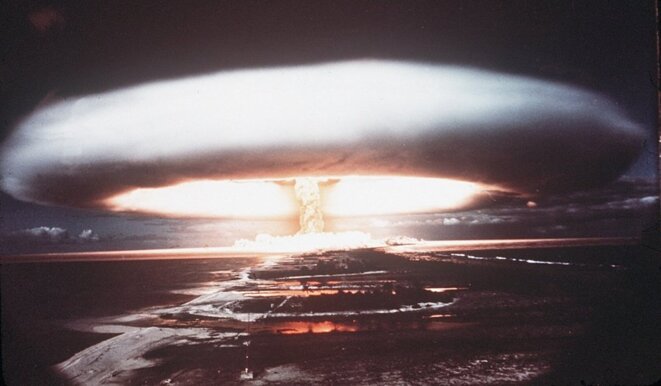 A French atmospheric nuclear bomb test above the Murorura atoll in 1971. © AFP
Beginning in 1966, France carried out close to 200 nuclear tests at its South Pacific territory of French Polynesia, 15,000 kilometres from Paris. The most contaminating were the nuclear bombs exploded in the atmosphere. This report from a series of investigations by Mediapart's editorial partner Disclose presents the extent of the radioactive fallout from one of those bombs in the Polynesian island of Tahiti, a hidden nuclear disaster that is estimated to have exposed 110,000 inhabitants to alarming levels of radioactivity.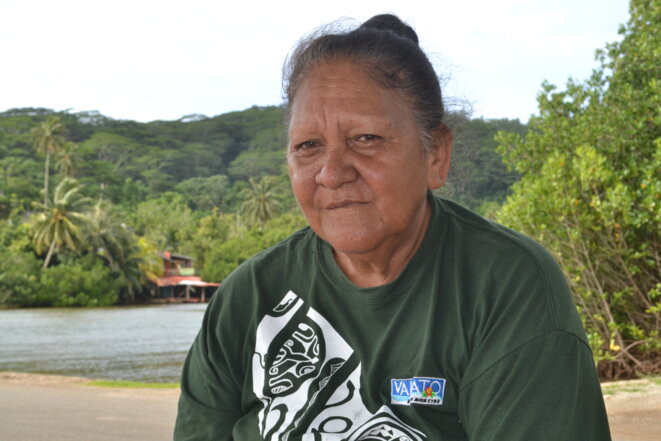 Marguerite Taputu, from the island of Taha'a in French Polynesia, who has suffered thyroid and breast cancer, has never blamed France nor sought compensation for her suffering. © JS
Over a period of three decades beginning in 1966, France detonated 193 nuclear bombs in atmospheric and undergound tests in its overseas territory of French Polynesia in the South Pacific. The vast fallout from the explosions caused tens of thousands of cancers among the local population according to victims' associations, although the true, and possibly much larger, toll remains unknown. Meanwhile, the French and local authorities continue to dismiss evidence of the transmission of illnesses to the children of those directly exposed to the nuclear tests. Julien Sartre reports from French Polynesia.
The woman, 35, was swimming during whale-watching trip off island of Moorea in the French overseas territory when a whitetip shark attacked.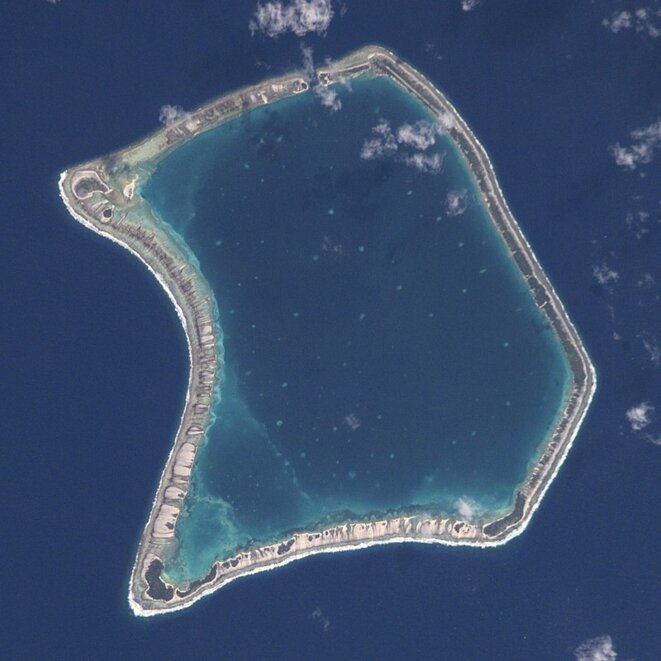 The Fangataufa atoll in French Polynesia, one of the sites of 193 French nuclear bomb tests in the South Pacific. © Wikipedia
The French parliament on Thursday adopted a reform of the organic law that sets out the new measures of autonomy granted by Paris to French Polynesia. Importantly, the legislation includes, for the first time in such a text, a finely tuned recognition that the French nuclear tests were imposed on the South Pacific territory – where a total of 193 bombs were exploded underground, at sea and in the open air over three decades, beginning in 1966 – and the "radiation-induced illnesses" these have provoked. Julien Sartre reports.
Pro-independence party Tavini Huiraatira says President Macron's France has declared open season on its opponents.
Oscar Temaru, campaigning ahead of independence elections in April, has said it was scandalous that France knew about the risks posed to the local population by the 193 nuclear test blasts cordered by Paris in French Polynesia between 1966 and 1996, and demanded that France assume responsibility for the former workers at Moruroa who are now seeking compensation.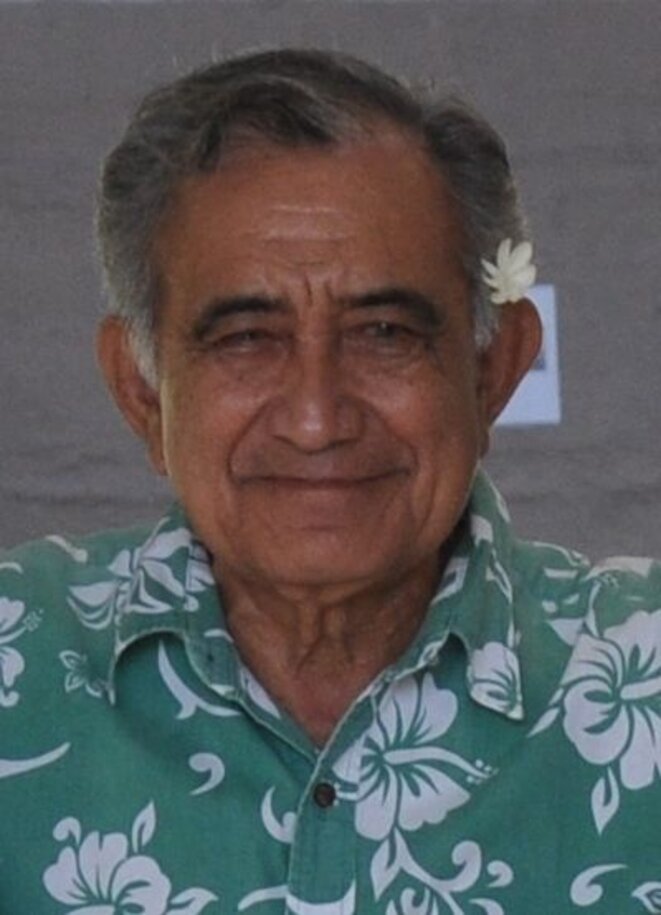 Oscar Temaru. © Saga70 - Wikimedia commons
Oscar Temaru, the veteran leader of the pro-independence movement in French Polynesia, is hoping to run in this spring's French presidential elections. He is currently in mainland France to lobby elected representatives, from Members of Parliament to village mayors, for the mandatory 500 signatures of support for his candidature which are required to enter the race. Temaru openly declares he does not want to become president, but instead he hopes to win the vote of a majority of Polynesians in order to declare the archipelago's independence. Is his campaign a political stunt or a significant challenge to French rule? Julien Sartre reports.    
Fifty years ago this month, France began carrying out tests of its nuclear bombs in the Pacific Ocean territory of French Polynesia. These were the first of what would become decades of atmospheric and underground nuclear explosions in total disregard for the health of the local population and environment. After years of campaigning, victims of the fallout earlier this month obtained a revision of the rigorous criteria governing financial compensation paid to those who have developed serious illnesses following the tests, and which in effect bars most from receiving any indemnity. But, as Julien Sartre reports, the move has been slammed by victims' rights associations as simply tinkering at the edges of a shameful legal refusal to recognise the lethal damage caused by the tests.     
French president said he wants to 'turn the page' on tests while hailing Polynesia's crucial role in developing France's nuclear capabilities.
Scientist says that French authorities did not take medical reports about 2013-2014 outbreak in the French overseas territory seriously enough.
French head of state starts Pacific tour with visit to Wallis and Futuna, followed by French Polynesia and finally Peru, Argentina and Uruguay.
Bourgnon, who won prestigious Route du Rhum transatlantic sailing race in 1994 and 1998, was on diving trip on his yacht north-east of Tahiti.