Keyword: French presidential elections
Front National party leader Marine Le Pen's hopes in next year's French presidential elections were given a clear boost by the victory of Donald Trump, whose anti-immigrant, xenophobic and protectionist rhetoric she shares.
While this year's presidential elections in France saw the first return to power of a socialist administration in 17 years, it also landmarked a significant resurgence of the French Front National (FN) party, whose candidate and leader, Marine Le Pen, scored the highest share of the vote the far-right has ever reached in a presidential poll, attracting more than 6.4 million voters. But behind her national score, Le Pen arrived first-placed among the ten candidates in one out of six municipalities across the country. A French researcher has now completed a study of the populations where Le Pen did best, and his findings contradict a number of clichés about its grass-roots supporters. Michaël Hajdenberg and Mathieu Magnaudeix report.
© Thomas Haley
Socialist Party candidate François Hollande has won the French presidential elections. Official results announced by the interior ministry at 1 a.m. Monday gave Hollande a 51.67% share of the vote in mainland France, but excluding the results from French expatriate votes. Hollande's victory over incumbent Nicolas Sarkozy, credited with 48.33%, is the first time a socialist has been elected president since François Mitterrand won a second term of office in 1988 and ends 17 years of uninterrupted conservative occupancy of the post. Hollande, 57, will now formally enter office mid-May, when he will appoint a prime minister to form a caretaker government until parliamentary elections are held in June. "I have confidence in France, I know it well, I know we are capable of straightening ourselves up," Hollande said in a victory speech on Sunday evening. "It is this French dream that I will make it my job to accomplish." Sarkozy, meanwhile, said he accepted "full responsibility" for his defeat and announced he was quitting front-line politics. "My place can no longer be the same" he said, "another era is underway".
Well before polling finished in France's presidential elections, the Socialist Party began organising its victory festivities at the Bastille square.
François Hollande and Nicolas Sarkozy join early voting in the final round of the French presidential elections (video).
The French presidential election campaign speeches have largely snubbed the country's farming community, once a key and targeted electorate.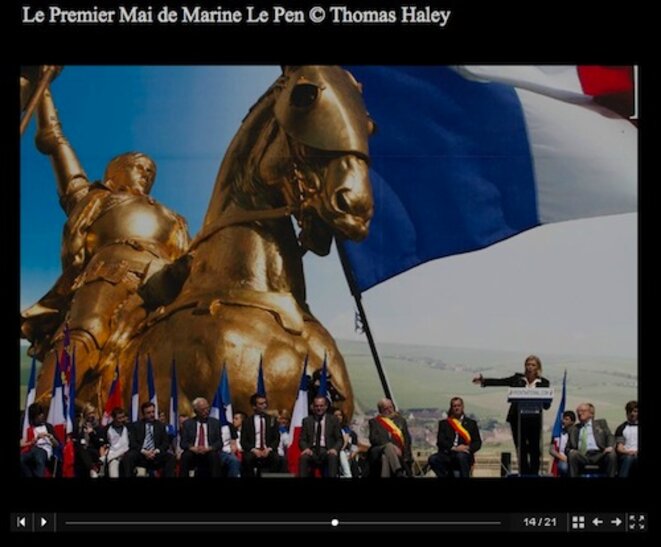 Pour voir le portfolio, cliquer sur l'image @ Thomas Haley
Far-right Front National leader Marine Le Pen led party supporters on their now traditional May 1st "patriotic" rally, beginning with a wreath-laying ceremony at the statue of Joan of Arc in central Paris, and ending with a gathering at the nearby Place de L'Opéra square where Le Pen delivered a speech before a flag-waving crowd, many with T-shirts and banners proclaiming 'French proud and strong'. American Paris-based photographer Thomas Haley was there to capture the atmosphere for Mediapart.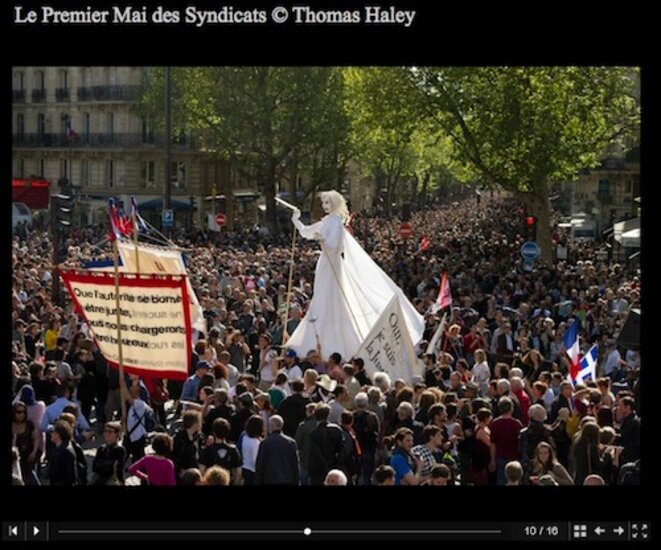 Pour voir le portfolio, cliquer sur l'image © Thomas Haley
The traditional May Day marches across France to celebrate International Workers' Day brought out 750,000 people nationwide, according to the country's principal trades union, the CGT. The largest rally was held in Paris, where the union claimed 250,000 turned out – 48,000 according to the police. While the real figure most certainly lies somewhere between, observers agreed that it was a larger number than showed up in 2011, encouraged at least in part by the clement weather and the final stage of the Left hopes will be a victorious presidential election campaign. American Paris-based photographer Thomas Haley, who has been following the French presidential election campaign with a series of picture reports for Mediapart, joined the festive crowds marching through the capital.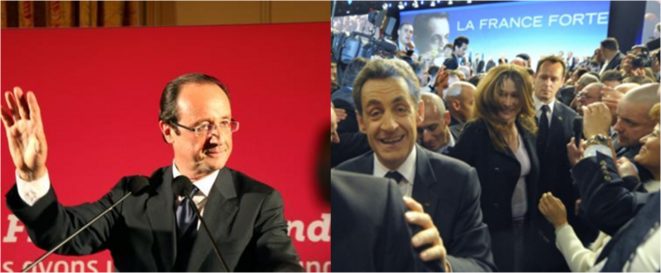 © Vitrani/Reuters
Socialist Party candidate François Hollande and incumbent Nicolas Sarkozy are the winners of the first round of the French presidential elections held on Sunday, according to initial exit poll figures released after the voting ended at 8p.m. They gave Hollande, who took the overall lead, with between 27% and 29%, and Sarkozy with between 25% and 27%. The pair now go through to the final play off on May 6th. Meanwhile, far-right leader Marine Le Pen came in third position, with between 18% and 20% of the vote, the highest score ever obtained by her Front National party. It was a comfortable lead over her closest rival, radical-left candidate Jean-Luc Mélenchon, who drew between 10.1% and 11.5%.
Nicolas Sarkozy, expected to launch his re-election bid next week, sets out plans to make the jobless work for benefits and reforms in education.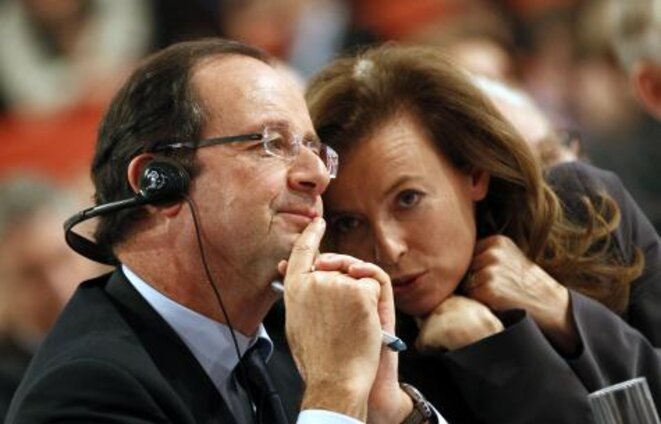 © Reuters
With less than 90 days to go before the French presidential elections, Socialist Party candidate François Hollande remains the frontrunner in what most observers predict will be a two-horse race with outgoing President, yet still undeclared candidate, Nicolas Sarkozy. Hollande's companion, French journalist Valérie Trierweiler (pictured with Hollande), little-known to the public, has until now played a low-profile in the elections, while continuing her professional activities. Yet she has her own personal office at Hollande's campaign HQ. Mathilde Mathieu and Michaël Hajdenberg have been trying, not without difficulty, to find out more about the true role of she who would be France's next First Lady.
Socialist Party presidential candidate François Hollande reveals proposed tax on financial transactions and splitting retail and investment banks.
French enmity towards its president is so strong it makes the modest appeal of his main rival almost unbeatable, writes Time magazine's Bruce Crumley.
The Guardian discovers an 'oh, là, là' love triangle ready to disturb Socialist Party candidates in next year's presidential elections. Plus ça change...