Keyword: French Prime Minister
Related keywords
Jean Castex said that the rate of infection had not significantly strengthened over the past two weeks, even if the pressure on French hospitals remained strong.
Interviewed about his budgetary plans for 2019, French Prime Minister Edouard Philippe said 4,500 public sector jobs would be shed next year when pensions and family and housing benefits will no longer be pegged to inflation, while also forecasting economic growth of 1.7 percent, down on previous predictions.
France's new prime minister Edouard Philippe, appointed last week by centrist president Emmanuel Macron, previously co-authored two novels of political satire, including one where the narrator explains that 'negotiating with a centrist is like trying to catch an eel in a bowl of olive oil', and how he enjoys fullsome women's breasts which allow 'to put one's nose into the middle with jubilation'.  
Manuel Valls will save low-income pensioners from one-year freeze of benefits and pensions in his 50 billion-euro deficit reduction drive.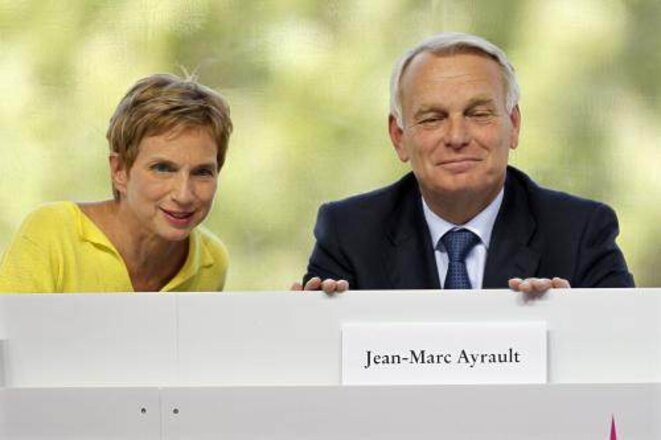 © Reuters
French socialist Prime Minister Jean-Marc Ayrault has finally presented the detail of his  belt-tightening 2013 budget, designed to provide a deficit reduction of 30 billion euros, which was given a critical reception by both the austerity-rejecting Left and the anti-rich tax Right.  Since President François Hollande appointed him as Prime Minister in May, Ayrault, struggling to reach a consensus among his own parliamentary majority, while keen not to alienate the business community, has been slammed in the media for a slowly-slowly approach to decision-making that can't keep pace with the economic crisis. Dithering or quietly determined, bland or grand? Stéphane Alliès, Lénaïg Bredoux and Mathieu Magnaudeix have been collecting the divided and frank views from inside the corridors of power, including those of ministers and senior advisors.
In this second and final part of his exclusive interview with Mediapart, French Prime Minister Jean-Marc Ayrault answers the suggestion that he is railroading the democratic process with the adoption of the European Treaty on Stability, Cooperation and Governance (TSCG), sets out his position on the widespread use of tax havens by big banks and corporations, and for greater representation of national parliaments in EU decision-making. He also answers questions on recent domestic issues, including his government's decision to ban demonstrations in protest at the publication by a French magazine of cartoon caricatures of Prophet Mohammed, and the calling to book of his interior minister over his out-of-step comments on racial profiling and the right to vote of of non-EU nationals.
Jean-Marc Ayrault : " l'Europe est un combat " © Mediapart
In this first part of a wide-ranging exclusive interview with Mediapart, French Prime Minister Jean-Marc pledges his government will do its all to keep the euro alive, argues that a delay should be given to Greece to meet its deficit target and answers mounting criticism that he and President François Hollande have capitulated their pro-growth policies with the adoption, without any compromise, of the austerity-promoting European Treaty on Stability, Cooperation and Governance, the TSCG. The French Prime Minister, in an interview conducted in French and translated here into English, calls on the treaty's opponents to come clean that they want to leave the euro, and claims the election of President Hollande has announced a re-orientation of European policy-making. "I am convinced there has been an enormous degree of political weakness and lack of vision since the start of the crisis," he comments, adding that European leaders are "beginning to be conscious of the major risks into which we will be plunged if Greece leaves the euro."