Thursday's ruling gives the French state until 31 December 2022 to find a way to compensate for the extra tonnes of greenhouse gases emitted.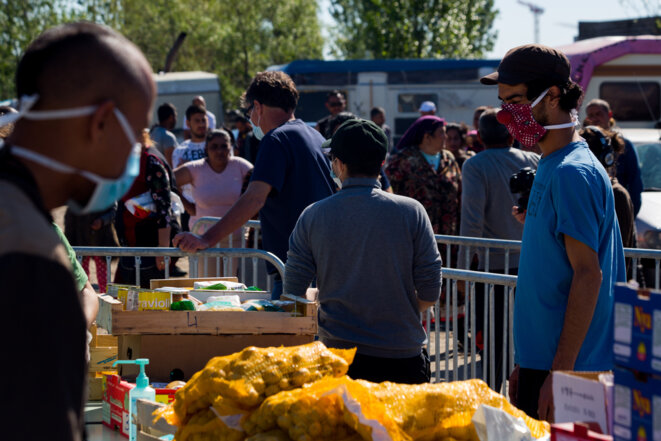 Volunteers hand out food at Bordeaux in south-west France on April 10th 2020. © Hans Lucas via AFP
Families who usually rely on casual work to make ends meet have been unable to earn money since the lockdown began in France on March 17th. As a result their children are starting to go hungry. On May 15th the French state will pay "emergency aid" of an extra 150 euros to families who already receive welfare benefits. But voluntary groups say this is not soon enough and that help is needed now. To fill the gap left by the state, local support groups have meanwhile been springing up across the country, in some cases led by teachers. Faïza Zerouala reports.
Finance minister Bruno Le Maire also says companies cannot pay dividends while receiving government money.
The sister of a mother of two children who was shot dead with her parents by a partner previously reported to the authorities for domestic violence has brought a court case against the French state for failing to prevent the killings in what her lawyer said was a 'textbook case' of 'neglect at every level'.
Franco-Japanese carmaking alliance opposes French State's increased stake while driving force Nissan wants bigger share and rights in the group.
Japanese media report Renault plans to lower its stake in the alliance to give Nissan voting rights and counter French state's 19.7% shareholding.
The move, in a plan to keep key firms under French control, is for an extra 5.1 million shares at 46m euros, and follows similar move at Renault.
Economy minister insists controversial sale of share in biggest airport in south-west France is not 'privatisation' but 'opening up of capital'.
End of an era as Peugeot family loses control of a company it has run since the early days of steam-powered cars in 1889.
French employment minister Michel Sapin has caused his government major embarassment after he described the country as "totally bankrupt".