Several senior membners of France's far-right party, the former Front National now renamed the Rassemblement National, which claims on opinion survey results to be the country's most popular opposition party, went on trial in Paris on Wednesday accused of a scam to defraud the electoral subsidies accorded to political parties in the 2012 national election campaigns.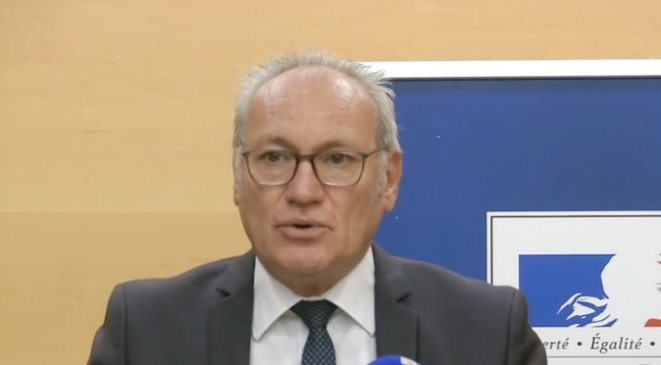 The state prosecutor in Bayonne Marc Mariée.
Claude Sinké, aged 84, a former local election candidate for the far-right Front National – now called Rassemblement National – is in custody for the attack on a mosque in Bayonne in south-west France on October 28th 2019. He told detectives his aim was to "avenge the destruction" of Notre-Dame cathedral in Paris from a fire which he blames on Muslims. Marine Le Pen and the rest of the RN leadership have been quick to distance themselves from their former activist. But Claude Sinké had been adopted as a candidate for the far-right party in 2015 despite posting hate-filled messages on Facebook. Marine Turchi and Matthieu Suc examine the far right party's handling of its supporters and look at the growing threat posed by right-wing extremists in France and across Europe.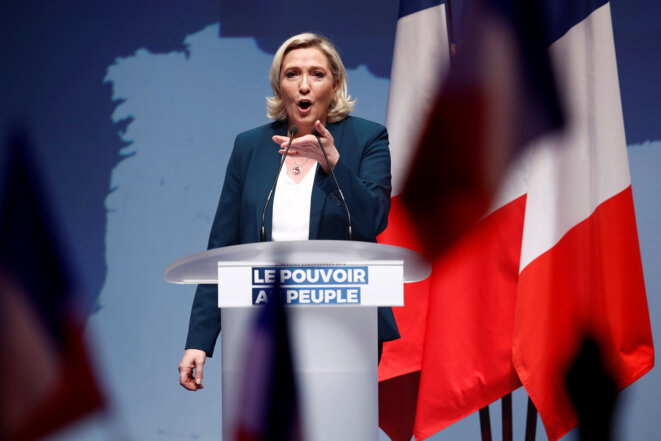 Far-right leader Marine Le Pen in Paris on January 13th 2019. © Reuters
The far-right Rassemblement National – the former Front National – was in serious financial difficulty after the Parliamentary and presidential elections in 2017 and was bailed out by a loan of 8 million euros. That loan, Mediapart can reveal, came from French businessman Laurent Foucher who has a range of commercial interests in Africa and who is close to Nicolas Sarkozy's former right-hand man Claude Guéant. The loan was transferred from a bank in the United Arab Emirates but questions still remain over the precise origin of the money. Karl Laske and Marine Turchi report.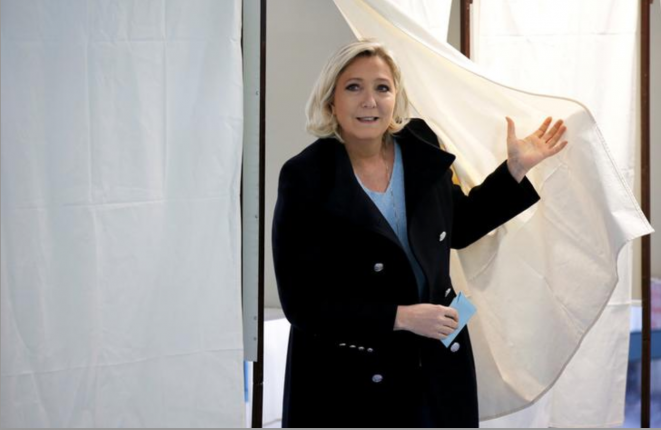 French far-right leader Marine Le Pen casting her vote in the May 2019 European Parliament elections. © Reuters
The French far-right Rassemblement National (RN) party, the renamed Front National, held its post-summer congress this weekend in the south-east town of Fréjus, when its leader Marine Le Pen set out the party's policies ahead of municipal elections to be held across the country in six months' time. The RN, which won the majority of votes cast in France in European Parliament elections in May, hopes to at last solidly establish itself at a local level, amid a fragmented political landscape in the country and notably the collapse of the conservatives. In this interview with Lucie Delaporte, French political scientist Sylvain Crépon, a specialist of far-right politics, analyses the party's new strategy for the elections.
Following revelations of previously unseen footage of US President Donald Trump's former advisor Steve Bannon taking part in discussions in London with France's far-right Rassemblement National party, broadcast by a French TV current affairs programme and during which he was invited and accepted to discuss with the party's sympathisers from among France's high-ranking civil servants, has prompted calls for a parliamentary inquiry.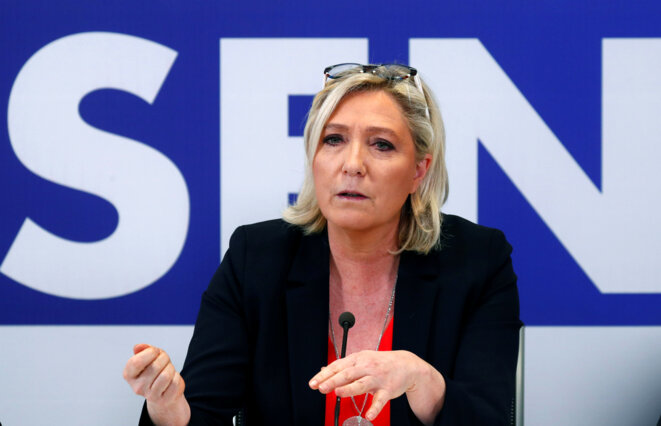 Far-right Rassemblement National party leader Marine Le Pen. © Reuters
To fund its campaign for this month's European Parliament elections, the French far-right Rassemblement National party (the renamed Front National) has raised around 4 million euros through so-called "patriotic" loans from its members and supporters, to who it has promised a 5% interest rate. The party will submit the amounts raised, with interest, in its application for a post-election refund of campaign spending that is granted to parties and paid out of the public purse. The generous interest payments paid to its lending members and supporters will cost the taxpayer around 200,000 euros, and the party says it plans employing the same strategy in future elections. Marine Turchi reports.
The youth arms of France's Rassemblement national (National Rally) party, formerly called the Front National, and its far-right Italian ally, the League, staged a joint demonstration near the French-Italian border on Sunday to demand tough measures against what they said was the 'overwhelming' of Europe by migrants.
Jean-Marie Le Pen, who founded the country's Front National party now renamed and led by his estranged daughter Marine, has been admitted to hospital for reported exhaustion one week before his 90th birthday and just hours before he was due to stand trial accused of inciting homophobia.
Marine Le Pen's far-right party is now Rassemblement National or National Rally in bid to broaden appeal ahead of European elections next year.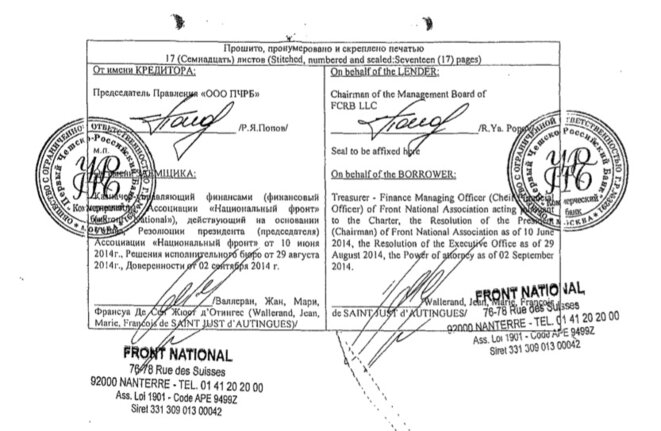 The Russian loan contract signed by the head of the bank Roman Popov and Front National treasurer Wallerand de Saint-Just. © Document Mediapart
Mediapart has obtained a copy of the contract for the 9 million euro loan that a Russian bank gave to France's far-right Front National (FN) in 2014. The document answers some of the questions in this murky affair but many remain. The bank later went bankrupt, its former director is wanted for alleged misappropriation of funds, the FN's loan has been sold on at least twice, and it is still not clear to whom it has to be repaid. Marine Turchi and Agathe Duparc report.
Heads of far-right Front National and hard-left France Unbowed had to quit march for Holocaust survivor killed in suspected anti-Semitic attack.
Marine Le Pen unveils new name of 'Rassemblement National', which still needs final approval, saying current name was 'psychological barrier'.
Former Trump adviser addresses Front National as its beleaguered president Marine Le Pen attempts to relaunch her party.
Steve Bannon is surprise guest speaker as Marine Le Pen aims to use conference to resolve rifts amid some questions over her leadership.