The Front National party has an outside chance of gaining control of the city hall in this weekend's final round of municpal elections.
© Reuters
The dust has settled after the first round of voting in nationwide municipal elections in France, and a new political landscape has emerged even before the final round of voting next Sunday. Amid an abstention rate of more than 36%, the ruling Socialist Party has suffered a heavy defeat, likely to become a debacle in the second round. But it is the far-right Front National party which can claim victory, and not the mainstream conservative opposition. Hubert Huertas analyses the first-round results which see the far-right now become a part of the fabric of local politics in France. 
After first-round voting in municipal elections, the Front National party is hopeful of controlling the town halls of 15 medium-sized towns.
Founder of far-right National Front says Marine Le Pen will prevail in 2017 as both current government and main opposition party struggle.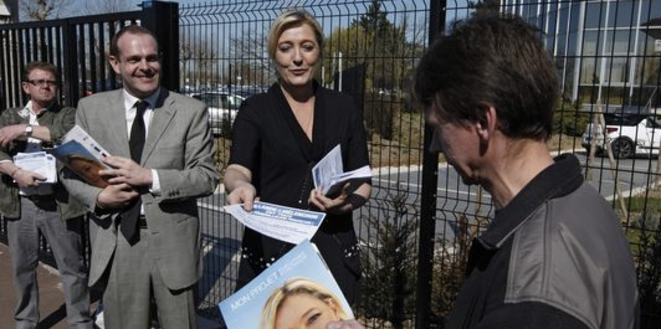 Marine Le Pen et Steeve Briois à l'entrée d'une usine à Douvrin (Pas-de-Calais), le 26 mars 2012. © Reuters
France is gearing up for municipal elections later this month when, political observers and opinion poll surveys forecast, the far-right Front National party is set to make significant gains. Its leader, Marine Le Pen, lays claim strong support among blue-collar workers, as illustrated by the vote the party attracted among a significant number of former left-wing heartlands during the 2012 presidential and legislative elections. This relatively recent development is often interpreted as a swing of allegiance on the part of a disillusioned electorate of the Left. But that perception is a myth according to the results of detailed studies by sociologists Nonna Mayer and Florent Gougou. They presented their research at a Paris conference on voting patterns for the far-right, where Marine Turchi recorded their sometimes surprising findings.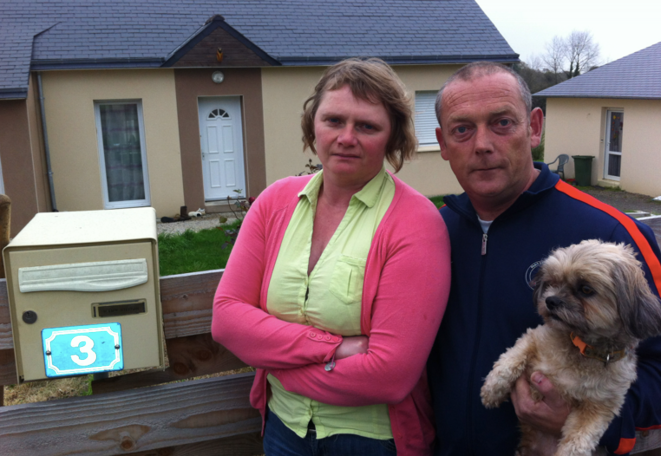 David et Stéphanie Stephan © Rachida El Azzouzi
When abattoir employees David and Stéphanie watched TV reports of workers in bitter disputes with bosses over factory closures, they insisted it could never happen to them. Their abattoir in Brittany was reputed to provide 'jobs for life'. But then last October the news struck that the plant was to close, leaving David, Stéphanie and more than 800 other workers out of a job. Here the couple tell Mediapart's Rachida El Azzouzi about their shock at being thrown out of work, their anger at the government in Paris and explain why for the first time they intend to vote for Marine Le Pen's far-right party.
Opinion polls and local election victory chart rise of the National Front, whose progress in France mirrors that of nationalist parties elsewhere.
The far-right party has suspended the candidate after she posted a photomontage on Facebook of Guyanese-born minister as a clothed ape.
The Front National party victory in a by-election in Brignoles mirrors a surge in support for the far-right shown in opinion surveys.
The southern town of Brignoles is in the spotlight as far-right Front national looks to achieve by-election victory on Sunday.
The elimination of the Left in the first round of voting in a recent local by-election in which the Front National came top has sparked fevered speculation about how Marine Le Pen's far-right party is likely to perform in next year's crucial municipal elections. A recently-published and detailed analysis of voting trends suggests the FN could have a major role to play in some areas. But, as Mathieu Magnaudeix reports, the study says the outcome will probably depend on how well the economy performs between now and next spring.
Poll suggests Marine Le Pen's Front national could get 24% of vote in 2014 Euro elections and become most popular political party in France.
French movie star Alain Delon has said he 'approves' of the upsurge in support for Marine Le Pen's far-right Front national.
Left candidate eliminated in first round as Marine Le Pen's far-right National Front top the polls in local council by-election.
Leader of far-right Front national Marine Le Pen says she will consider legal action against those who label her party as 'extreme right'.