Victory in the Doubs by-election on French-Swiss border would be first parliamentary win for socialist government since it came to power in 2012.
In blow to former President Sarkozy, his UMP candidate was knocked out in first round, leaving a run-off between the socialists and the far right.
Survey suggests president of Front National would win first round of voting if election were held today - but lose in second round.
Two members of the Front National have been expelled for prank on senior party figure Louis Aliot who is also Marine Le Pen's boyfriend.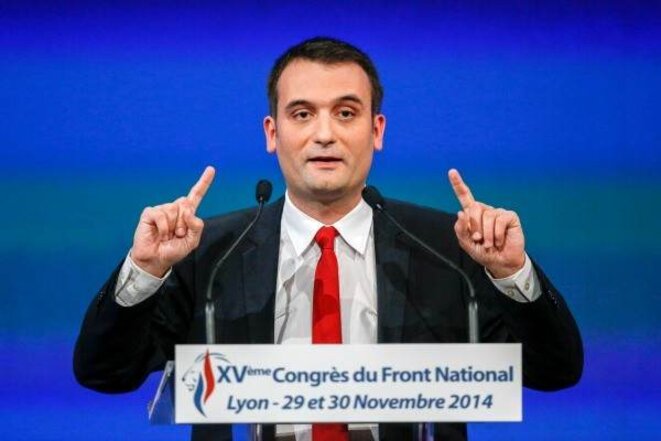 © Reuters
Florian Philippot, a vice-president of France's far-right Front National (FN) party, goes to court on Monday to sue a gossip magazine after it published photos of him earlier this month that 'outed' him as gay. Just several days later, a founder of the French LGBT rights group GayLib, Sébastian Chenu, announced he had joined the FN as 'cultural advisor' to its president, Marine Le Pen, and would in the future stand as an election candidate for the party whose founder, Marine's father Jean-Marie Le Pen, once notoriously described homosexuality as "a biological and social anomaly". Yet despite the FN's homophobic history, and its recent opposition to the same-sex marriage law,  Act Up Paris founder Didier Lestrade, author of a book entitled Why gays moved to the Right, says he believes a significant number of gays are increasingly attracted by the far-right. In this interview with Joseph Confavreux he explains why, argues that the FN leader is seeking "to try and enroll minority struggles in her fight against Islam", and underlines that "people like Chenu and Philippot are not only symbols that can set an example, but also they arrive with networks".
Revelation by Closer magazine of Florian Philippot's relationship with a TV journalist sparks row in France over right to privacy.
The leader of France's far-right Front National said it was 'malicious' to interpret her comments in a TV interview that way.
Mediapart recently revealed how earlier this year Marine Le Pen's far-right Front National party obtained a loan of 9 million euros from a Russian bank. The man who helped broker the deal was French far-right MEP Jean-Luc Schaffhauser, who has confirmed that he received 140,000 euros for his consultancy work. Questions have now been raised in the European Parliament about whether Schaffhauser has officially declared either the income or his extra-curricular activities, with the parliament's president Martin Schultz promising to investigate the issue. More broadly, reports Ludovic Lamant, there is growing unease in Brussels and Strasbourg about what are feared to be concerted efforts by Russia to buy influence in a number of European political parties.
France's far-right Front National party has sought a loan of 40 million euros from Russian contacts, according to information obtained by Mediapart. After the party's leader Marine Le Pen last weekend confirmed it had been lent 9 million euros from a Moscow bank, a senior party official has told Mediapart that this was a "first instalment" and that another 31 million euros "will follow", a claim refuted by Le Pen. Meanwhile, Russian media reports have speculated that the Russian bank deal could not have been reached without approval by the Kremlin. Marine Turchi reports.
© DR
France's far-right Front National party has obtained a loan of 9 million euros from a Russian bank. The loan, from the First Czech Russian Bank, was obtained after lengthy lobbying of the Russian authorities by party leader Marine Le Pen and other party officers who have been welcomed in Moscow by senior politicians close to President Vladimir Putin. Marine Turchi reports on the development of the surprisingly close relations knotted between the Front National and Russia's leading officials before the loan was agreed, the precise origins of which remain unclear.
The poll found 53% of the party's sympathisers were against a Jewish president, and 22% would actively avoid living beside Jewish neighbours. 
The Front National party claims France is undergoing a 'kebabisation' that has even turned the historic town of Blois into 'an Oriental city'.
Maxence Buttey, 22, has been suspended from the Front National after attempting to convert other party members to his new religion.
The Front National won two seats in Sunday's senatorial elections, when the socialists and their allies lost their majority in favour of the Right. 
Marine Le Pen claims she is trying to make the far-right Front National more 'normal', a strategy that has perhaps contributed to her party surging ahead in opinion polls. One survey suggests that Le Pen would come top if the first round of voting in a presidential election were held today, whoever her main opponent. But behind the attempts to 'de-demonize' the FN lurks another reality – that of a party that still refuses to abide by democratic rules. Last weekend Mediapart's reporter was ejected from the party's youth conference, and this was not the first time this has occurred. Nor is it just Mediapart which is targeted – other media outlets and also academics have found themselves ostracised by a party which seems to fear the freedom of the press.