Anne-Sophie Leclere is given a nine-month jail term and a 50,000-euro fine for likening France's black justice minister to a chimpanzee.
FN founder and honorary president Jean-Marie Le Pen slams his daughter's leadership of the party after she criticised his recent anti-Semitic jibes.
Leader of far-right Front National says her father's remark linking a Jewish singer to concentration camp gas ovens was a 'political mistake'.
Commentator says the French are now asking the unthinkable: can far-right Front National rise to top of the national ladder and grab presidency?
Le 12 mai 2014, au siège du FN. © Reuters
After her party's successes in the recent European elections, the leader of the far-right Front National is striving to form her own multi-national political group at the European Parliament. The official reason is that such a grouping will strengthen the FN president's political clout in the parliament. But as Ludovic Lamant and Marine Turchi report, there is another reason for setting up the group – and that is to enable the FN to get its hands on several million euros a year in EU funds. Thus this most eurosceptic of French politicians might end up using EU money to help support her attempt to win the French presidency in 2017.
French far-right leader tells Der Spiegel that Russia's president 'puts Russian people first', and that she eyes power in France within ten years.
Marine Le Pen is allied to the far-right from four other countries, but must find two more national partners to form parliamentary group.
The results in France of the European Parliament elections held on May 25th saw a landslide victory for the far-right Front National party, amid the disintegration of the Left and the collapse of the mainstream Right, choked by scandals and internal divisions. The worst-case scenario for French democracy is now an imminent possibility, writes Mediapart's editor François Bonnet who argues here why, unless there is a major change to political dynamics, the far-right now has a real chance of taking the French presidency.
France's far-right Front National party is tipped to make important gains from mainstream Right in Sunday's European Parliament elections.
Former justice minister and Sarkozy protegée says high turnout can help combat threat of 'ultra-violent, ultra-racist and populist' parties.
Attacking a growing tide of Euroscepticism in France, Hollande said that the EU had brought peace and economic stability to the continent.
But British anti-European Union party says it is not interested in a deal because of 'prejudice and anti-Semitism in particular' in the FN's 'DNA'.
In visit to Moscow, Marine Le Pen says it is the European Union that declared 'cold war' on Russia by seeking closer ties with Ukraine.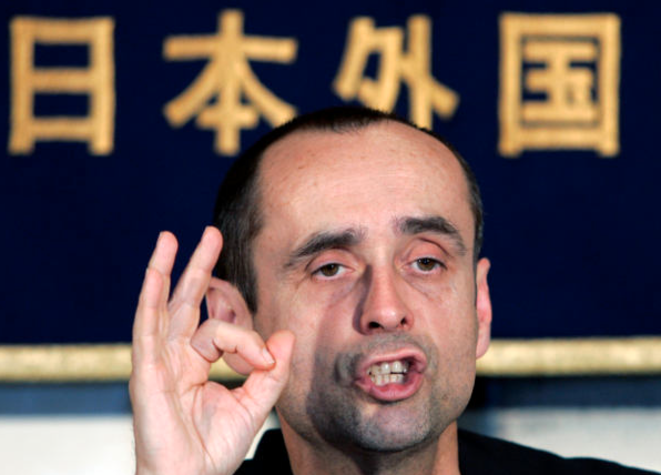 © Reuters
Robert Ménard, co-founder of the renowned NGO Reporters Without Borders (Reporters sans frontières), which has mounted a fierce global campaign over almost a quarter of a century to promote freedom of expression and to defend journalists from persecution, was last weekend elected mayor of Béziers, a large town in southern France. But Ménard's political ascension has proved to be a severe embarrassment for the NGO, for he was elected with the full backing of France's far-right Front National party. With the help of Ménard's former colleagues, Marine Turchi traces the bizarre path of the admired and reviled maverick activist whose early political affiliation was with a French Trotskyist party.  
The Front National party, which since last weekend controls 12 French town halls, says no 'religious requirements' on menus will be tolerated.