Related keywords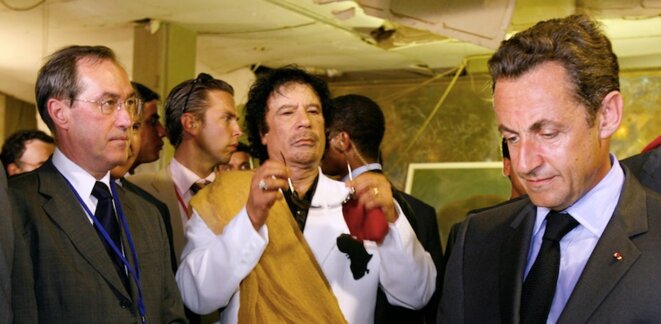 Left to right: Nicolas Sarkozy's chief of staff Claude Guéant, Muammar Gaddafi and the newly elected president Sarkozy in Tripoli in July 2007. © Reuters
Former French president Nicolas Sarkozy appeared on French television on Thursday in an attempt to dismiss evidence that this week led to him being placed under investigation for "illicit funding of an electoral campaign", "receiving and embezzling public funds" from Libya and "passive corruption" by magistrates leading a probe into the alleged funding of his 2007 election campaign by  late Libyan dictator Muammar Gaddafi. Sarkozy adopted the stance of victim, claiming that a Libyan document approving the secret funding,  revealed by Mediapart in 2012, was a "forgery", when he misled viewers about expert findings on its veracity and even denied the fact that their conclusions led to his suit against Mediapart being thrown out twice by judges. Mediapart reporters Fabrice Arfi and Karl Laske detail here the hard facts about the evidence that the former president knowingly chose to ignore.  
The French government has announced it will give a priority research programme into climate change 30 million euros in public funding, to match what it hopes will be another 30 million from universities and other organisations, making the total funding worth up to 60 million euros. 
The Front National has seen its requests for a loan for the presidential electon campaign of its leader, Marine Le Pen, turned down by French banks, said the party's secretary-general, who claimed that political motives were behind the lenders' refusal.
The far-right party and two of its senior officials ordered to stand trial for alleged fraud, abuse of trust and misuse of assets in 2012 elections.
Luxembourg's PM Xavier Bettel told his visiting French counterpart that a problem at the nearby Cattenom plant could "wipe the duchy off the map".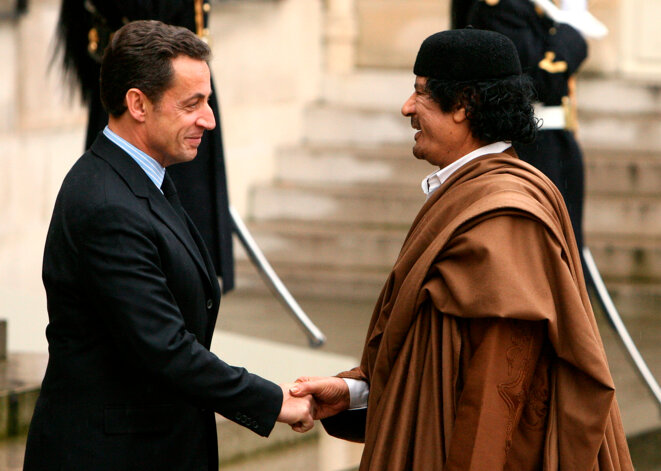 En 2007, la lune de miel. © Reuters
A document published by Mediapart detailing how the Gaddafi regime in Libya agreed to secretly fund Nicolas Sarkozy's 2007 presidential election campaign is genuine, according to the conclusions of an expert analysis ordered by a French judge. The evaluation, involving highly sophisticated technology, was carried out as part of a judicial investigation into a complaint lodged against Mediapart by the former president for for 'forgery and use of forgery'. The emphatic conclusion follows on a graphologists's report that found the signature on the document was indeed that of Muammar Gaddafi's spy chief, Moussa Koussa. Fabrice Arfi reports.
UK government unblocks 10M euros for security in Calais while Eurotunnel reports a number of injuries in the incidents overnight Monday.
Hours before a key summit meeting in Brussels, Manuel Valls said there could be 'no taboo subject' in talks to keep Greece within the eurozone.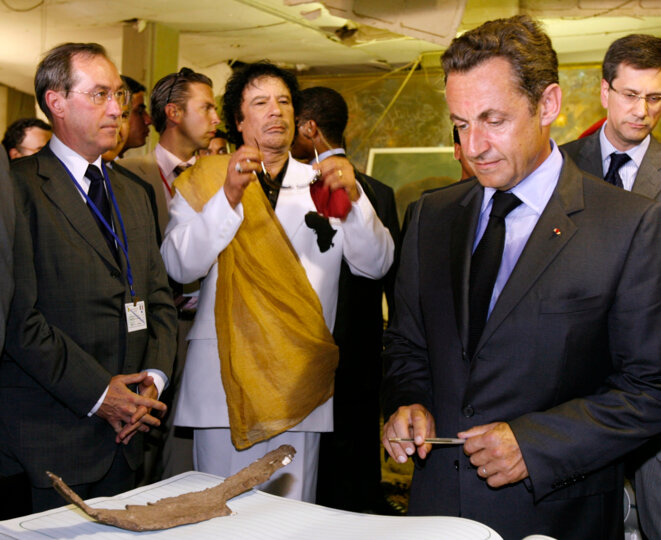 Claude Guéant, Mouammar Kadhafi et Nicolas Sarkozy à Tripoli, en 2007. © Reuters
In a dramatic development Claude Guéant, ex-chief of staff to President Nicolas Sarkozy and a former interior minister, has been placed under formal investigation for "laundering of the proceeds of tax fraud as part of an organised gang", "forgery" and "use of false instruments" in connection with the probe into claims that the late Libyan leader Muammar Gaddafi illegally funded Sarkozy's successful 2007 presidential election campaign. Investigators want to know the origin of more than 500,000 euros that was transferred into his bank account in 2008 and part of which he later used to buy a flat in Paris. Experts in the art world have cast doubt on Guéant's explanation that the money came from the sale of two paintings by 17th century Dutch artist Andries Van Eertvelt.
Following 'active corruption' claims, a fresh investigation is looking into the financing of former president's failed 2012 re-election bid.
France's mainstream Right opposition party, the UMP, is further engulfed in a corruption scandal that implicates its leader and Nicolas Sarkozy.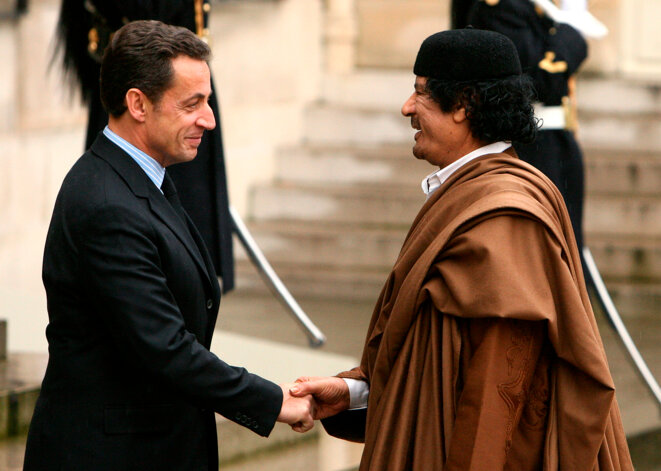 MM. Sarkozy et Kadhafi, en 2007, à l'Elysée. © Reuters
François Gouyette, who is now ambassador to Tunisia but was France's man in Libya from 2008 to 2011, has revealed to judges that two different well-placed Libyans told him that there had "indeed" been funding by Muammar Gaddafi's regime of Nicolas Sarkozy's successful bid to become French president in 2007. The fluent Arabic speaker also told the investigating magistrates that the Libyan document published by Mediapart in April 2012 revealing the illicit funding looks genuine. His intervention follows a whole string of senior figures from Libya, both friends and foes of the late Gaddafi, who have confirmed that the financing of the Sarkozy election campaign took place. Fabrice Arfi and Karl Laske report.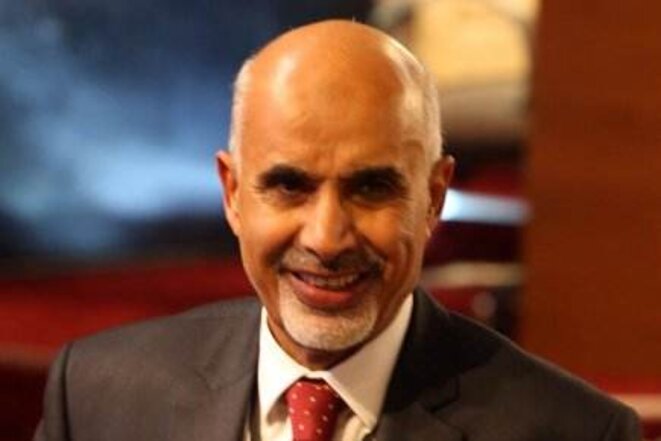 Mohamed el-Megaryef © Reuters
A prominent Libyan dissident who became his country's first head of state after the fall of Muammar Gaddafi in 2011 has confirmed that the dictator's regime paid millions of euros to support Nicolas Sarkozy's successful bid for the French presidency in 2007. Mohamed Al Magariaf, who spent many years in exile because of his opposition to the regime, is the first leading figure in post-Gaddafi Libya to acknowledge that his country illegally financed the Sarkozy campaign. Al Magariaf, who spent much of his exile in the United States, also says that payments continued until 2009. His revelations were made in sections of his recent book that were removed by his publisher just before publication. Fabrice Arfi and Karl Laske reveal their explosive content.
In audio recording Libyan leader Muammar Gaddafi says he helped bankroll former French president's 2007 presidential bid.