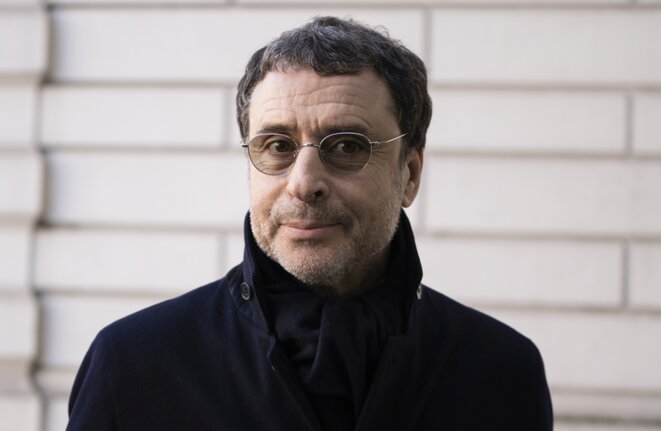 Alexandre Djouhri, pictured in London on February 26th 2019. © Niklas Halle'n/AFP
One of the key suspects in the marathon judicial probe into alleged funding of former French president Nicolas Sarkozy's 2007 election campaign by the regime of late Libyan dictator Muammar Gaddafi was this weekend placed in preventive detention in France after losing a two-year legal battle to avoid his extradition from Britain. French judges have formally placed Alexandre Djouhri under investigation for nine alleged offences, including "active corruption", aiding and abetting, and receiving, the proceeds of the "misappropriation of public funds", "money laundering the proceeds of corruption", "forgery and the use of forgeries" and "tax fraud". Fabrice Arfi and Karl Laske report.
In an open letter published in the press, 660 French public hospital doctors have threatened to resign unless the health ministry opens urgent talks to redress funding shortfalls that have caused severe disruption to services and the departure of staff towards the private sector.
The trial of Jean-Luc Mélenchon, 68, leader of the leftist La France Insoumise (France Unbowed) party, began on Thursday in which he and five other party members are accused of intimidating police and public prosecution officials during a 2018 search of his home and party offices conducted as part of an investrigation into alleged election funding irregularities.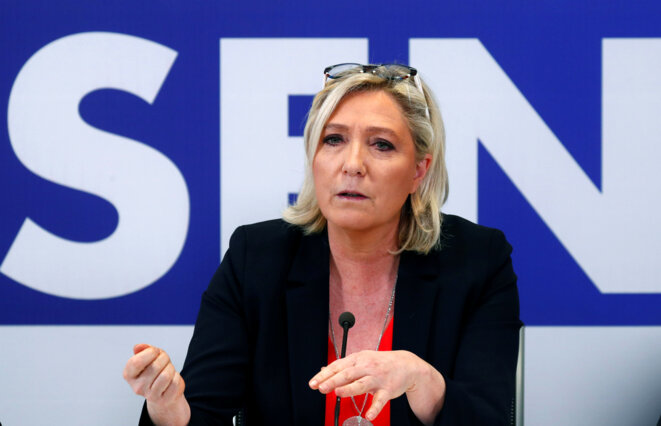 Far-right Rassemblement National party leader Marine Le Pen. © Reuters
To fund its campaign for this month's European Parliament elections, the French far-right Rassemblement National party (the renamed Front National) has raised around 4 million euros through so-called "patriotic" loans from its members and supporters, to who it has promised a 5% interest rate. The party will submit the amounts raised, with interest, in its application for a post-election refund of campaign spending that is granted to parties and paid out of the public purse. The generous interest payments paid to its lending members and supporters will cost the taxpayer around 200,000 euros, and the party says it plans employing the same strategy in future elections. Marine Turchi reports.
As the vast and costly project to rebuild Notre-Dame cathedral after the huge damage caused by fire on Monday, individuals have begun donating to a public fund for the reconstruction, while several corporations have pledged contributions totalling of several hundred million euros.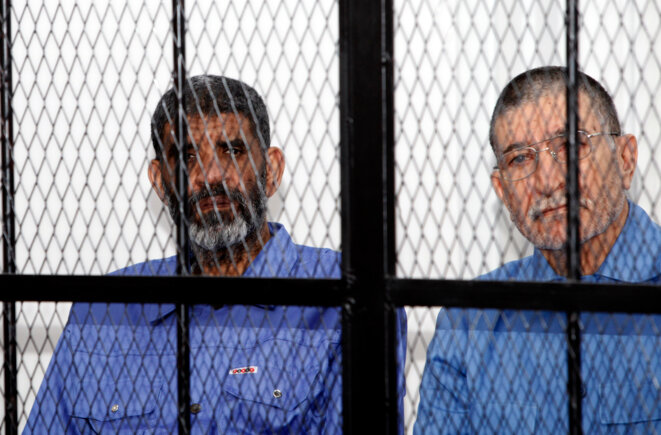 Mohamed Abdulla Senussi (left) during his trial in Tripoli in April 2014. © Reuters
As part of their investigation into the suspected funding by the Gaddafi regime in Libya of Nicolas Sarkozy's 2007 presidential election campaign, two French judges travelled to Tripoli earlier this month when they questioned, for the first time face-to-face, Gaddafi's former spy chief, and brother-in-law, Mohamed Abdulla Senussi. Mediapart has gained access to extracts from the statements provided by Senussi, who detailed how he oversaw the payment of 7 million euros for Sarkozy's campaign, as ordered by Gaddafi. He also confirmed that, as part of the deal, the former French president's personal lawyer and friend Thierry Herzog was involved in moves to overturn an international arrest warrant issued against Senussi after his conviction in absentia by a Paris court for his part in the blowing up of a French airliner in 1989.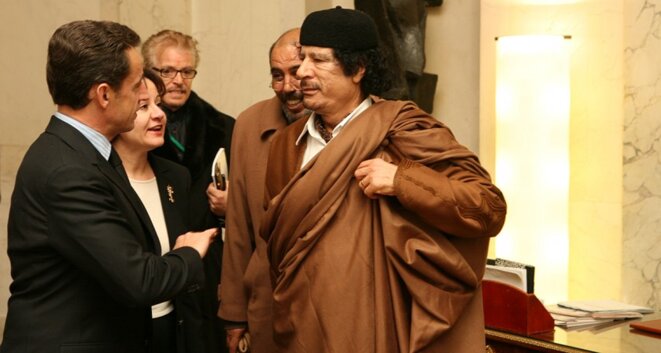 Moftah Missouri, standing behind Mummar Gaddafi during a meeeting with Nicolas Sarkozy. © DR
In a lengthy interview with Mediapart earlier this month in Tunisia, where he now lives in exile, Moftah Missouri, who served for 15 years as the personal advisor and interpreter of the late Libyan dictator Muammar Gaddafi, details his first-hand knowledge of Nicolas Sarkozy's confidential dealings with the Gaddafi regime, before and after he became president. Sarkozy was last month placed under formal investigation in a French judicial probe into Gaddafi's suspected secret funding of his 2007 election campaign, and Missouri, who told Mediapart the Libyan leader confirmed to him in person the illicit financing, says he is willing to testify before the French magistrates.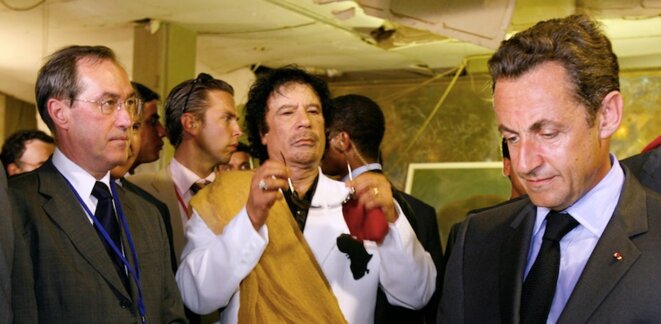 Left to right: Nicolas Sarkozy's chief of staff Claude Guéant, Muammar Gaddafi and the newly elected president Sarkozy in Tripoli in July 2007. © Reuters
Former French president Nicolas Sarkozy appeared on French television on Thursday in an attempt to dismiss evidence that this week led to him being placed under investigation for "illicit funding of an electoral campaign", "receiving and embezzling public funds" from Libya and "passive corruption" by magistrates leading a probe into the alleged funding of his 2007 election campaign by  late Libyan dictator Muammar Gaddafi. Sarkozy adopted the stance of victim, claiming that a Libyan document approving the secret funding,  revealed by Mediapart in 2012, was a "forgery", when he misled viewers about expert findings on its veracity and even denied the fact that their conclusions led to his suit against Mediapart being thrown out twice by judges. Mediapart reporters Fabrice Arfi and Karl Laske detail here the hard facts about the evidence that the former president knowingly chose to ignore.  
The French government has announced it will give a priority research programme into climate change 30 million euros in public funding, to match what it hopes will be another 30 million from universities and other organisations, making the total funding worth up to 60 million euros. 
The Front National has seen its requests for a loan for the presidential electon campaign of its leader, Marine Le Pen, turned down by French banks, said the party's secretary-general, who claimed that political motives were behind the lenders' refusal.
The far-right party and two of its senior officials ordered to stand trial for alleged fraud, abuse of trust and misuse of assets in 2012 elections.
Luxembourg's PM Xavier Bettel told his visiting French counterpart that a problem at the nearby Cattenom plant could "wipe the duchy off the map".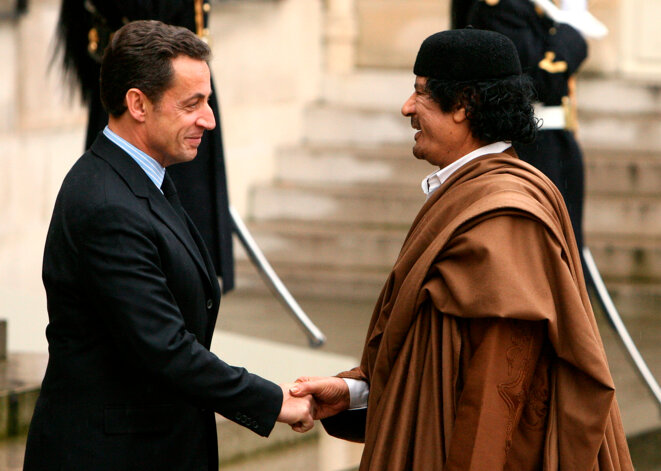 En 2007, la lune de miel. © Reuters
A document published by Mediapart detailing how the Gaddafi regime in Libya agreed to secretly fund Nicolas Sarkozy's 2007 presidential election campaign is genuine, according to the conclusions of an expert analysis ordered by a French judge. The evaluation, involving highly sophisticated technology, was carried out as part of a judicial investigation into a complaint lodged against Mediapart by the former president for for 'forgery and use of forgery'. The emphatic conclusion follows on a graphologists's report that found the signature on the document was indeed that of Muammar Gaddafi's spy chief, Moussa Koussa. Fabrice Arfi reports.
UK government unblocks 10M euros for security in Calais while Eurotunnel reports a number of injuries in the incidents overnight Monday.