Related keywords
An appeal by St. Tropez lifeboat staff for contributions to replace their ageing vessel has fallen on deaf ears among the rich owners of luxury yachts in the fashionable French Riviera port, prompting the station's head to angrily comment that, 'Its great to shower  young ladies with a bottle of 50,000-euro Cristal champagne, but they could be a more restrained and help us a little more'.
European Parliament's watchdog has said that Le Pen used two legislative aides who were on EU payroll for party's political activity in France.
Le Pen, who is being investigated for breach of trust, has previously denied any wrongdoing in a case that she has said is politically motivated.
French far-right Front National party leader and presidential election frontrunner Marine Le Pen, implicated in an alleged scam to pay party workers with European Parliament funds, said she will not attend a French magistrate's summons for questioning over the affair before the end of the elections in May.
The charity, also known as Doctors Without Borders, said the move was in protest at 'shameful' EU policies to push back migrants from Europe.
The former French president was quizzed over alleged fraudulent system of false invoices to hide gross overspending on his failed re-election bid.
The long-time chief of staff to former president was also barred from public office for pocketing more than 200,000 euros from police funds.
A system of hidden commissions on investment funds operated by Natixis Asset Management and sold to small investors in France via the company's parent bank BPCE is estimated to have creamed off about 100 million euros from unwitting customers. Amid an investigation into the affair by the French financial markets regulator, Mediapart publishes here a hitherto confidential list of the 75 funds involved. Laurent Mauduit reports.
The European Parliament has alerted the European anti-fraud office OLAF to its suspicions that the French far-right Front National party has misused the legislature's funds allocated for the payment of parliamentary assistants. Mediapart has gained access to a letter sent by European Parliament president Martin Schulz to French justice minister Christiane Taubira this week in which he details his concerns over "the scale" of the problem, involving 20 assistants to Front National Members of the European Parliament, most of whom are listed on the anti-EU party's organisation chart as officials based at its headquarters near Paris. Ludovic Lamant and Marine Turchi report.
Le 12 mai 2014, au siège du FN. © Reuters
After her party's successes in the recent European elections, the leader of the far-right Front National is striving to form her own multi-national political group at the European Parliament. The official reason is that such a grouping will strengthen the FN president's political clout in the parliament. But as Ludovic Lamant and Marine Turchi report, there is another reason for setting up the group – and that is to enable the FN to get its hands on several million euros a year in EU funds. Thus this most eurosceptic of French politicians might end up using EU money to help support her attempt to win the French presidency in 2017.
Party boss Jean-François Copé, whose friends run the company, dismisses claims as politically motivated on eve of Euro elections.
A worldwide treasure hunt is on to track down the massive, hidden fortune of late Libyan dictator Colonel Muammar Gaddafi and his clan, bringing together a disparate group of mercenaries, from weathered former US intelligence operatives to be-suited business lawyers. All are gambling on big commission returns for the financial hides they return to the new authorities in Tripoli. "When you have 100 million euros to recover, there's already some nervousness," commented a director of Interpol. "When you have 1 billion, people are ready to kill. Here, we're dealing with dozens of billions." Mathilde Mathieu reports.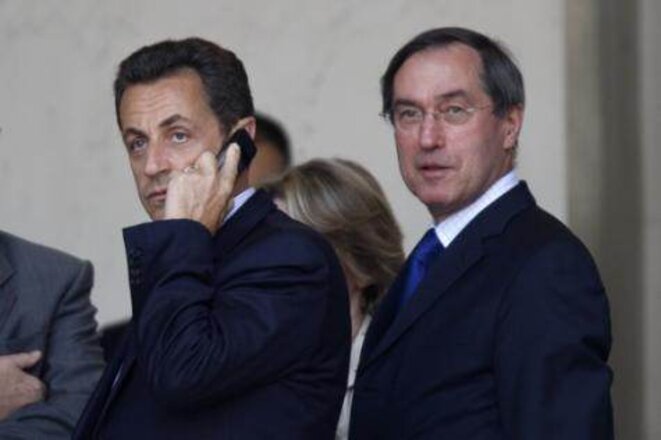 © Reuters
Amid the escalating revelations in a series of graft scandals rocking the French political establishment, a net is now closing in on former French interior minister Claude Guéant, a longstanding close aide to former president Nicolas Sarkozy. Guéant is one of the key figures under investigation in a judicial probe into the suspected illegal funding of Sarkozy's 2007 presidential election campaign by the late Libyan dictator Muammar Gaddafi. In a separate judicial investigation into the suspected fraudulent payment in 2008 of 403 million euros to business tycoon Bernard Tapie, a friend of Sarkozy, Guéant's name is cited in several witness statements as a central figure to secret meetings held to organise the payout. But in what appeared as an almost anecdotal revelation compared to the implications of those investigations, it emerged this week that Guéant, 68, received a secret monthly tax-free gift of 10,000 euros paid in cash while he served as chief-of-staff to Sarkozy when the latter was interior minister. The Paris public prosecutor's office announced on Friday the opening of an investigation into the cash handed to Guéant, estimated to total 240,000 euros,  and which was paid from a fund destined for special police operations. Louise Fessard reports.
Following Mediapart's revelations of the fraudulent misuse of funds paid to French Members of Parliament to offset their professional expenses, and the lack of proper control over generous funds allocated to their parliamentary groups, the National Assembly's administrative services have taken a small, but symbolic step in putting order into the chamber's financial management. Mathilde Mathieu reports.