Presidents Donald Trump and Emmanuel Macron at the G7 summit in Biarritz, August 26th 2019. © Reuters
In 2018 President Emmanuel Macron experienced a catastrophic period in domestic politics after the summer break. In 2019 the French head of state has tried to hit the ground running by placing himself firmly at the centre of the international stage. His hosting of the G7 summit in Biarritz in south-west France was greeted with unanimous approval by the French press which hailed it a success. Yet as Mediapart's Ellen Salvi reports, nothing in the substance of the issues tackled at the international gathering has changed.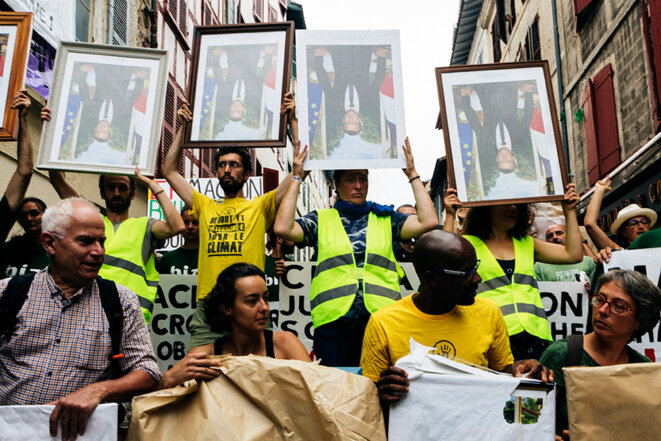 A protest involving portraits of President Emmanuel Macron held at Bayonne near the G7 summit on August 25th 2019. © Yann Levy / Hans Lucas
The main 'counter summit' to the recent G7 gathering took place miles away from the French resort of Biarritz, towns were locked down, and some protestors were banned from the area. The result was low-key, small-scale opposition to the meeting of international leaders, representing an undeniable success for the French presidency. Christophe Gueugneau and Elisa Perrigueur report.
French president attempted to engineer progress at leaders' gathering in Biarritz despite deep divisions over issues.
German Chancellor Angela Merkel said that talks between Iran and France were "parallel" but not officially part of the G7 Summit. 
More than 13,000 police have arrived in the town in south-west France and the authorities say any unrest will not be tolerated.
Members of France's 'yellow vest' social protest movement have joined up with a counter-G7 summit of about 50 anti-globalisation and environmental NGOs being held a short distance from the world leaders' meeting in Biarritz, in south-west France.
The town of Biarritz in south-west France is already the scene of unprecedented security measures ahead of the G7 summit to be held there next weekend, with some locals complaining that its summer season economy is being hit, while the authorities, fearing violent protests, have ordered that a counter-summit organsied by leftwing groups should be held 30 kilometres away in Hendaye, on the Spanish border.