Related keywords
The French government's spokeswoman called for calm on Wednesday after violent scenes at a demonstration by around 20,000 people on Tuesday evening against what they claim is a cover-up over the 2016 death of Adama Traoré, 24, who suffocated while he was pinned down by gendarmes during his arrest in July 2016, a case which the protesters likened to the killing in the US of George Floyd.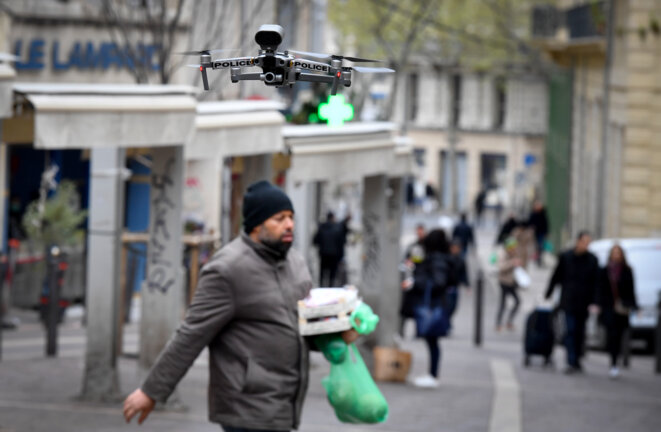 A police drone in the southern French city of Marseille, March 24th 2020. © GERARD JULIEN / AFP
Since the start of the coronavirus lockdown on March 17th in France drones have become an increasingly familiar sight above public areas in France. They have been used by the authorities to fly over towns and cites, coastal areas and parks. But no one is sure if these drones are filming people and, if so, whether the images are being stored or cross-checked with police files. As Clément Le Foll and Clément Pouré report, civil liberties groups are increasingly worried about the situation.
Gendarmes in Frances have been testing algorithmic software to see if it will help them predict patterns of offences in their areas and thus help them to cut crime. Despite the claims made for the software, analysis by Mediapart suggests that it has had limited effect, far removed from how it is portrayed in science fiction. Nonetheless, as Alexandre Léchenet reports, the crime 'predicting' tool has now been rolled out for general use by gendarmes across France.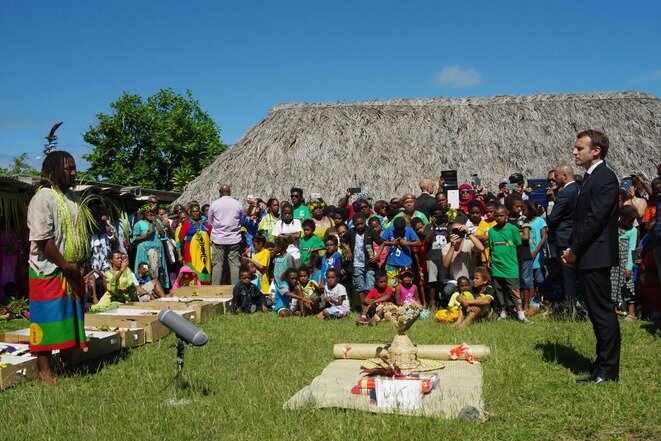 President Emmanuel Macron during his visit to Ouvéa in New Caledonia. © Julien Sartre
President Emmanuel Macron is visiting New Caledonia as the Pacific archipelago prepares for a crucial vote in the autumn on whether to embrace full independence from its old colonial power. The French head of state will be there on the 4th and 5th of May, two grim dates in the calendar of recent New Caledonian history. On May 5th 1988, 19 hostage takers and two soldiers died after the military intervened to rescue gendarmes kidnapped by a separatist group on the island of Ouvéa. A year later, on May 4th, 1989, two nationalist leaders were killed on the same island by another separatist who felt they had betrayed the cause. Joseph Confavreux reports on a bloody past that still hangs over the region's politics and on the attempts at reconciliation and forgiveness.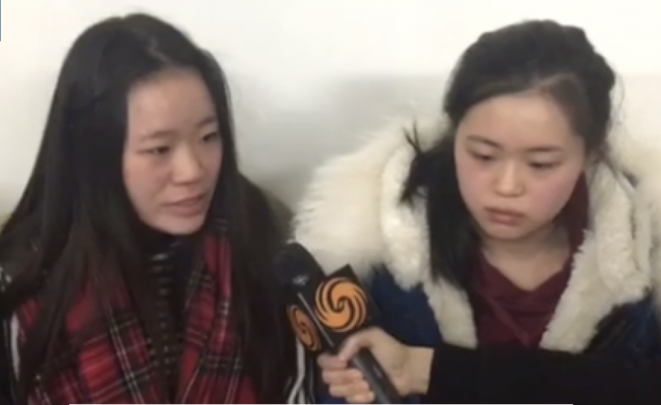 Screen grab from Facebook of the victim Shaoyo Liu's family. © DR
Two investigations have been opened after a 56-year-old Chinese national was shot dead by a police officer after an altercation at his home in Paris. The death of father-of-five Shaoyo Liu in the 19th arrondissement sparked protests in the French capital and an diplomatic intervention from Beijing as family members disputed the official version of events that led to the shooting. As Michaël Hajdenberg reports, the case also highlights how rare it is for police officers who kill citizens to be held in custody even when there are suspicions that they committed a grave mistake.
The death in custody of 24-year-old Adama Traoré after he was arrested by gendarmes near Paris on July 19th provoked violent disturbances among locals and anger from the young man's family. Prosecution authorities insisted that Traoré's death was due to a heart attack and a pre-existing infection. Yet autopsy reports suggest signs of "asphyxiation". And Mediapart understands that key information about the circumstances of the young man's death have not yet been passed to a judge investigating the case. Adama Traoré's family is now considering legal action over the issue. Faïza Zerouala reports.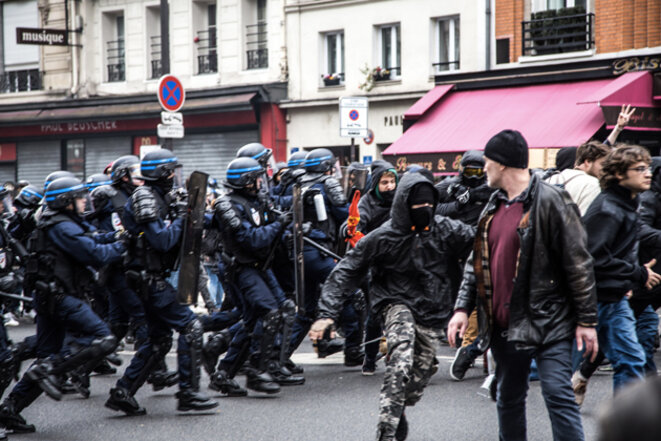 A clash during a protest in Paris on April 10th, 2016. © Jérôme Chobeaux
There have been claims of police brutality during some of the many protests that have taken place in France in recent weeks against labour law reforms. Yet the police have also been applauded by sections of the public for their role in dealing with terrorist attacks over the past year or so. Meanwhile police officers themselves increasingly resent being painted as defenders of unpopular policies such as the employment law proposals. Matthieu Suc reports on the evolving role of the forces of law and order.
Following November 13th Paris attacks, interior minister wants greater cohesion between gendarmes, national police and Paris police.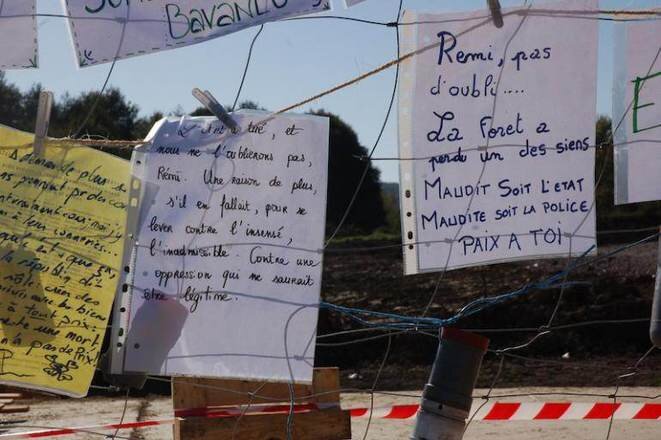 Tributes to the memory of student Rémi Fraisse, who died in October 2014. © Mediapart
Mediapart can reveal new evidence from witnesses that puts a different perspective on the death of botany student Rémi Fraisse during a protest against the building of a new dam at Sivens in south-west France in October 2014. Statements from several eye witnesses show that Rémi, 21, had his hands in the air and was calling on gendarmes to stop firing when he was struck and killed by an offensive grenade. Their accounts also cast some doubts over the version of events given by the authorities about the student's death. Mediapart's legal affairs correspondent Michel Deléan reports.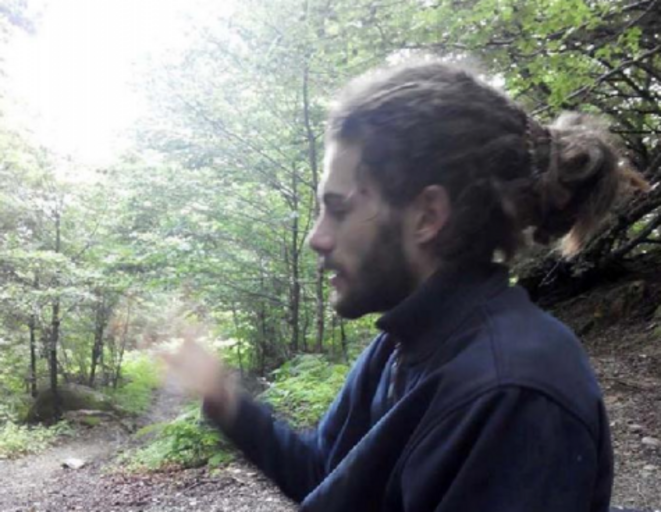 Rémi Fraisse © DR
In October 2014 student Rémi Fraisse was killed by a grenade thrown by a gendarme during a protest over plans to build a dam at Sivens in south-west France. A year later the judicial investigation into the 21-year-old's death has become bogged down. Investigators have sifted through the victim's background but, as Mediapart's legal affairs correspondent Michel Deléan reports, they seem no closer to placing any officers under formal investigation or even examining the instructions that those officers were given from on high.
According to their own watchdog, gendarmes fulfilled their duties with "professionalism and restraint" during the violent events that led to the death of botany student Rémi Fraisse at a protest against the building of a dam in south-west France. The inquiry into the tragedy of the night of October 25th by the Inspection Générale de la Gendarmerie Nationale (IGGN) has also ruled that there was no breach of legal or ethical rules by officers involved, including the gendarme who threw the grenade that killed the 21-year-old. Meanwhile the judicial investigation into the death is still continuing. Louise Fessard reports on the outcome of the report and the questions that remain unanswered.