Keyword: General Pierre de Villiers
Related keywords
Emmanuel Macron and General Pierre de Villiers. © Reuters
After a glowing political honeymoon on the international stage, President Emmanuel Macron was on Wednesday engulfed in his first crisis since his election in May after the chief-of-staff of France's armed forces, General Pierre de Villiers, resigned amid a row between the two men over defence budget cuts. But while there is widespread outrage from the Left and Right at Macron's humiliating treatment of de Villiers, who he rebuked in public over opposition to the cuts for a military the general says is at "breaking point", the controversy has widened to the new president's apparent contempt for parliament's right to information. Lénaïg Bredoux reports.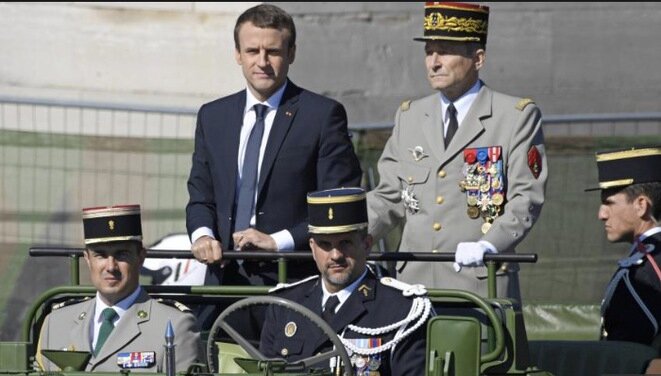 President Emmanuel Macron and General Pierre de Villiers (standing) during this year's Bastille Day parade. © Reuters
President Emmanuel Macron's government last week announced a package of public spending cuts, including 850 million euros to be slashed from France's 2017 defence budget in an effort to bring the public deficit to below 3% of GDP, as demanded by the EU. That prompted a furious reaction from the French military's chief-of-staff, General Pierre de Villiers, who was subsequently publicly slapped down by Macron, reminding the general who is "the boss". In this wry analysis of the spat and the controversy it has provoked, Mediapart political commentator Hubert Huertas sees an illustration of political gymnastics by Left and Right, but also a surprising insight into Macron's forthcoming labour law reforms.
French President Emmanuel Macron and army chief-of-staff General Pierre de Villiers are embroiled in an escalating public row over the announcement of a reduction of 850 million euros from the 2017 defence budget, with Macron ordering the general to toe the line and politicians of the Right and Left siezing one of their first opportunities to attack the new president's early measures.
In a rare move, General Pierre de Villiers wrote an appeal in French financial daily Les Echos calling for military spending to increase to 2% of GDP over the next five years, including an upgrading of nuclear arsenals, in order to protect France from against "the full spectrum of threats".