Related keywords
An investigation into the deadly missile attack in 1994 on the aircraft carrying Rwandan president Juvenal Habyarimana, after which followed 100 days of slaughter of the Tutsi ethnic minority by members of Habyarimana's Hutu ethnic group, leaving an estimated 800,000 people dead, has been closed by French magistrates.
Officials claim French officers were involved both as perpetrators and accomplices in 1994 genocide in which more than 800,000 were killed.
Court said Octavien Ngenzi, 58, and Tito Barahira, 64, were guilty of  'crimes against humanity' during country's 1994 genocide.
France-based Wenceslas Munyeshyaka was suspected of an active role in the 1994 genocide in Rwanda, where he received a life sentence in 2006.
François Hollande was speaking at ceremony in Armenia's capital Yerevan to mark 100 years since mass killings of roughly 1.5 million people.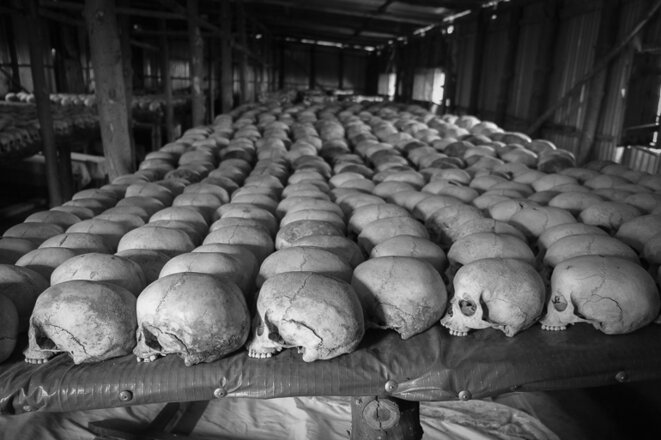 Le mémorial de Bisesero, Rwanda, février 2014 © Thomas Cantaloube
Earlier this week it was announced that hitherto secret French presidential archives relating to the 1994 Rwanda genocide were to be declassified. The documents are records from the presidency of the late François Mitterrand, and cover France's close relations with the Rwandan regime of president Juvénal Habyarimana, whose assassination 21 years ago sparked the state-sponsored massacres that claimed the lives of more than 800,000 people. France's role before and during the genocide remains controversial, amid speculation that it provided weapons support and protection of those who perpetrated the slaughter. But, writes Mediapart's international affairs correspondent Thomas Cantaloube, while the move this week to declassify Mitterrand's archives appeared to be one of belated transparency, they promise few revelations beyond previous leaks, while the key archives about France's involvement in Rwanda held by the defence and foreign affairs ministries remain strictly secret.
The hitherto secret files relating to the 1994 genocide of 800,000 people include advice given to then French president François Mitterrand.
The French government pulled out of the commemorations on Monday April 7th that marked the twentieth anniversary of the Rwandan genocide. This abrupt decision was provoked by the recent comments of Rwandan president Paul Kagamé about "the direct role of Belgium and France in the political preparation of the genocide, and the participation of the latter in its actual execution", remarks which have sparked outrage in France. But though France's reaction was in line with former foreign minister Alain Juppé's demand that the government should "defend France's honour", Mediapart's Editor-in-Chief Edwy Plenel argues that the decision not to attend the commemorations is instead a sign of France's dishonour over the tragic affair.
African nation barred France's ambassador from attending genocide commemorations after Paris cancelled the planned visit of justice minister.
Bernard Kouchner said errors were made, but dismissed Rwandan accusations that France directly helped in the1994 genocide in the country.
French officials will not attend events marking the 20th anniversary of the genocide after Rwanda's president said France helped in the killings.
The ex-Rwandan army captain was given 25-year jail term after being found guilty in connection with genocide and crimes against humanity.
Paris Court of Cassation ruled that the three Hutu men wanted by Rwanda cannot be tried for a crime that was not defined in law when committed.
Pascal Simbikangwa is the first Rwandan to be tried in France in relation to the 1994 genocide that left up to 800,000 dead.