Related keywords
French interior minister Gérald Darmanin told a parliamentary committee that when he hears talk of police violence 'I choke', causing widespread outrage and notably among the family of a man who died earlier this year after police arrested him using a suffocating stranglehold.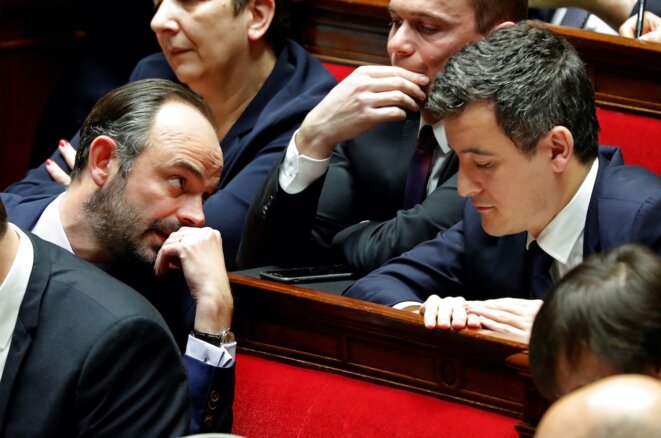 Gérald Darmanin, seen here on the right, talking with prime minister Édouard Philippe at the National Assembly on January 30th, 2018. © Reuters
An investigation into rape allegations against France's budget and public accounts minister, Gérald Darmanin, who denied them, has been dropped by prosecutors. But a complaint from another woman against the minister is now the subject of a preliminary investigation, amid allegations that as a mayor Darmanin abused his influence to gain sexual favours – claims he denies. The offence of "influence peddling" is often present in financial and fraud cases, but as Marine Turchi and Antton Rouget report, it can also be a suitable charge in cases of alleged "sexual corruption".
A preliminary investigation opened last month after a woman filed a lawsuit accusing budget minister Gérald Darmanin of raping her in 2009 has been dropped after no evidence was found of 'coercion, threat, surprise or violence' the Paris prosecution services announced on Friday.
French government colleagues of the budget and public accounts minister, Gérald Darmanin, have defended his right to remain in his post while awaiting the findings of an investigation into a complaint launched against him for his alleged rape in 2009 of a woman who had asked him for help in a legal case concerning her, an accusation he has denied.

Facing problems: President Emmanuel Macron.
The first series of the Macron show has come to an end. Now, as the political world returns after the summer break, the show threatens to become more of a (grim) reality TV series. President Macron is confronted by three main issues: his economic policy is right-wing, many of his key measures are unpopular and he lacks heavyweight communicators in his party's ranks. As a result the new head of state seems set to change his communication strategy and get more involved in the fray. Mediapart's editor François Bonnet reports.