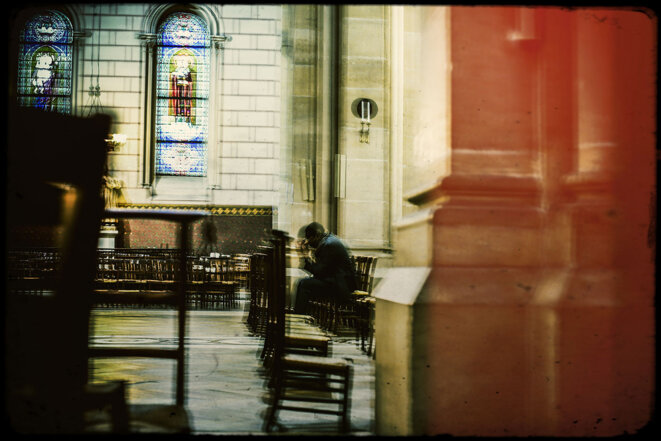 © Photo Sébastien Calvet / Mediapart
For months the French government has continually raised concerns about what it sees as the dangers of "Islamic separatism" in the country and has brought in legislation to tackle it. Yet when in the wake of a major report on child sex abuse in the French Catholic Church a senior bishop suggested that the secrets of the confessional were stronger than the "Republic's laws" there was at first a deafening silence from government ministers. This reluctance to comment came on top of the government's clear embarrassment at the publication of the sex abuse report itself, a document which produced shocking figures on the extent of the scandal in the church. Ellen Salvi reports.
Following  publication of a report about sexual abuse of children by the clergy, Eric de Moulins-Beaufort said in a radio interview that the secrecy of the confession rite takes precedence over the laws of the republic.
The investigating judge has closed the inquiry into rape accusations against interior minister Gérald Darmanin and is moving towards a dismissal, according to Mediapart.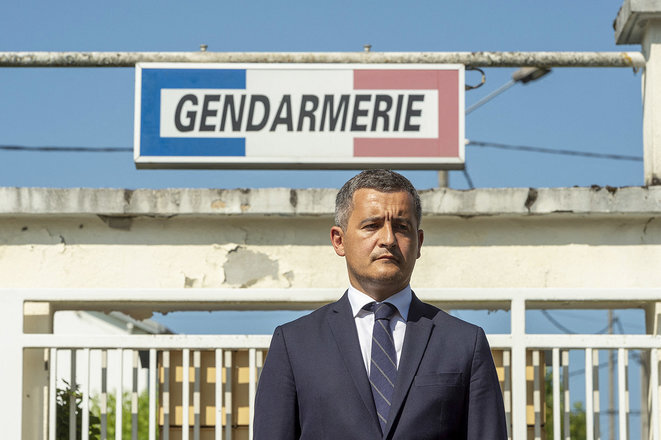 French interior minister Gérald Darmanin, July 22nd 2021. © Photo Thierry Zoccolan / AFP
Following an investigation by Mediapart which revealed how the newly appointed head of the gendarmerie in France's South Pacific territory of New Caledonia had been convicted of domestic violence, Colonel Éric Steiger was forced to resign his prestigious post last Friday. Despite the public outrage prompted by the case, and notably how the colonel's hierarchy were well aware of his conviction, French interior minister Gérald Darmanin, in a radio interview on Tuesday morning, denounced a "cabal" against Steiger, who has admitted committing violence against his ex-wife, adding "I am not for witch-hunts". Matthieu Suc, Pascale Pascariello and Antton Rouget report.
French interior minister Gérald Darmanin has presented a series of new measures to tackle domestic violence, which last year led to the deaths of 125 people, mostly women, and was the reason for more than 400,000 police call-outs.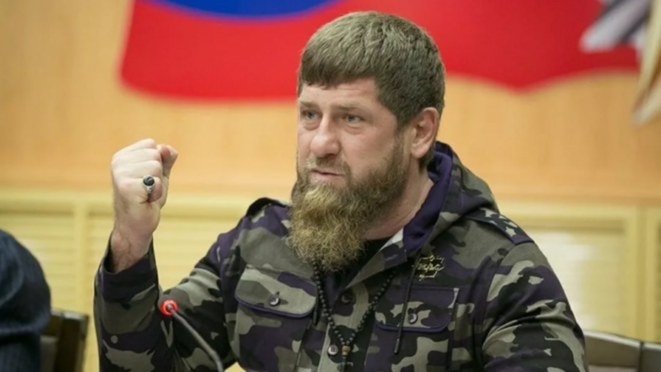 Chechen dictator Ramzan Kadyrov. © (grozny-tv)
In recent months France's interior minister Gérald Darmanin has ordered the expulsion of around a dozen Chechens from the country. This does not just trample over fundamental rights of asylum and the country's commitments under European treaties, says Mediapart's co-founder François Bonnet in this op-ed article. He argues it also means that France is effectively collaborating with Chechen's notorious leader Ramzan Kadyrov, a man accused of overseeing the murder and torture of his opponents.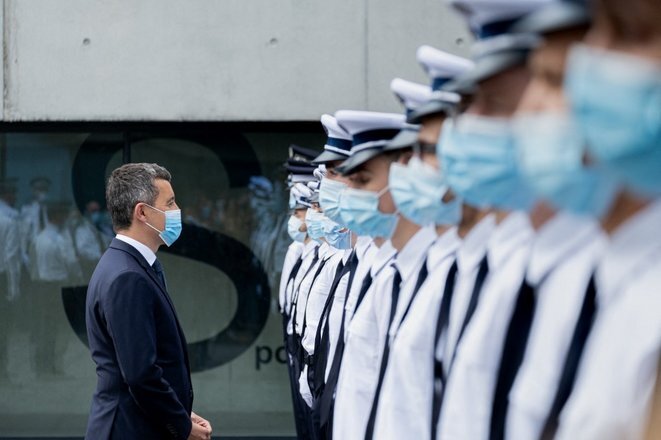 Interior minister Gérald Darmanin meets police officers at Lille on May 14th 2021. © Célia Consolini/Hans Lucas via AFP
The French Republic should not be subject to the demands of the police. Yet this democratic principle is under challenge from the demonstration held by police officers on Wednesday, May 19th. Organisers of the protest in front of the National Assembly in Paris, which was supported by members of the current government, the far right and the two historic parties of the Left, are demanding minimum sentences for anyone found guilty of attacks on police officers. This undermines one of the key principles of the French Republic, that the police force is there to serve all citizens, and not to seek law changes in its own interest or the interests of the government of the day, argue Mediapart's publishing editor Edwy Plenel and political correspondent Ellen Salvi in this op-ed article.
Presidsent Macron is under pressure to harden terrorism laws amid growing row over security in run-up to election.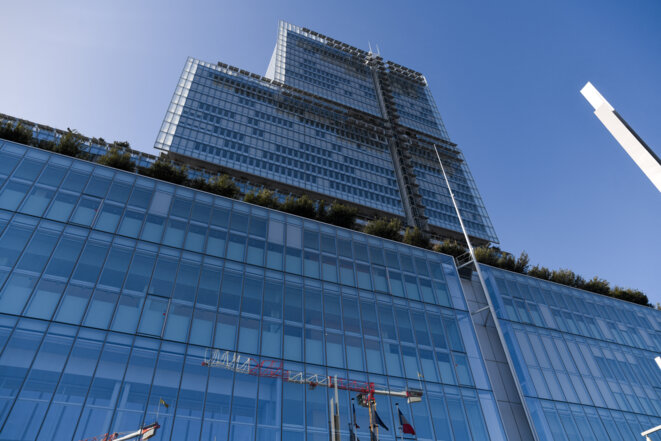 The Judicial Court in Paris which is used to try terrorist cases; February 2021. © Jérôme Leblois / Hans Lucas via AFP
For the first time in a dozen years France's antiterrorist authorities are investigating an alleged terrorist plot by an 'ultra Left' group. In December nine people were arrested at various locations around France. Seven of them were subsequently placed under formal investigation on suspicion of plotting "violent action" against the forces of law and order. Five of them have been held in custody since then. Mediapart's Camille Polloni has spoken to the families and friends of some of those arrested about what they have gone through. Inevitably this new case brings with it reminders of the long-running 'Tarnac affair' in which after a decade of investigations and legal proceedings a group of left-wing activists accused of terrorist acts against French railway lines eventually saw all those charges dismissed.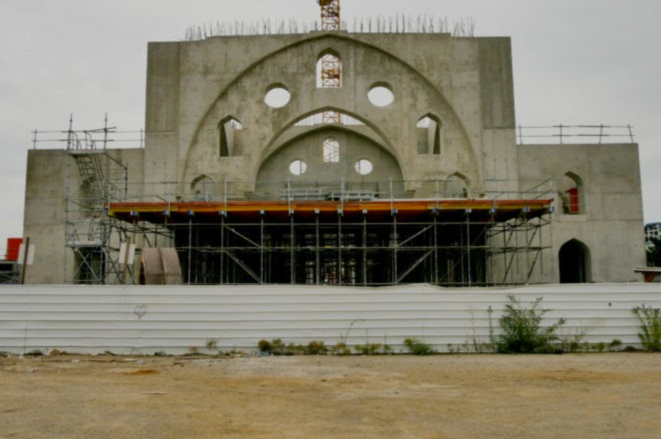 Work began on the Eyüp Sultan mosque in Strasbourg in 2015 and is still continuing. © Guillaume Krempp/Rue89 Strasbourg
Councillors in Strasbourg have just voted through a 2.5 million euro grant to help build a new mosque in the city in north-east France, a region where unlike the rest of the country the law permits local authorities to fund religious buildings. However, the move by the Green-run council immediately attracted the ire of France's interior minister Gérald Darmanin because the group behind the mosque, Confédération Islamique Milli Görüs (CIMG), is a Franco-Turkish association which has refused to sign the government's new "charter of principles" for Islam in France. The minister, who is championing the government's new law against 'separatism', is now threatening legal action. Report by Guillaume Krempp and Jean-François Gérard of Mediapart's partners in the city, Rue 89 Strasbourg.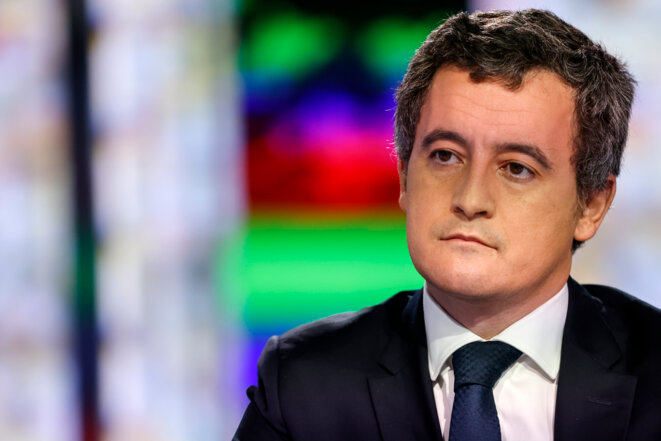 Denies the claims: interior minister Gérald Darmanin. © THOMAS COEX / AFP
Mediapart has had access to new information in the current investigation into rape allegations against France's interior minister Gérald Darmanin, claims that date back to 2009. Some documents we have seen contradict parts of his defence. The file also shows that when he was questioned by the investigating judge in mid-December 2020 the minister - who denies the claims - changed his version of events over a key exchange of SMS messages, in which the complainant accuses him of having "abused his position". And in addition the minister gave new explanations to justify some of the more embarrassing aspects of the case. Antton Rouget and Marine Turchi report.

Comment la police a saboté la manifestation du 12 décembre 2020. Enquête vidéo. © Mediapart
Mediapart has gathered and analysed hundreds of videos taken during a demonstration staged in Paris on December 12th 2020 against the French government's controversial "global security" law. Our investigation shows the unlawful nature of dozens of police charges carried out that day. It also documents the arbitrary arrests of demonstrators, baton blows given for no reason and the misleading statements made by interior minister Gérald Darmanin, especially over the nature and outcome of the arrests made. Sébastien Bourdon, Camille Polloni, Antton Rouget and Antoine Schirer investigate.
Quick to react to the story, interior minister Gérald Darmanin; seen here at the Élysée in June 2019. © Ludovic Marin / AFP
A news story stating that a Muslim youth was beaten up on Boxing Day for having celebrated Christmas made the headlines in France. The only problem is that, on closer inspection, there is little evidence that the main claim in the story is true. This did not stop it being reported by many media, or prevent police trade unions and the interior minister Gérald Darmanin from expressing their condemnation of the alleged motives of the attack. David Perrotin and Ilyes Ramdani report on the making of a 'fake news' story.
Lawyers representing French interior minister Gérald Darmanin, 38, have confirmed he has been questioned 'at his own request' by magistrates investigating rape allegations filed against him by a woman who he claims he was in a consenting relationship with.