Prosecutors suspect that about €500,000 in public money may have been embezzled to benefit ex-partner of Gérard Collomb, the mayor of Lyon.
The departure last week of heavyweight interior minister Gérard Collomb has forced French President Emmanuel Macron into announcing a government reshuffle expected on Wednesday, as he prepares to enter phase two of his government and draw a line under months of scandals and political setbacks.

Qutting: interior minister Gérard Collomb in Marseille, May 24th, 2018. © REUTERS/Jean-Paul Pelissier
After ten days of open crisis at the highest echelons of state, President Emmanuel Macron was on Tuesday October 2nd, 2018, forced to accept the resignation of interior minister Gérard Collomb – just hours after refusing it. Prime minister Édouard Philippe will become interim interior minister in the short term. Coming weeks after the resignation of high-profile environment minister Nicolas Hulot, this new departure further weakens the government, as Pauline Graulle, Manuel Jardinaud and Ellen Salvi report.
Gérard Collomb issued a direct challenge to Macron by insisting on his departure even when president refused to accept his resignation.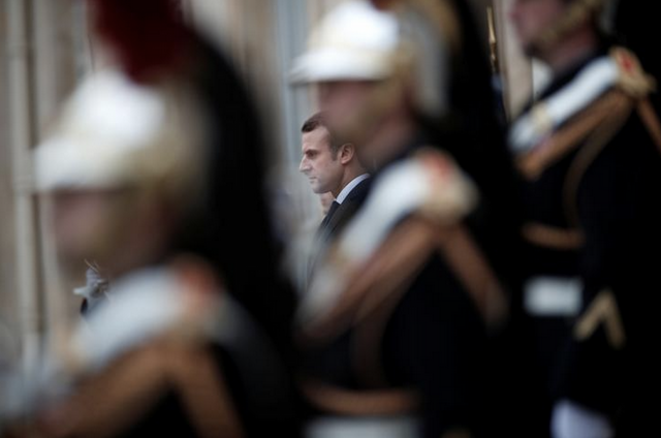 © Reuters
A series of controversial affairs involving key staff, some surprise resignations, comments from senior figures in his own administration and dysfunctional behaviour at all levels of government have left President Emmanuel Macron weaker than ever after the summer. There is growing concern inside his entourage where many now recognise that the presidency has a problem; and that this problem involves the president himself. Ellen Salvi reports.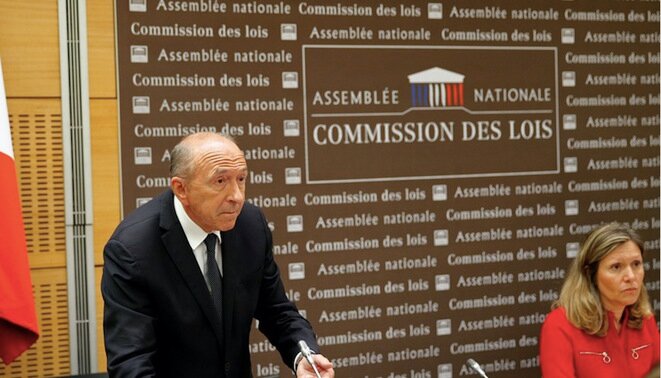 French interior minister Gérard Collomb appearing before MPs on Monday. © Reuters
The French parliament commission of inquiry into the scandal sparked by media revelations last week of the vicious assault upon a May Day demonstrator by President Emmanuel Macron's personal security advisor, Alexandre Benalla, who was illegally allowed to take an active part in policing May 1st crowds dressed with police insignia, began its first hearings on Monday, when it quizzed interior minister Gérard Collomb and Paris police prefect Michel Delpuech. In their testimony, both men clearly placed responsibility for what increasingly appears as a far-reaching cover-up at the door of the presidential office.
French President Emmanuel Macron, who for several days has dodged answering questions about his security advisor Alexandre Benalla caught on video assaulting May Day demonstrators, has cancelled a public appearance with crowds along the Tour de France cycle race scheduled for Wednesday, while his interior minister Gérard Collomb was quizzed by MPs about the May 1st events.  
French interior minister Gérard Collomb has ignited a fierce row after accusing union organisers of recent nationwide street marches against government policy, during which there have been violent attacks by extremist anti-capitalist groups on shops, banks and vehicles, of being 'accomplices' to the events by not preventing them.
Violence came after far-left anarchist groups, known as Black Blocs, hijacked a peaceful rally against President Macron's public sector reforms.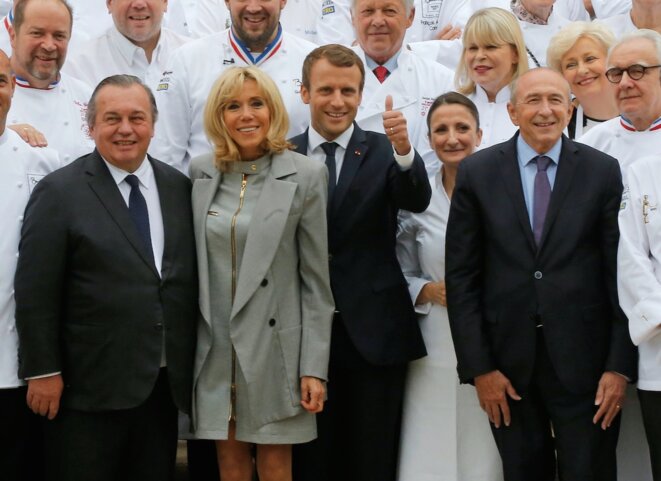 Events organiser Olivier Ginon, left, with Brigitte Macron, President Emmanuel Macron and interior minister Gérard Collomb at the Elysée in September 2017. © Reuters
According to election campaign accounts seen by Mediapart, the French events organisers GL Events gave Emmanuel Macron significant discounts on services it provided for his successful election campaign. The company run by Olivier Ginon, an ally of interior minister Gérard Collomb and currently very much in favour at the Elysée, claims these were normal business discounts available to everyone. Yet according to the information seen by Mediapart, conservative candidate François Fillon did not benefit from similarly advantageous rates from the same company. Antton Rouget reports.
French interior minister Gérard Collomb said on Sunday that two planned attacks in the name of the so-called Islamic State group, one against a 'major sporting facility', and the other against troops on anti-terrorism patrols on urban streets, had been uncovered this year and the suspected would-be perpetrators arrested.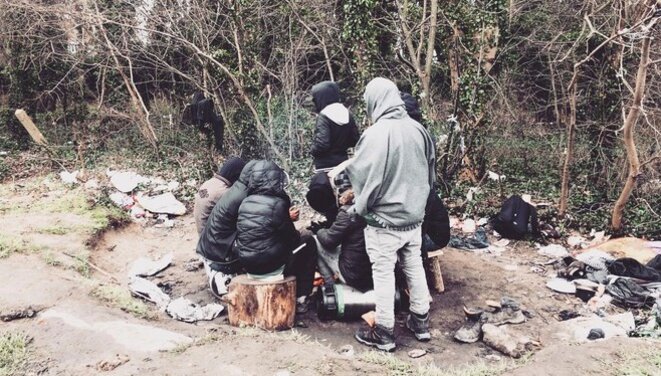 Migrants living rough in Calais, February 2nd, 2018. © Elisa Perrigueur
A recent battle between groups of migrants in Calais left 21 people injured, including five with gunshot wounds. Four were left in a critical condition. Local voluntary groups on the ground say that the situation in the Channel port town has got worse in recent weeks, notably after a visit by President Emmanuel Macron and because of a policy of not allowing any new migrant camps to spring up. Elisa Perrigueur reports from Calais.
The French authorities have quietly issued a decree to state officials in some regions that allows them to depart from the normal rules when it comes to projects concerned with the environment, farmland, forests, local development projects and urban policy. The rules are being relaxed as part of an experiment to give decision makers in certain regions greater flexibility. But lawyers representing environmental groups say the move could open the way to more projects that cause pollution and are harmful for the environment. One has called the decree 'absurd and dangerous'. Jade Lindgaard reports.
Interior minister Gérard Collomb told reporters in Calais that he blamed 'totally organized' gangs for the fight that left 22 injured, some seriously.