Germany's Robert Koch Institute said it would add the Moselle département in north-east France  to the list of "variant of concern" areas that already includes countries such as the Czech Republic, Portugal and the United Kingdom.
President Emmanuel Macron and Chancellor Angela Merkel announced the unprecedented package after talks by video conference.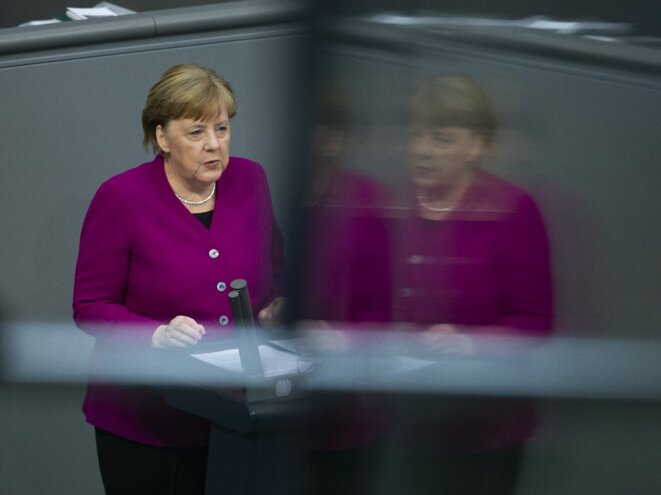 Angela Merkel - treating the German people as grown-ups.
In an interview with Mediapart, history lecturer Johann Chapoutot, an expert on contemporary Germany and the history of the Nazis, uses the example of Germany to highlight France's failings in its handling of the coronavirus pandemic. He says that while the German chancellor Angela Merkel appeals to people's reason, in France "they lie to us". Interview by Ludovic Lamant.
France, Germany and the UK have set in train a dispute mechanism allowed in a 2015 deal over Iran's nuclear programme, following Tehran's decision to remove limits to its production of enriched uranium which can be used in the making of nuclear weapons.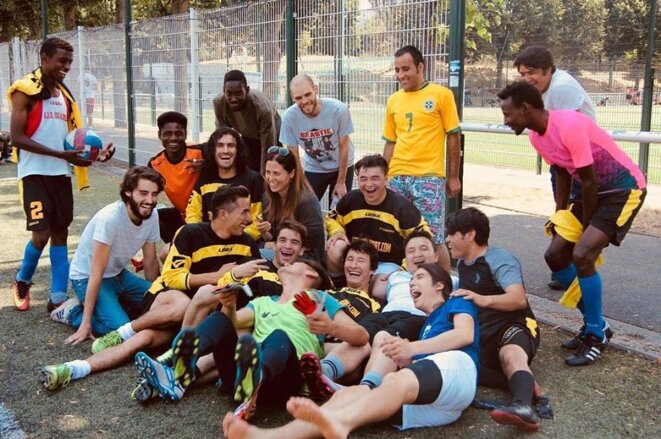 The migrant football association L'Équipe sans Frontières, at the end of a training session at Bobigny, north-east of Paris. © CC
In the Paris region, western France and the French Alps, local initiatives are springing up to help young migrants, many of them unaccompanied minors, to get involved in football to help them integrate and find their feet in their new country. These projects are similar to a much-larger initiative that began in Germany in 2015 when that country took in nearly one million refugees. But as Mickaël Correia reports, the sport's ruling body in France - the French Football Federation - is doing nothing to help the process.
An exhibition in Paris reveals Poland's now forgotten colonial ambitions in the 1930s. In doing so, it makes a link between past Polish attitudes to colonies and other peoples and the racist reflexes of some governments in Central and Eastern Europe today. Ludovic Lamant reports.
Angela Merkel wants centre-right candidate Manfred Weber as next EU Commission president but Emmanuel Macron favours other candidates.
Study also shows French are significantly more critical than Germans of government and public services, and distrustful of EU and globalisation.
At a meeting of European Union (EU) ministers on Tuesday, France and Germany said they were concerned over reforms of the Polish judicial system, which are regarded as politically intimidating for the country's courts and a threat to their independence, voicing their support for EU Commission infringement procedures which could in theory result in Poland losing its EU voting rights.
The 100-member Franco-German assembly, which implements the new Aachen treaty, met for its first biannual summit in Paris.
French President Emmanuel Macron and German Chancellor Angela Merkel met in the border town of Aachen on Tuesday to sign a pact that brings greater cooperation between their two countries, notably in economic and security issues, and including the aim of creating a 'German-French economic area with common rules' and a 'common military culture' that Merkel said could 'contribute to the creation of a European army'.
In a speech to Germany's parliament, French President Emmanuel Macron said Europe must not become 'a plaything of great powers' and that 'in this global order [...] our true strength lies in unity'.
They seek 'clearer delineation of mandates' between European Investment Bank and European Bank for Reconstruction and Development.
British foreign secretary Jeremy Hunt, who visited Paris on Tuesday, has called on France and Germany to put pressure on European Union negotiators in Brexit talks to respond more positively to the UK's propositions for a deal and to avoid what he has said is otherwise 'the real chance' of his country leaving the EU next year without one.