New combat jet intended to replace French Rafales made by Dassault Aviation and German Eurofighters from 2040. 
France and Germany have reacted strongly at a decision by US President Donald Trump to withdraw his support for the concluding joint statement issued by the Group of Seven summit in Canada of leading world economic powers, with a French presidential source calling it an act of 'incoherence and inconsistency' and the German foreign minister saying trust had been 'lost'. 
Russia, Armenia and the former West Germany were all major suppliers of technology and raw materials for Syria's programme of chemical weapon production, exiled Syrians who worked on the project have told Mediapart. They also say that, in violation of intentional law, the Damascus regime still has a secret arsenal of up to 35 tonnes of chemical weapons. René Backmann reports.
Just hours after naming the conservative Edouard Philippe as his prime minister on Monday, France's new president Emmanuel Macron flew off to pay a visit to German Chancellor Angela Merkel. She, like European Commission president Jean-Claude Juncker, has hailed the election of pro-EU Macron, and notably his announced structural reforms of France's economy, which are at the heart of his political programme. Macron considers they represent a panacea for the ills in French society, but are they really appropriate to the country's economic situation? Romaric Godin weighs up the widely different views on the mantra that there is no alternative to "structural reforms".  
Emmanuel Macron is to travel to Germany to meet Chancellor Angela Merkel on Monday, the day after his inauguration as France's new president, when the two leaders are expected to seek agreement on measures to strengthen the eurozone.
Germany doubts any of the presidential candidates will tackle the political and economic problems faced by their French neighbours.
Emmanuel Macron called for a euro zone budget to finance investments and to extend financial assistance to struggling member states.
French president said wrong to prevent Greece from taking "sovereign decisions" to pay pensioners a one-off bonus, despite German anger.
First German edition of the French magazine that was nearly wiped out by murderous attack in January 2015 hits newsstands this week.
The three Syrians, who police suspect were a 'sleeper cell', appear to have travelled via the same traffickers as three suicide bombers who blew themselves up near Paris in November 2015.
Paper by country's defence ministers proposes setting up a European defence headquarters, a common surveillance system and sharing logistics.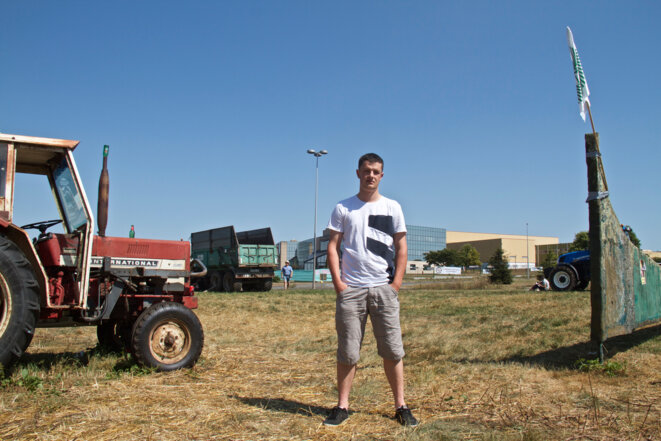 One of the protesters, Adrien, in front of the headquarters of dairy group Lactalis. © Laurent Geslin
After a bitter dispute lasting more than a week, the giant French dairy group Lactalis has finally agreed to pay its dairy farmers higher prices for their milk. However, the anger of the protests has once again highlighted the desperate plight of many dairy farmers in France. As Laurent Geslin reports, an entire way of life is in danger of disappearing as smaller-scale farmers find it increasingly hard to make a living.
Jean-Marc Ayrault and Frank-Walter Steinmeier urged other EU members to join them in further steps toward a 'political union in Europe'.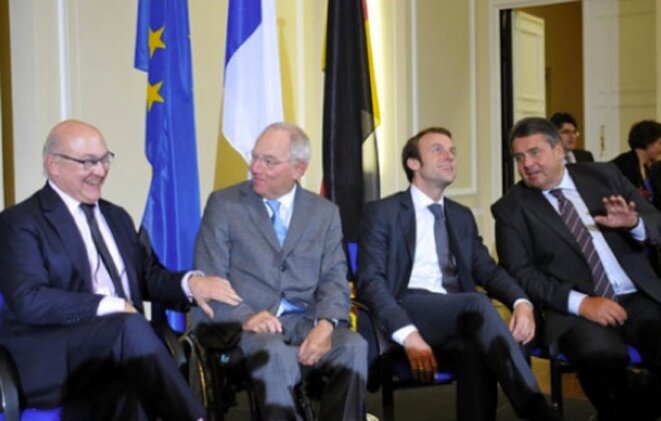 Crucial meeting? French and German finance and economy ministers meeting in Berlin, October 2014. © france-allemagne.fr
The French government's labour law reform bill, now being debated in the Senate, has prompted fierce opposition from several trades unions, massive demonstrations across the country, and a deep political and social crisis. Opinion polls show a majority of the population are opposed to the bill, which reduces current protection for employees with measures that include easing conditions for firing staff and placing a ceiling on compensation sums awarded by industrial tribunals. But the government is adamant it will not negotiate the bill's contents. Martine Orange investigates the reasons for its unusual intransigence, and discovers evidence that the most controversial texts of the bill were demanded by European Union economic liberals.
AfD says France and south European countries pose problem to single currency as they have a different political culture from north Europeans.