Related keywords
Renewed 'yellow vest' movement demonstrations were held across France on Saturday, in protests againt President Emmanuel Macron's economic policies and in particular over falling living standards for low- and middle-income households, during which clashes erupted in the north-west town of Nantes. 
France's so-called 'yellow vest' demonstrations against falling living standards among low- and middle-income earners, which since its beginnings in November has become a protest movement against the governement and the political elite, again drew tens of thousands of protestors nationwide on Saturday, which the interior mionisrty estimated to number 46,600, an increase on last weekend.
The French 'yellow vest' movement of revolt over falling living conditions for lower income households and against the political establishment held a 14th day successive day of action on Saturday, when contested interior ministry estimates said turnout across the country was around 41,500, down on last weekend.
An opinion survey published this week has found a majority of those questioned wish an end to the rolling 'yellow vest' street protests centred on falling standards of living for low-and middle-income earners, although most still continue to sympathise with the demands of the movement.
French President Emmanuel Macron's "Great Debate" – a vast, unprecedented nationwide exercise in consulting citizens on how to fix France's problems – is the latest attempt by the centrist president to try to bring an end to almost three months of spectacular anti-government revolt by the gilets jaunes protest movement.
France ranks among the countries that most generously redistribute resources from rich to poor, and yet great disparities in wealth persist.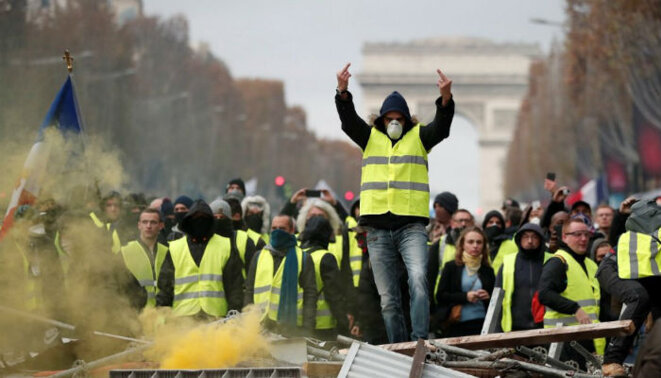 Yellow vest protestors on the Champs-Élysées avenue in Paris, November 2018. © Reuters
The two-month-long 'gilets jaunes', or 'yellow vest', movement in France, protesting the fall in living standards for low- and middle-income earners and against the powers of the country's social and political elite, continues largely unabated. It has attracted worldwide attention, and not least in the United States, where the Left sees it as an echo of the Occupy Wall Street movement, where also supporters of President Donald Trump have hi-jacked it as a new symbol of protest against the liberal establishment, and where the latter interpret it as a devil of populism. Mediapart's US correspondent Mathieu Magnaudeix reports from New York on the confused reactions across the Atlantic to the largely misunderstood revolt in France.
President Macron prepares for three-month public debate as 80,000 police mobilise across country for more weekend demonstrations.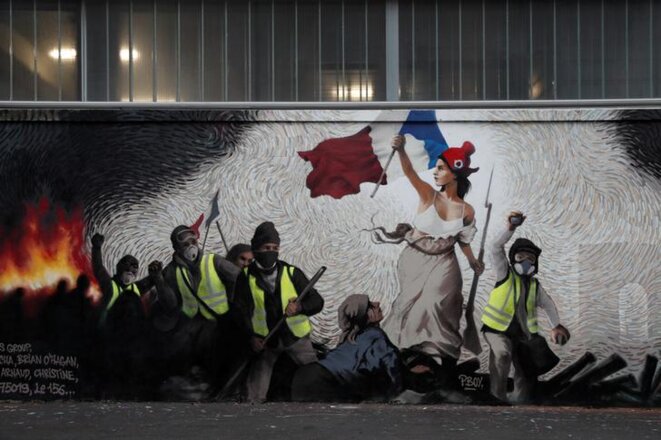 A work by artist Pascal Boyart, alias PBOY, in homage to the 'yellow vests', on the walls of Paris, January 7th 2019. © Reuters
On Monday January 7th the French prime minster Édouard Philippe announced plans to boost the array of security powers at the state's disposal with, in particular, a new law against rioters and undeclared demonstrations, plus preventative targeting of protestors presumed to be violent. Mediapart publishing editor Edwy Plenel points out that the prime minister did not utter a word about police violence, demonstrating that in making this repressive decision the government has turned its back on the sometimes vague democratic demands made by the 'yellow vest' protestors.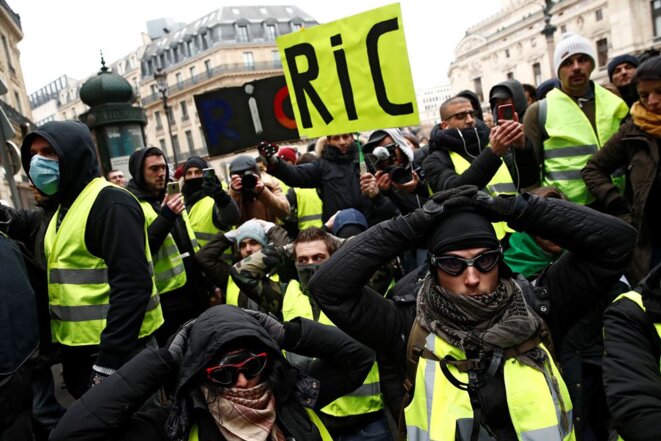 A yellow vest protest in Paris, December 15th 2018, calling for citizens initiative referendums. © Reuters
One of the key demands made by the 'yellow vest', or 'gilet jaune', protestors in France is for the holding of what are called citizens initiative referendums. How exactly should such a demand be interpreted? In an interview with Mediapart academic Julien O'Miel, a specialist in participative democracy, sees it as a desire by citizens to take control of the political agenda. Pauline Graulle reports.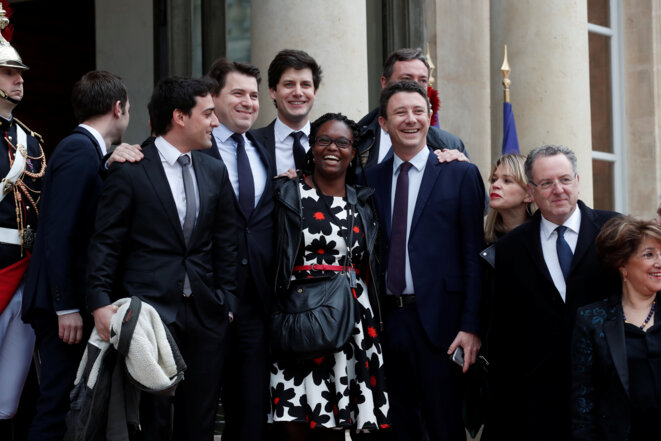 From left to right, part of President Macron's inner circle Stéphane Séjourné, Sylvain Fort, Julien Denormandie, Benjamin Griveaux, Richard Ferrand. In the middle is Sibeth Ndiaye. At the Élysée May 14th 2017. © Reuters
The head of communications at the Élysée has just announced that he is to leave his post by the end of January. Sylvain Fort, who is close to Emmanuel Macron having worked alongside him for more than two years, proclaimed his "total loyalty" to the French president. But this and reports of other possible departures from the president's inner circle have further weakened a presidency which is embroiled in the affair involving former security aide Alexandre Benalla and the ongoing social movement carried out by the so-called from the yellow vest protestors. Lénaïg Bredoux reports.
The arrest of Éric Drouet - he was later released - sparked a wave of criticism from political opponents of the Macron government.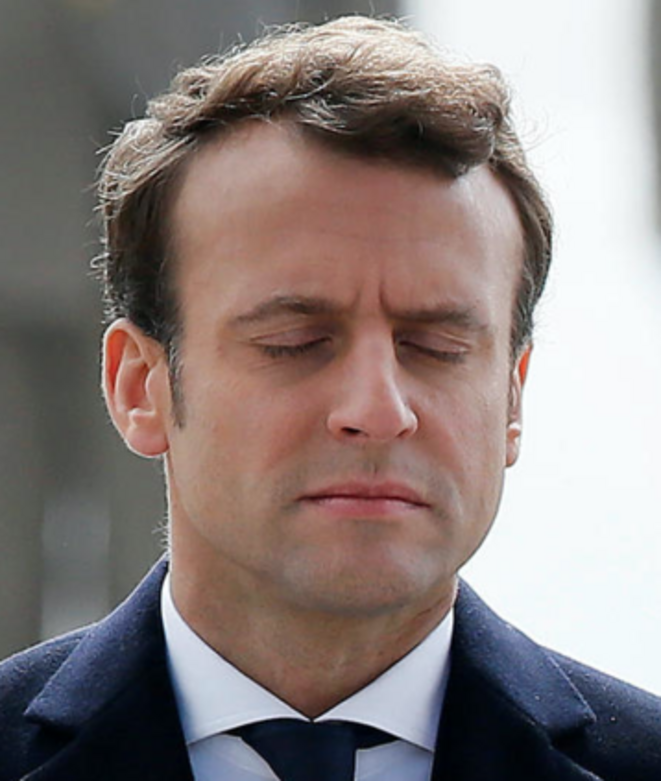 French President Emmanuel Macron. © Reuters
No French president or prime minister over the past 50 years has survived a political crisis like that in which Emmanuel Macron has become engulfed with the 'gilets jaunes' – Yellow Vest – movement, which is calling for improved living conditions for low- and middle-income earners, and increased participation of citizens in political decision making. In this analysis of the crisis, François Bonnet argues why Macron, in order to save his five-year term in office, appears to have little other choice than to return to the urns.
In newspaper interview, Édouard Philippe said the government had  'not listened enough to the French people'.