Ministers want to establish tax regime for digital companies that ensures the profits they make on the European market are subject to taxation.
Internet search engine giant launches a €60m fund to support the country's media through its move into the online world.
Spain launches proceedings against search giant for five suspected serious data breaches and France gives it three months to rethink privacy rules.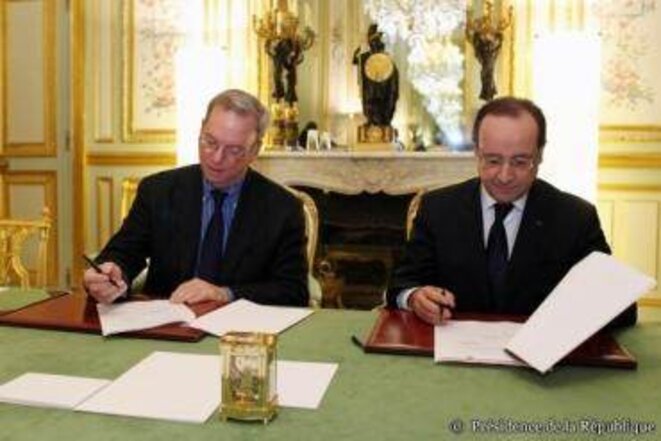 © Elysée
There was all the atmosphere of a joint press conference between heads of state when French President François Hollande and Google Executive Chairman Eric Schmidt this month announced an agreement had been reached between the US search engine giant and the French press over Google's use of article contents. Google will make a one-off payment of 60 million euros to fund development of the publishers' presence on the internet, while it will also offer to increase their online revenues using Google's advertising platforms. However, as Dan Israel and Jérôme Hourdeaux report, what was presented as a "historic" compromise is in reality a long-term victory for Google over an ailing, cash-strapped press, while the details of the deal are, curiously, to remain secret.   
Options could include new type of levy on the personal data of web surfers that the likes of Google and Facebook use to make money.
Major French ISP Free has agreed to abandon its ad-blocking policy - seen as a swipe against Google - after a government minister intervened.
Claim against internet retailer is part of a wider French crackdown on multinational companies that channel profits through low-tax countries.
Google executive chairman Eric Schmidt met with French President François Hollande to discuss a revenue row with media firms over content use.
France's data-protection authority demands Google hand over data secretly collected from internet users which it failed to delete as promised.
Google has reached what it called a "pioneering" agreement with French publishers for digitising out-of-print books, ending six years of litigation.
French judge asks a mediator to resolve a dispute between anti-racism groups and Google over suggestions its users add 'Jew' to name searches.
Sacrebleue, last week it seemed that France had stopped worrying and learned to love the internet, comments NY Times writer Eric Pfanner.
Former F1 boss is suing Google in France and Germany to force it to monitor and censor search results about his alleged sado-masochistic orgy.
Google Inc.is being sued in France over claims it blocks rivals from reaping ad revenue and gives preference to its own sites in query results.