Rightwing opponents of socialist Paris mayor Anne Hidalgo have jumped onto a social media buzz that went viral over the Easter weekend highlighting uncollected rubbish and graffiti on the streets of the French capital, which Paris city hall officials have denounced as a 'political smear cmpaign'.
Justice minister vows to 'find and judge' vandals who defaced Oradour-sur-Glane near Limoges.
Almost 2,000 inscriptions left by WWI Allied troops have been found in an ancient chalk quarry sited close to the Somme battlefields.
A message about 9/11 was scrawled on the celebrated Eugène Delacroix painting 'Liberty Leading The People' in a museum in northern France.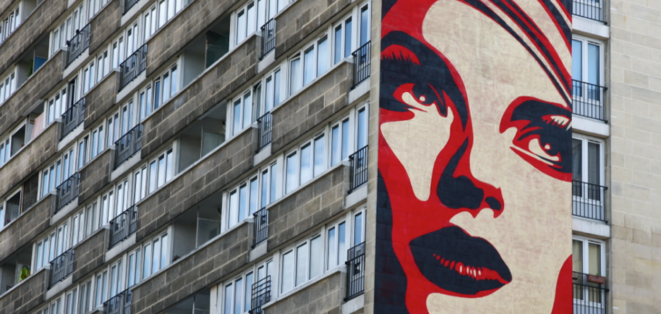 Shepard Fairey is one of the most celebrated street artists today, a pioneer of the underground urban movement and famous worldwide for his 'Hope' poster created for Barack Obama's 2008 election campaign, now a permanent feature in the US National Portrait Gallery. This summer he visited Paris to mount a 40 metre-tall slice of his graphic oeuvre in the capital's 13th arrondissement (photo), when Mediapart caught up with him, camera in hand, to follow the American artist at work. Hugo Vitrani reports on a man who seems incapable of escaping controversy, arrest and a constant desire to re-paint the urban jungle (video report and interviews available on article pages).