In contrast to other EU and Nato allies, France has strongly backed Greece in its burgeoning showdown with Turkey over hydrocarbon resources and naval influence in the waters off their coasts.
Move comes as President Emmanuel Macron called on Turkey to halt oil and gas exploration in disputed waters that has heightened tensions with Greece. 
Greek media reports say Athens is to begin negotiating the purchase from France of two French-Italian-designed FFREM-class multimission frigates, and is eyeing a further deal for two French Gowind-class corvettes.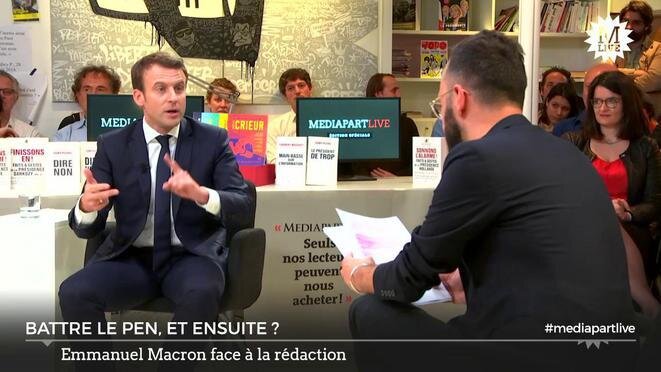 © Mediapart
Emmanuel Macron, who was elected as France's new president on Sunday, gave his last interview before his landslide victory to Mediapart, in which he detailed the measures and policies he would adopt over his five-year term of office. During the two-hour interview on Friday evening, he detailed his approach to a number of foreign policy issues - which were little mentioned during his campaign - including French military intervention abroad, his views on Donald Trump and Vladimir Putin, the Israeli-Palestinian conflict, the Greek debt crisis, and US reluctance to implement the Paris COP 21 measures to combat climate change.
French president said wrong to prevent Greece from taking "sovereign decisions" to pay pensioners a one-off bonus, despite German anger.
Greek TV report of what could be airplane debris spotted in sea near where plane vanished from radar about 174 miles off Egyptian coast.
French president and Egyptian premier say terrorism is possible explanation for sudden crash of plane carrying 66 people over Mediterranean.
Sea search starts as Greek aviation source says plane flying from Paris to Cairo crashed around 130 nautical miles off the island of Karpathos.
Abdelhamid Abaaoud, killed by French police last month, escaped arrest in Athens from where he directed Brussels terror cell, security source tells BBC.
Growing concern in France after it emerged that Abdelhamid Abaaoud, one of Europe's most wanted men, travelled freely around continent.
French president gave pledge on visit to Athens to sign partnership with Greece's Alexis Tsipras to provide French management expertise.
France's lower and upper houses voted by strong majorities to approve the controversial 86 billion-euro debt bailout plan agreed on Monday.
Michel Sapin said on Wednesday that IMF report urging large-scale debt relief for Greece was shared by the French government.