Sixty Covid-19 deaths have been recorded in hospitals in Guadeloupe since August 9 out of a total of 357 since the beginning of the pandemic and incidence rate has shot up to 1,912 cases per 100,000 population.
President Macron called the situation is 'dramatic' as he opened a virtual meeting with his senior cabinet ministers to discuss the epidemic.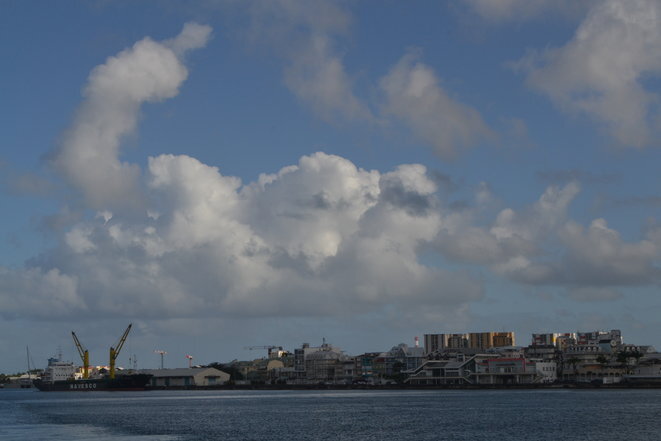 When goods enter the ports of French overseas départements - here, Fort-de-France in Martinique - they are subject to the 'octroi de mer' or dock dues. © JS
One of the recurring complaints of consumers living in France's overseas regions is how high the cost of living is compared with Metropolitan France. At the heart of this criticism is the 'octroi de mer' or dock dues, a tax paid on the import of goods to these territories. This tax has been in place since 1670 and the start of the French colonial system. And the European Union has just agreed to continue it to at least 2027. Julien Sartre reports on the history and impact of a tax that is a throwback to colonial days and which still leaves a burden on often poor French consumers living in overseas départements.
One person was killed by a falling tree, while two more were reported missing after boat sank off an island in the French territory's archipelago.
French President Emmanuel Macron is on a tour of the French Caribbean islands of Saint Martin and Saint Barthélemy, which were both devastated last week by Hurricane Irma, promising aid to rebuild homes and infrastructures, while controversy continues over his government's management of events before and after the disaster.
One of the overseas titles once owned by the Hersant newspaper empire.
The Hersant newspaper group disintegrated a few years ago, following massive job losses, the closure of titles and insolvencies. However the demise of this once-powerful group which had owned close to 50% of the national and local French press, is still having an impact in French overseas territories where it also had a strong base. Julien Sartre reports on the lingering effects of the fall of a newspaper empire which had influence around the globe.
Anyone returning to France from an area where there has been an outbreak of the virus will have to wait 28 days before giving blood.
Paris is sending extra hospital equipment as officials say Martinique and French Guiana have had about 100 confirmed Zika cases.
The French president, on a tour of Caribbean islands, paid homage to slaves and their sacrifices at the memorial, the first of its kind on French soil.
Loïck Peyron sailed the 3,542 miles from Saint-Malo to Guadeloupe in Route de Rhum race in just over seven days and 15 hours.