TV and radio stations revealed the presence of Lilian Lepère hiding in a cupboard at a printing plant where the two gunman were under seige.
The French victims were among a reported 20 foreign tourists and three Tunisians shot dead by gunmen who attacked the Bardo museum.
The Mediterranean port's rundown neighbourhood of Castellane was under siege after police cars came under fire on Monday morning.
The mobile phone video of gunmen Saïd and Chérif Kouachi shows them calmly returning to their car shouting 'We have avenged the Prophet'.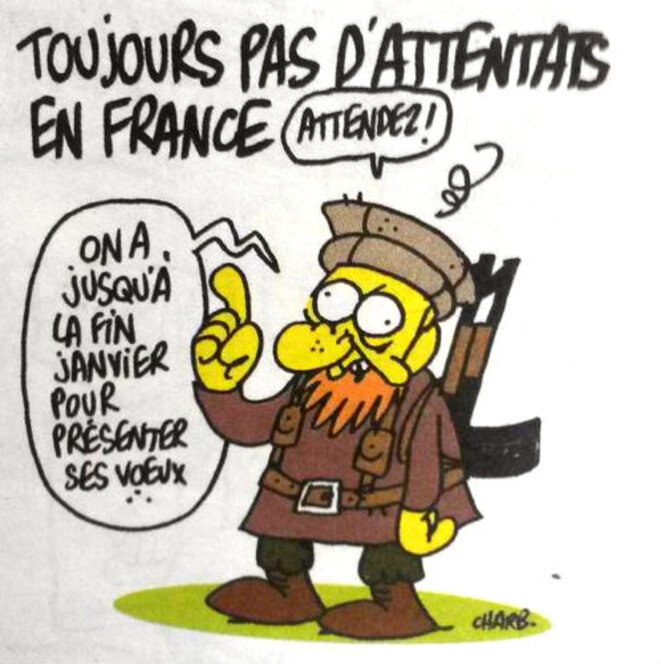 Un des derniers dessins de Charb, publié le 7 janvir 2014 © Charb
The attack by gunmen on the offices of Charlie Hebdo on Wednesday came almost nine years after the French satirical magazine found itself at the centre of a fierce controversy for first reproducing in France the so-called 'Prophet Muhammad caricatures' originally published in a Danish newspaper. Charlie Hebdo has since continued to publish cartoons that mock Islamic fundamentalism, prompting the anger of a section of Muslims in France and abroad, and which led to a devastating firebomb attack on its offices in 2011. The magazine has regularly defended its position as that of a satirical publication that is equally irreverent towards the hypocrisies of all religions. Dan Israel traces the bitter background to Wednesday's horrific outrage.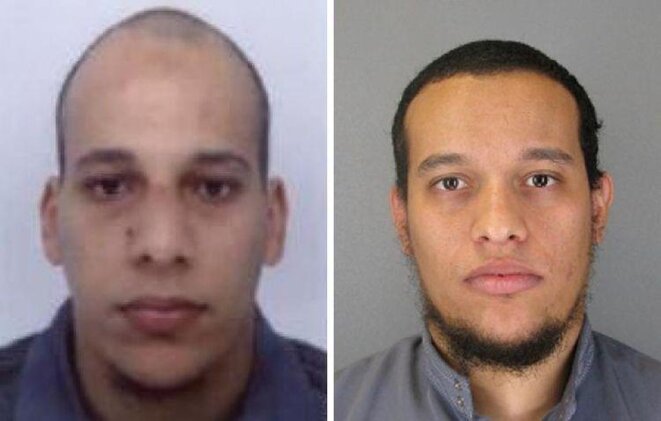 The two men being sought by French police over the Paris killings.
Three suspects were identified late Wednesday in the hunt for the gunmen who earlier in the day attacked the offices of satirical weekly magazine Charlie Hebdo in Paris, which left 12 people dead and another 11 people wounded, four in a serious condition. Senior members of Charlie Hebdo's senior editorial staff were killed in the attack, including editor Stéphane Charbonnier, and some of the country's most celebrated cartoonists, Cabu, Philippe Honoré, Wolinski and Tignous. Economist Bernard Maris, columnist Elsa Cayat, copy editor Mustapha Ourrad, a visitor to the offices, a caretaker and a police officer - Charbonnier's personal guard - were also shot dead. Witnesses say the gunmen shouted "God is Greatest" in Arabic as they left the building, after which they shot dead another police officer during their getaway. One of the three suspects, initially believed to be the driver of the vehicle, has since been arrested after he reportedly presented himself to police in the eastern French town of Charleville-Mézières after seeing his name circulating on social media. Police identified the two main suspects as Saïd Kouachi, 34, and his brother Chérif Kouachi, 32. Late Wednesday evening, forensics officers searched an apartment in Reims, east of Paris, and police have detained seven people said to be close to the Kouachi brothers. Earlier on Wednesday President François Hollande revealed that "several terrorist attacks have been foiled in recent weeks". On Wednesday evening an estimated 100,000 people gathered in cities and towns across France for a moving display of gatherings in solidarity with the victims of the attack. President Hollande announced that Thursday would be a day of mourning across France.