But French officials say that new Athens government could be offered more time to pay off its debts if its reforms stay on track.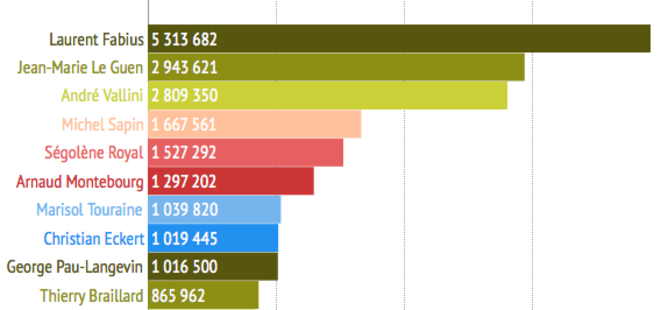 The new watchdog overseeing the probity of France's elected representatives and officials has just published a report on the property and financial interests of government ministers. As expected the foreign minister Laurent Fabius came out top in the net worth stakes, followed by parliamentary relations minister Jean-Marie Le Guen who was obliged by the watchdog to re-evaluate upwards the value of his property, while Europe minister Harlem Désir emerges as the least well-off member of the government. But while the publication of the list is a welcome step towards transparency in public life after the débâcle of the Jérome Cahuzac affair, there are still some puzzling gaps and omissions on the list.
Jean-Christophe Cambadelis, 63, a one-time political opponent of President Hollande, has to tackle growing dissent from the far-left of party.
During the second part of his government reshuffle this week, President François Hollande did not just change his ministerial team and a key member of his private office – he also reshuffled the Socialist Party, forcing its widely-criticised first secretary Harlem Désir to quit. But to general astonishment Désir was immediately offered the post of junior minister for European Affairs. Political opponents and some allies described this as a bleak moment for French relations with Europe, with one senior figure even calling it an "insult". Meanwhile the manner in which the president abruptly removed the party's leader has caused consternation among some members. Stéphane Alliès and Ludovic Lamant report.
Head of Socialist Party Harlem Désir is made junior minister for Europe as President Hollande and new PM Manuel Valls complete reshuffle.
Socialist Party boss Harlem Désir mocks radical left politician Jean Luc-Mélenchon, referring to his recent trips to Latin American countries.
Harlem Désir's election to lead France's ruling Socialist Party marks the arrival of the nation's first black political party leader.