The extent of political and financial corruption in France has been highlighted by the scandal-plagued French presidential elections, with two of the frontrunning candidates, conservative nominee François Fillon and the far-right challenger Marine Le Pen, engulfed in graft accusations. Following the case of Jérôme Cahuzac, the socialist budget minister tax-fraud tsar who, Mediapart revealed, held a secret foreign bank account over two decades, several new anti-corruption agencies were created to fight a seemingly endemic problem. But, in a series of interviews with Mediapart, investigators and magistrates denounce a dire and crippling lack of resources.
French MPs have recently been obliged to make public not just their financial interests but also who they hire to work for them. According to these official declarations and Mediapart's own research at least a fifth of all elected members of the National Assembly have employed a family member in 2014. Of these, 52 were spouses, 32 were daughters and 28 were sons. Mathilde Mathieu reports on the domestic world of French parliamentarians.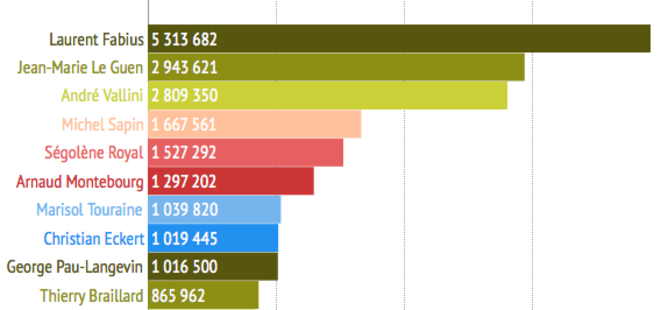 The new watchdog overseeing the probity of France's elected representatives and officials has just published a report on the property and financial interests of government ministers. As expected the foreign minister Laurent Fabius came out top in the net worth stakes, followed by parliamentary relations minister Jean-Marie Le Guen who was obliged by the watchdog to re-evaluate upwards the value of his property, while Europe minister Harlem Désir emerges as the least well-off member of the government. But while the publication of the list is a welcome step towards transparency in public life after the débâcle of the Jérome Cahuzac affair, there are still some puzzling gaps and omissions on the list.
Watchdog ordered millionaire Jean-Marie Le Guen to re-evaluate property portfolio he had listed at €700,000 below true value.