The head of President emmanuel Macron's LREM party has threatened to remove support for four of its candidates in local elections in southern France unless they withdraw a campaign flyer in which one of them is pictured wearing a Muslim headscarf.
France is experiencing a  'venomous national debate' that is scrambling questions over the headscarf, Islam, immigration and radicalization.
The woman accompanying a school party who was asked by a far-right councillor to leave a regional council meeting in France because she was wearing a Muslim headscarf, a shocking incident captured in a photo of her distressed son breaking into tears, has decided to file an official complaint with prosecuton services for 'violence of a racial nature'.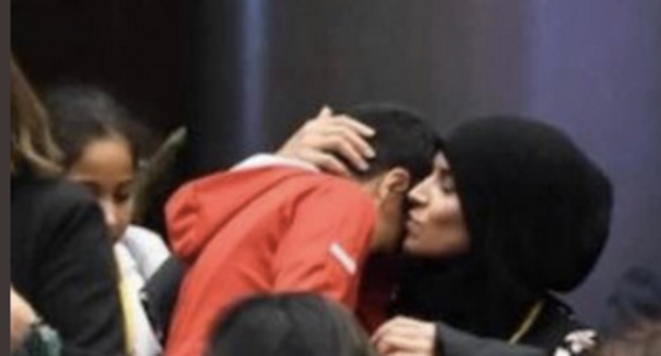 The distressing scene at a meeting of the Bourgogne-Franche-Comté regional council on Friday.
At a regional council meeting in Burgundy on Friday, a councillor from France's far-right Rassemblement National party (formerly the Front National) demanded that a woman in the public gallery should remove her headscarf or leave. She was accompanying a visiting group of primary school children, which included her son who burst into tears over the humiliation of his mother. A photo of the incident immediately caused outrage as it circulated on social media, and has since developed into a major political controversy, dividing members of government and highlighting the blurring of the boundaries of France's secular rules and their misuse as a weapon for Islamophobia.
 Jean-Michel Blanquer says he wants to avoid having mothers in hijab as volunteers on school trips.
A Paris university student union leader involved in current protests against a reform of university entrance criteria has dismissed as 'pathetic' and 'quite comical' criticism by government ministers who accuse her of 'provocation' and promoting 'political Islam' by wearing a headscarf during media appearances. 
French far-right presidential election candidate Marine Le Pen, on a visit to Lebanon where she has met with a number of officials, cancelled her planned meeting with the head of the Lebanese Sunni Muslim authority Dar al-Fatwa, after she refused to wear a headscarf when she arrived for the encounter, despite having been previously notified of the requirement.
The Ifop study found 29 percent of those polled said sharia legal and moral code was more important than secular France's laws, while 60 percent wanted to see headscarf ban on girl students lifted. 
The woman, 34, told French media she was fined by police for dressing in hijab, leggings and tunic and suffered verbal abuse from some beachgoers.
As they cannot wear religious garments in public service jobs many French Muslim women are taking up self-employed e-trading.
A ban on Muslim headscarves for volunteer school monitors is maintained, despite a warning by the Council of State that it oversteps the law.
A report by France's High Council for Integration proposing headscarves be banned from university campuses sparks anger from Muslim groups.