The European Union on Monday gave the go-ahead to extend the licence for sales of the herbicide glyphosate, recognised by the World Health Organisation as "probably carcinogenic to humans", for a further five years. The French government, which voted against move, has decided to unilaterally limit the licence to market glyphosate to three years. But France remains Europe's biggest user, by volume, of agrochemicals, including many considered by scientific studies to present a health risk. Mediapart, in partnership with online journal Mediacités, details here, region by region and with interactive charts, their sales in France by volume, which in turn provides an indication of where they are most employed.
Bouches-du-Rhône council will replace image showing a boy wanting to get taller and a girl worried about her weight, at cost of €33,000.
Duties of Geneviève Fioraso as minister for higher education and research will be taken on by education minister Najat Vallaud-Belkacem.
Thousands of French people have taken out private insurance with UK companies amid growing frustration with 'sick' public system.
Health minister Marisol Touraine says health care spending will be maintained despite President Hollande's new pledge to reduce welfare 'abuses'.
Furious wine makers launch campaign against tax hike and tighter advertising rules they claim would be 'very bad for the image of France'.
Study finds French riders in the Tour de France live an average six years longer than the general population and die less of cardiovascular problems.
Medical experts insist that the increasingly popular e-cigarettes should be subject to the same restrictions as tobacco smoking.
Eating the ripened cheese could help guard against cardiovascular disease despite its high fat and salt content, according to new research.
Veteran French star Johnny Hallyday  has returned to Los Angeles, where he has a home, from the Caribbean, where he was treated in hospital.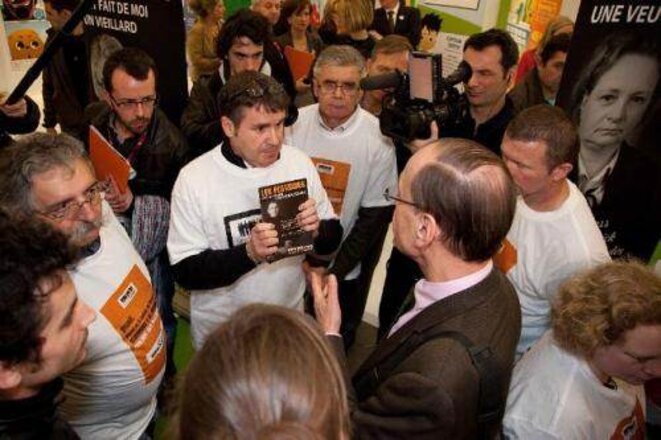 © Reuters
Last month, French cereal farmer Paul François, 47, won a lengthy legal battle against US biotech giant Monsanto in a landmark ruling by a court in Lyon that could open a floodgate of complaints by farmers for chemical poisoning. François was found to have become severely handicapped as a direct result of his contamination by Lasso, a powerful herbicide produced by Monsanto. France is Europe's biggest user, by volume, of pesticides, and worldwide only India and the United States use more. For François and other campaigners seeking to alert farmers to the dangers of chemical-based phytosanitary products, their battle targets not only the clout of the industrial lobby and a reluctance of the medical profession to recognise the illnesses caused by pesticides, but also a silent taboo among the farming community itself. Claire Le Nestour reports.