Nationwide protests against the introduction as of Monday in France of the requirement to carry a 'health pass' showing that a person has no coronavirus infection, or has had a double Covid jab, when entering public venues or before boarding trains and planes drew around 237,000 people, according to official estimates.
In a ruling announced on Thursday, France's Constitutional Council has approved government plans to introduce further restrictions over the Covid-19 epidemic, including the requirement that people display a vaccination or negative test 'health pass' before entering public venues,  and the obligation for healthcare staff to be fully vaccinated.
More than 200,000 people, according to official figures, took part in marches around France this weekend protesting against recently introduced measures which require a person to carry a health pass showing they are free of coronavirus infection or vaccinated before entering a wide range of public venues.
French president started his trip Saturday night in Tahiti with a visit to a hospital and an appeal to get vaccinated against the virus. 
An official with France's interior ministry said 161,000 people had demonstrated across the country on Saturday.
The health pass will be required for all events or places with more than 50 people, before being extended to restaurants, cafes and large shopping centres in August.
In Paris, one demonstrator's blouse read "No to compulsory vaccination, freedom violated!", while another's placard said: "Macron, no to the health dictatorship."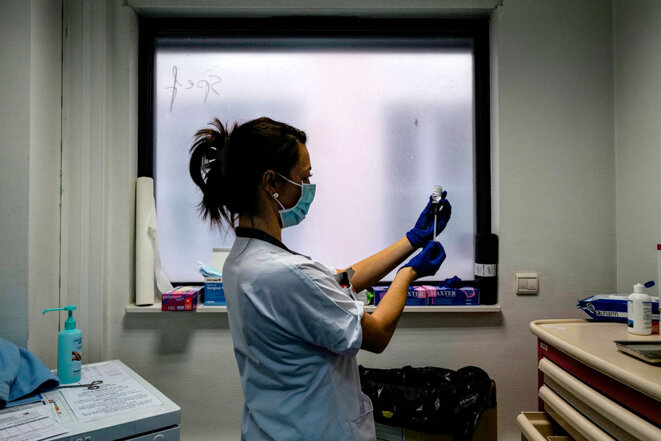 A nurse prepares a dose of the AstraZeneca vaccine at the Édouard-Herriot hospital in Lyon, in east France, February 6th 2021. © Photo by Olivier Chassignole / AFP
On Monday July 12th President Emmanuel Macron announced that all healthcare workers in France will have to be vaccinated against Covid-19 by September 15th. He also hinted that if the Delta variant of the disease takes hold and not enough of the public get a jab then this obligation could be extended to the whole population. The announcement has had a mixed reaction among some healthcare staff. The president's words have also sparked a wider debate about the ethics of mandatory vaccination and highlighted some glaring weaknesses in French public health policy since the start of the Covid epidemic. Rémi Yang, Mathilde Goanec, Jérôme Hourdeaux and Donatien Huet report.
Demonstrations in Paris and other cities over plan for mandatory vaccinations for health workers and vaccine pass for public places.