Keyword: healthcare workers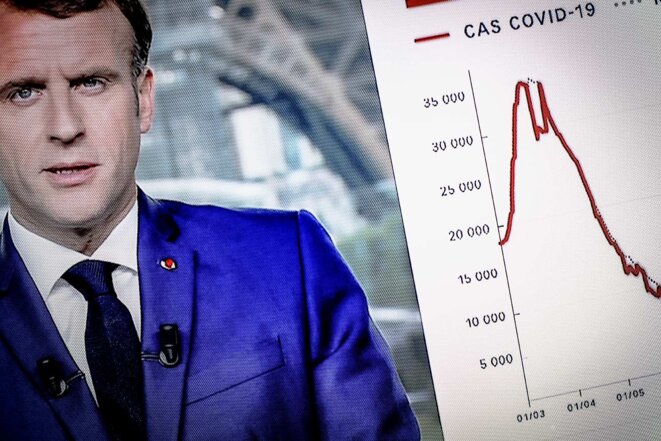 President Emmanuel Macron's televised address on July 12th 2021. © Sébastien Calvet/Mediapart
The French president addressed the nation on the evening of Monday July 12th to announce that all health workers will have to get a Covid vaccination between now and September 15th. In addition, Emmanuel Macron said that citizens will soon require a Covid pass or 'passport' for many social activities; for cinemas from July 21st and for bars and restaurants from the start of August, as well as for train journeys and longer coach trips. At the same time the president took the opportunity to praise his own track record as head of state before and during the Covid crisis and to set out some potentially controversial reforms just months ahead of next April's presidential election. Ellen Salvi reports on the president's latest televised address.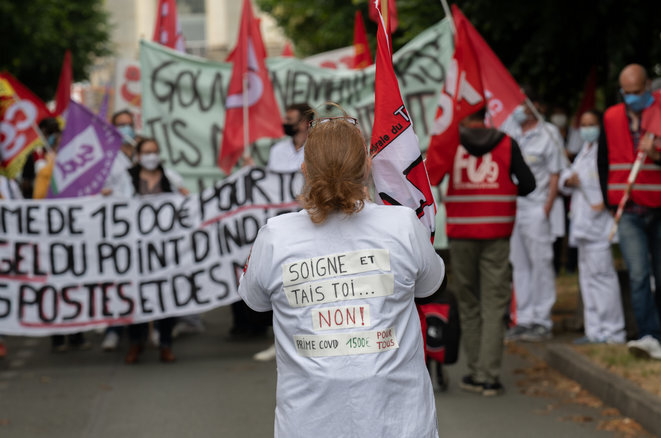 Healthcare workers demonstrate outside a hospital in the town of Angers, north-west France, June 4th 2020. © Hans Lucas/AFP
France's healthcare workers, who received wide public and official praise for their handling of the Covid-19 virus epidemic, are to hold nationwide demonstrations on Tuesday to highlight their longstanding demands over improved pay and conditions and hospital funding, and which had reached a stalemate last year. The street marches on Tuesday represent a show of force during an ongoing consultation process between unions and the government over pay, staffing levels and financing which was launched in May as a result of the health crisis. Meanwhile, non-medical hospital bio-cleaning and catering staff who also played a key role during the epidemic, but who complain of being overlooked, are demanding an end to a system of short-term contracts.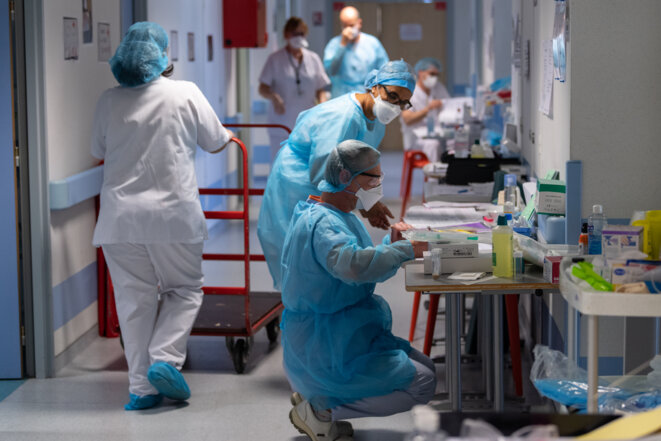 A post-intensive care respiratory unit created during the Covid-19 epidemic at a hospital in Mulhouse, south of Strasbourg. © Patrick HERTZOG / AFP
Amid the coronavirus epidemic in France, Mediapart has been asking doctors from a range of different hospital services to describe, in their own words, their day-to-day experiences and difficulties in coping with the current crisis. Here, Matthieu, a 26-year-old junior doctor in an intensive care unit in the north-east city of Strasbourg, describes the physical and psychological exhaustion of his relentless duty shifts over recent weeks, and his fears of a backdraught of the epidemic after the lifting of the national lockdown.