Related keywords
A French Senate report has found that last year 300 helicopters out of France's total military fleet of 467 were 'immobilized', a problem the report said 'prevented the conduct of certain missions, particularly in France', while warning that the pressure on service personnel is leading to their exhaustion.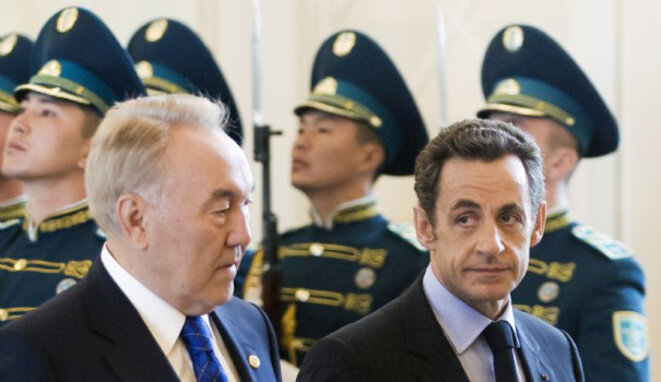 Kazakh president Nursultan Nazarbayev (left) with then French president Nicolas Sarkozy in Astana on October 6th 2009 when they signed the contract for two EADS satellites. © Reuters
A French judicial investigation into suspected corruption surrounding the sale to Kazakhstan of satellites made by aerospace giant EADS, now renamed Airbus Group, has discovered the trace of a mysterious payment of 8.8 million euros made by the group to an offshore company whose true owners are unknown, apparently even to Airbus. The investigation also centres on the sale to Kazakhstan by EADS of 45 helicopters, and the deepening scandal implicating Airbus in what has become dubbed "Kazakhgate" is joined by separate probes in France and Britain into the group's alleged corrupt practices in past sales of its civil aircraft. Martine Orange and Yann Philippin report.
The financial crime branch of France's public prosecution services has widened the remit of a judicial investigation into suspected corruption in a sale of French helicopters to Kazakhstan to include the suspected involvement of France's intelligence services in a plan to protect a businessman close to the Kazakh president from prosecution in Belgium. The move follows revelations by Mediapart and Belgian daily Le Soir of evidence suggesting the intelligence services were manipulated by officials of the French presidency under Nicolas Sarkozy in order to seal the deal worth a total of 2 billion euros. Yann Philippin reports in collaboration with Mediapart's Belgian press partners in this investigation, Alain Lallemand (Le Soir), Thierry Denoël (Le Vif) and Mark Eeckhaut (De Standaard).
After furious reaction from France to a last-minute decision by Poland not to buy 50 Airbus-built helicopters, the Polish deputy defence minister slammed Paris for disinviting Poland from an arms fair and claimed his country taught the French how to use cutlery.