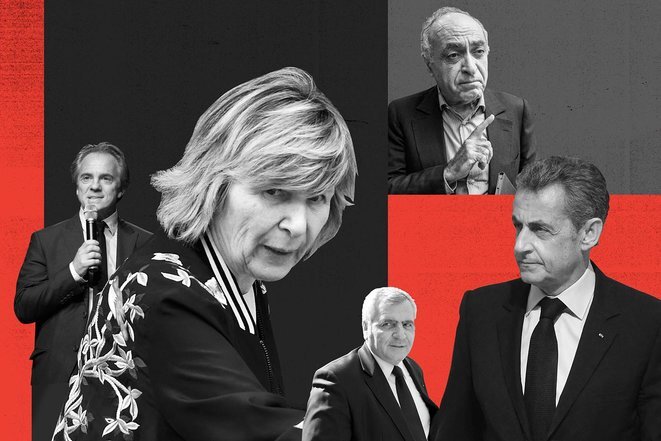 Michèle Marchand and (clockwise from left) Hervé Gattegno, Ziad Takieddine, Nicolas Sarkozy and Thierry Herzog. © Photo Illustration Simon Toupet /Mediapart avec AFP
Documents to which Mediapart has obtained access reveal evidence suggesting how a witness tampering plot was mounted to discredit the case against former French president Nicolas Sarkozy in a judicial investigation into the alleged funding of his 2007 election campaign by the regime of late Libyan dictator Muammar Gaddafi. According to judges investigating the alleged plot, it was "aimed at influencing the statements of a witness and to mislead, even to publicly discredit, the examining magistrates in charge of a case of particular sensitivity". Fabrice Arfi, Karl Laske and Antton Rouget report.
Seven years after the revelation of the so-called "Bettencourt affair", the tentacular scandal of corruption, fraud, tax evasion, conflicts of interest and political funding centred on the entourage of Liliane Bettencourt, heiress of the L'Oréale cosmectics giant, those who exposed the crimes committed against the dementia-suffering billionaire were tried by a Bordeaux appeal court last month for invasion of privacy. They are Bettencourt's butler, who secretly recorded compromising conversations of those who were swindling his employer, and Mediapart and weekly magazine Le Point which published the contents of the tapes. Mediapart publishing editor Edwy Plenel explains here the history of an absurd legal procedure led by a public prosecutor's office that has never accepted an initial court ruling that threw out the case on the grounds of the press's duty to inform and the public's right to know.