French foreign minister cited UK Hinkley Point nuclear deal as 'good example' of investment model Paris and Beijing will employ around world.
French EDF boss Jean-Bernard Lévy was also present at behind-closed-doors ceremony in London to seal deal on £18bn nuclear power station. 
President François Hollande's ruling party says the Hinkley Point nuclear project in Britain is risk to survival of France's state-owned utility EDF.
Just hours after EDF board voted to go ahead with the controversial project to build new reactors at English power plant, London postponed decision until autumn.
The French utilities giant is now committed to the controversial project in south-west England, despite fears the cost could threaten EDF's future.
French economy minister Emmanuel Macron says Brexit vote will have 'no consequences' on the £18billion nuclear plant project in Britain.
French head of state threw his weight behind it after his energy minister Ségolène Royal questioned financial sense of £18 billion project.
Thomas Piquemal, who resigned in March over plan to build nuclear plant in UK, told French parliament it carries a 'major construction risk'.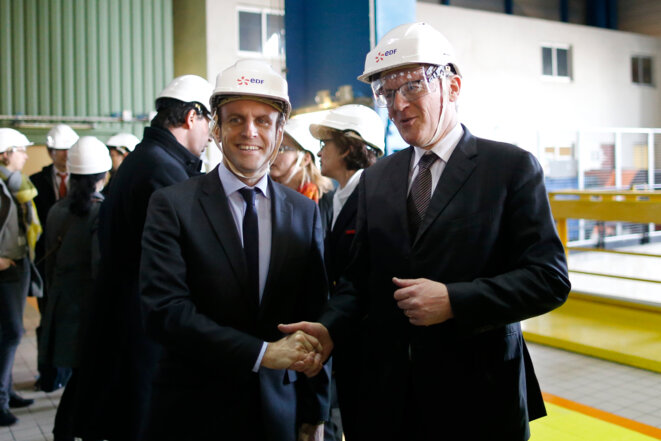 Economy minister Emmanuel Macron and EDF boss Jean-Bernard Lévy are under fire over the Hinkley Point project. © Reuters
On Friday April 22nd the board of directors at French energy giant EDF announced they were delaying a final decision on building two European Pressurised Reactors (EPRs) at Hinkley Point in Britain. The news came in the wake of an unprecedented rebellion by EDF staff against the 23-billion-euro project which some fear could even lead to the demise of the state-owned French company. Mediapart has seen a letter backed by 400 managers which calls on EDF's directors to face up to their corporate responsibilities, or face potential legal action if the Hinkley project damages the company. Martine Orange reports.
French energy firm admits there will be no final word on £18 bn project until at least the summer as it pledges to consult works committee.
French economy minister tells the BBC that 'we back' the building of the plant in England, contradicting his statement last week that no decision had been made. 
Plans by French energy giant EDF to build two European Pressurised Reactors (EPRs) at the Hinkley Point nuclear power plant in south-west England have already triggered the resignation of the company's finance director, led to opposition from unions and raised doubts from France's financial watchdog. Now, Mediapart can reveal, in an unprecedented move a number of EDF's own engineers have also expressed their deep misgivings about the multi-billion euro project and called for it to be delayed. As Martine Orange reports, the engineers fear the Hinkley Point construction could threaten the group's plans to renew France's own nuclear power stations in the near future.
French economy minister Emmanuel Macron said utility giant EDF will be given extra ressources for disputed project to build nuclear reactors in UK.
French utility giant EDF is facing mounting pressure to abandon its project to build two nuclear reactors at Hinkley Point in south-west Britain. Days after the resignation on March 7th of the state-owned group's finance director over the financial risks involved, it was the turn of France's national court of auditors to sound the alarm amid a damning report on EDF's international operations. Martine Orange reports.