Related keywords
Paris Mayor Anne Hidalgo has announced that part of the vast 19th-century building housing her administration will be turned over to sheltering up to 100 homeless people per night this winter.
At least 13 homeless people have died in the Paris region since the start of the year; some put the figure nearer 20.
French President Emmanuel Macron said in July he wanted emergency shelters 'everywhere' for homeless migrants by the year's end, but while failing that target, with thousands continuing to sleep rough in cities and woodlands, the government is now focussing on tougher measures to expel migrants and also to prevent them entering the country from Africa.
Funeral costs in France can often be beyond the means of the least well-off and their surviving relatives. In one region an association has teamed up with an insurance company to offer low-cost cover to ensure that the poor can organise a dignified final ceremony. In other areas local associations are naming and shaming local councils in a bid to force them to carry out their legal obligations to provide decent burial arrangements for the most disadvantaged. Mathilde Goanec reports.
Critics say officials in southern city of Perpignan are deliberately targeting the homeless by taking away dozens of public benches.
Three of the deaths were due to hypothermia as temperatures fell to minus 14°C in some areas while the other victims died in a fire at a squat.
The move came after shopkeepers in Angoulême, central France, complained that drunks monopolised the benches and scared customers away.
Marseille forced to scrap a system of yellow triangles intended to help homeless people after it was accused of employing Nazi-style tactics.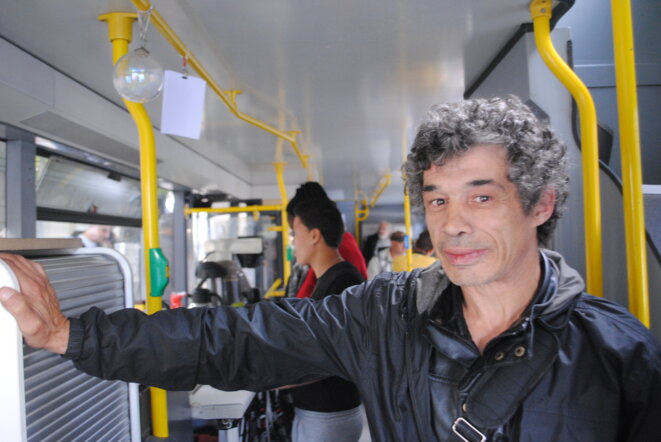 Suite à un divorce, Rachid loge d'hôtel en hôtel avant les centres, puis la rue. © MP/TSC
Recent official studies estimate that almost 16,000 homeless people in France are in regular employment. The problem is particularly acute in Paris, where the private property market has soared in price and publicly-managed subsidised housing falls far short of demand. Here, Thomas Saint-Cricq interviews five homeless people in and around the capital holding down daytime jobs while living rough, in emergency shelters or squats at night.
A French charity reports that at least 453 homeless died around France in 2013, calling for a public remembrance ceremony on March 18th.
Protestors briefly occupy the Vatican embassy in Paris in support of a group of homeless, hunger-striking illegal immigrants demanding legal status.
As winter approaches, the government frees 50 million euros for emergency shelters for the increasing numbers of people sleeping rough in Paris.
More than 8.5 million people in France are in, or face soon falling into, precarious living conditions as the effects of the economic downturn begin to also engulf middle income earners in an 'unprecedented' housing crisis, warns one of France's leading charitable organizations, the Abbé Pierre foundation, in a report published this month.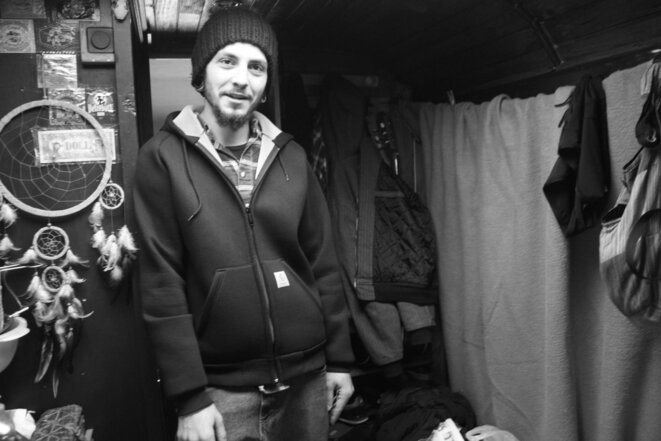 "Habiter un camion et travailler, c'est une bonne solution pour vivre en France" © E. Berthaud.
A quarter of a million people in France are homeless, or live in precarious living conditions according to a report published this month by the French National Institute of Statistics and Economic Studies, while another 2.9 million live in "uncomfortable" accomodation. Mediapart's Elodie Berthaud has travelled France meeting with students, tradesmen, unemployed and seasonal workers who have reached the last rung of the social ladder.