Related keywords
Paris mayor Anne Hidalgo has called for a 'collective' reaction against a rising number of reported attacks on homosexuals in the capital, after Guillaume Mélanie, who heads a gay rights association, was assaulted on a street in the city centre by a stranger and left with a broken nose and bruising on Monday evening in what he described as clearly motivated by homophobia.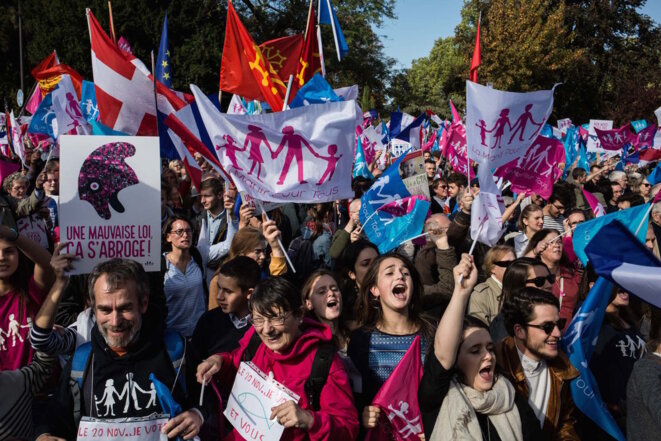 Anti-gay marriage demonstrators on the streets of Paris, Sunday October 16th. © Nicolas Serve
The movement that led opposition to France's law allowing for same-sex marriages, which was introduced in May 2013, called its supporters back on the streets of Paris on Sunday, in a test of its strength to influence conservative candidates in next year's presidential and parliamentary elections. While calling for a repeal of the law, it more realistically also targets, among other issues, adoption rights for gay couples and their access to artificial reproduction methods and surrogate pregnancy. As Lucie Delaporte reports, the largely right-wing and Catholic movement called 'La Manif Pour Tous' is, a fact unknown to many in France, part of a broad alliance of similarly-minded campaigning groups across Europe, the United States and Russia.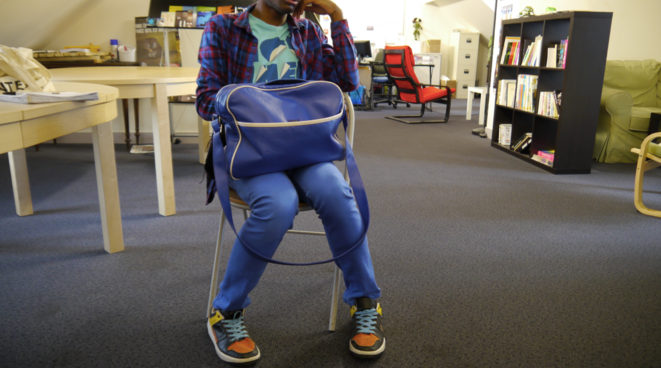 Gerdel dans les locaux parisiens de l'association. © M.T.
Over the past eight months France has been locked in a fiercely divisive and often violent debate over the government's same-sex marriage bill, which was finally enshrined into law last Saturday by President François Hollande. Gay rights groups have denounced mounting homophobia amid the hot contestation to the law, while opponents are due to stage a further mass protest in Paris on May 26th. Le Refuge is a national association that offers shelter, medical services and psychological counselling to youngsters who have been rejected and often made homeless by their families because of their homosexuality. It has seen a surge in requests for help since the debate kicked off in earnest last autumn, increasing five-fold over the same period one year earlier. Marine Turchi visited the association's Paris centre and heard the distressing stories of those for whom it offers a lifeline.
The attack in Lille was the latest in a series of homophobic incidents amid nationwide tensions over the introduction of a same-sex marriage law.
FRANCE 24 recounts the story of Antoine, who was just 17 when he was kicked out of his home in France after coming out as gay.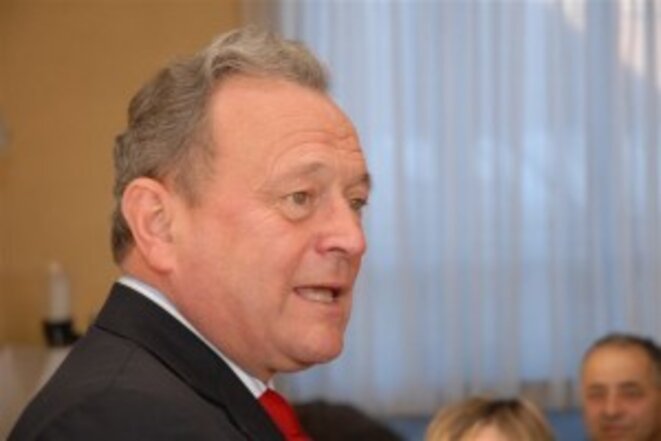 © DR
A Member of Parliament from President Nicolas Sarkozy's ruling UMP party caused uproar this week after denouncing homosexuals as over-represented "at the heart of power", likening gay relationships to incest, dismissing the deportation of homosexuals from France during German occupation of the country in WWII as a "great legend", and describing homosexuality as a state of "narcissism" built on "a stupid theory of genders". The controversy caused by Christian Vanneste (pictured) erupted the day Sarkozy officially announced his bid for re-election, and coincided with the president's dismissal of opening up marriage to gay couples "in these troubled times where our society needs points of reference". Ellen Salvi reports.