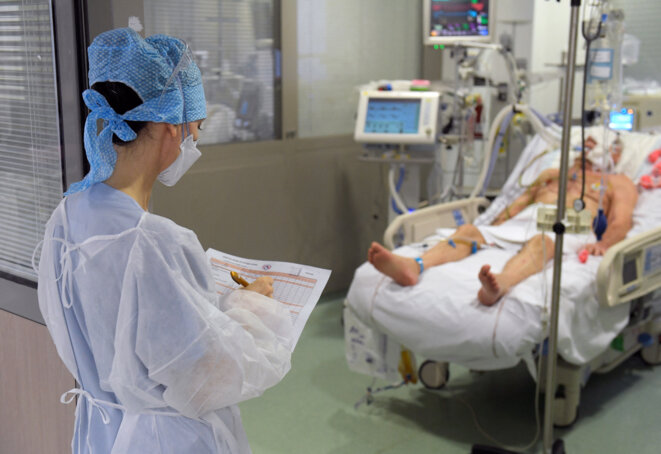 A patient with breathing difficulties in intensive care at the Hôpital Nord in Marseille, February 2021. © Nicolas Tucat/AFP
Mediapart has seen a document in which doctors in the south of France are drawing up plans to decide which patients will be admitted to hospital intensive care units - and which will not - amid fears that the current wave of Covid-19 cases could overwhelm them. The revelation comes as France recorded 179,807 Covid cases in a single day. According to the working document, if the situation worsens ICU staff in Marseille and across the southern region of PACA could refuse admission to frail patients over 65. Meanwhile doctors have told Mediapart of their concern over the ethical issues they will face if they have to deny patients healthcare. Pascale Pascariello reports.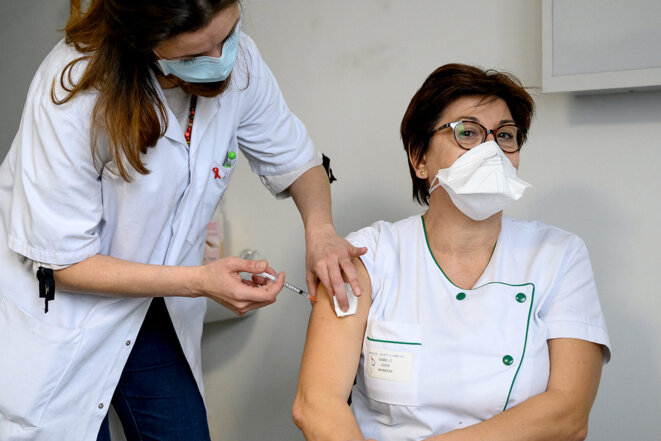 A nurse at the Saint-Camille hospital at Bry-sur-Marne east of Paris gets a dose of the Pfizer-BioNTech vaccine on January 8th 2021. © Photo Bertrand Guay / AFP
September 15th 2021 was the deadline for all healthcare professionals and many other workers in France to be fully vaccinated against Covid-19. The list of those subject to mandatory vaccination includes non-medical staff in hospitals, gendarmes, firefighters, ambulance staff and home carers. Those who fail to comply by the deadline will face being suspended without pay. As today's deadline loomed, hospitals were trying to persuade the last remaining reluctant staff members to get their vaccinations. Many in the medical profession, while fully supporting vaccination, see the obligatory nature of the injections as a major policy failure. Caroline Coq-Chodorge spoke to some involved in this last-minute race for vaccination.
Overwhelmed hospitals in north-east France have begun sending Covid-19 patients to hospitals in nearby Belgium to free up intensive care unit beds.
Cyber-attacks against three French hospitals over recent days, the latest in a series that, beginning last year, targeted others in Paris and several towns across the country, have caused patient transfers and the postponement of a number of surgical operations, although Covid-19 patients were reportedly unaffected.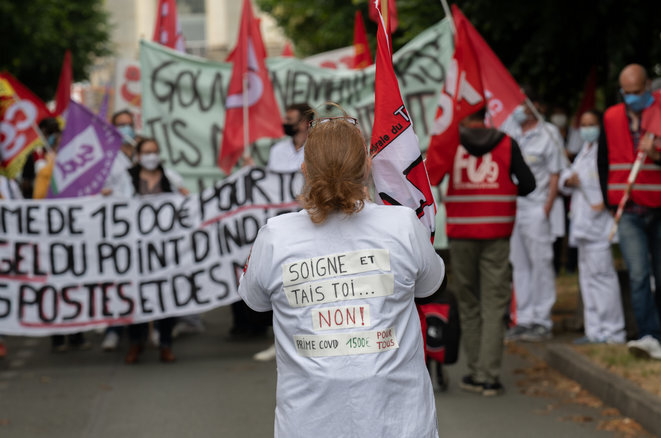 Healthcare workers demonstrate outside a hospital in the town of Angers, north-west France, June 4th 2020. © Hans Lucas/AFP
France's healthcare workers, who received wide public and official praise for their handling of the Covid-19 virus epidemic, are to hold nationwide demonstrations on Tuesday to highlight their longstanding demands over improved pay and conditions and hospital funding, and which had reached a stalemate last year. The street marches on Tuesday represent a show of force during an ongoing consultation process between unions and the government over pay, staffing levels and financing which was launched in May as a result of the health crisis. Meanwhile, non-medical hospital bio-cleaning and catering staff who also played a key role during the epidemic, but who complain of being overlooked, are demanding an end to a system of short-term contracts.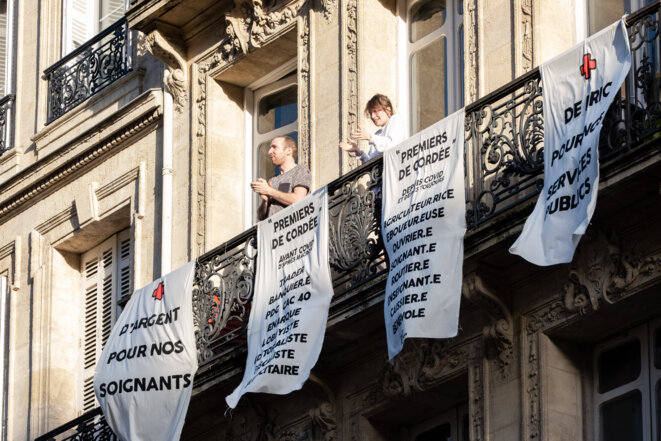 People in Bordeaux, south-west France, applauding health sector workers from their balconies on May 6th 2020. © AFP/Hans Lucas
The ongoing Coronavirus health crisis facing France is leading to unprecedented political change. Large sections of society are on the march: taking charge of their own professions themselves and setting up numerous support structures and initiatives. And as François Bonnet argues in this op-ed article, this sudden land grab of some very political arenas by new groups has left society's traditional  institutions and political forces flat-footed.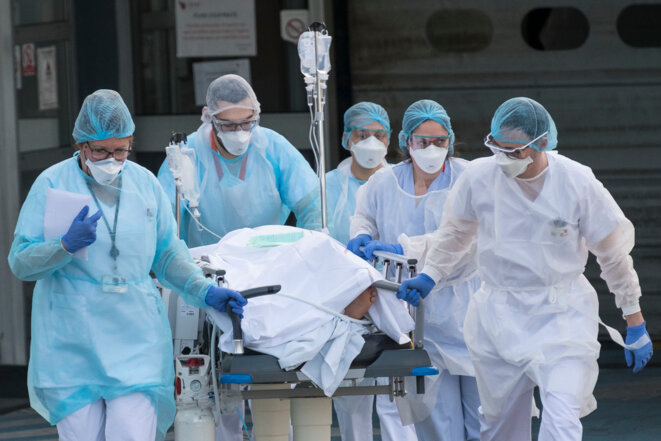 A patient being evacuated from the Émile-Muller hospital in Mulhouse, Alsace, March 17th 2020. © SEBASTIEN BOZON / AFP
Recorded deaths in France from the Covid-19 coronavirus by Saturday evening had risen to 562, with 6,172 people receiving hospital treatment for the infection, a quarter of who are in intensive care, according to official figures. But no-one doubts this is still a statistical calm before the epidemic engulfs France's healthcare system, a wave forecast to reach a peak in early April. Mediapart has been talking to doctors and nurses around France about how they are preparing for a crisis many predict will be so great that choices will have to be made about which patients are admitted for treatment – as is already happening in the currently worst-hit region of Alsace.
In an open letter published in the press, 660 French public hospital doctors have threatened to resign unless the health ministry opens urgent talks to redress funding shortfalls that have caused severe disruption to services and the departure of staff towards the private sector.
French public hospital workers held protest marches in Paris and other cities across the country on Thursday over pay, working conditions and chronic underfunding of services which have led to a shortage of beds and vital equipment, and an exodus of staff towards the private sector.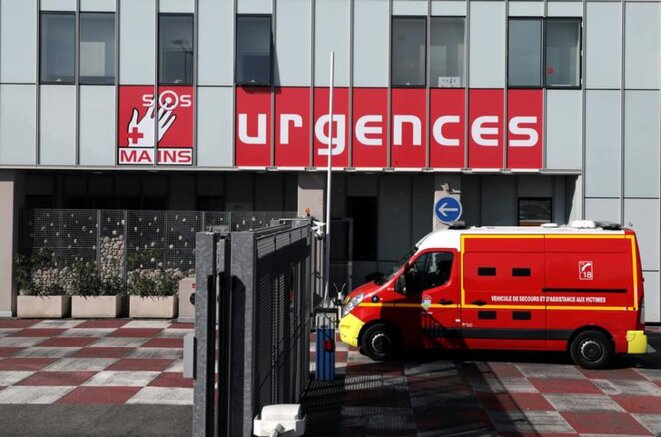 The A&E service in Nice, which is one of more than 200 where paramedics are on strike. © Reuters
French hospitals are witnessing an unprecedented nationwide strike movement  by paramedical personnel in Accident and Emergency (A&E) services in protest over under-staffing, patient over-crowding, inadequate equipment and poor wages. Despite short-term financial measures announced by the government in June to defuse the situation, the movement has snowballed from 60 hospitals in March to more than 200 this month, when A&E doctors announced they too may now take strike action over what they called "catastrophic" working conditions. Rouguyata Sall reports on the deepening crisis and talks to members of Inter-Urgences, the collective leading the strike movement.
Health minister Marisol Touraine said death toll for 2016/2017 flu season set to be 'high' with unusually large number of people 'seriously ill'.
Seventeen hospitals across France will take part in a 36-month trial whereby expectant mothers can earn 300 euros in shop vouchers if they give up smoking.
In September 2013 a senior doctor at a hospital in Brittany in western France blew the whistle on his hospital's violation of medical rules in allowing a private company access to named patient records. In January 2014 a consultant at the main Strasbourg hospital in the east of the country revealed to Mediapart that private patients were being given MRI scans at his hospital ahead of stroke victims in need of urgent assessment. Mediapart recently went back to see whether these problems in France's health service were being addressed, only to find that the doctors in question have been either fired or sidelined. Meanwhile the issues they brought to light have not been addressed; if anything, they have got worse. Caroline Coq-Chodorge reports.